Autorius Henning Rosenbusch
Originalus straipsnis paskelbtas 2020 m. gruodžio 7 d.
Ar mes Švedijos klausimu grįžome ten, kur buvome pandemijos pradžioje? Atrodytų, kad jau galime kelti klausimą: ,,Na, ir kam dabar švedai suvers kaltę?" . Tokį Švediją kaltinantį komentarą pirmadienį parašė FAZ. Neva Švedija nukentėjusi itin smarkiai, ir vyriausybė turinti reaguoti. Tarptautinėje spaudoje, laikraštyje "Washington Post", sakoma, kad "Švedijos kelias patyrė fiasko". Kaip ir balandžio bei gegužės mėnesiais, vėl visur prognozuojamas "Švedijos išskirtinio kelio žlugimas". Ar tai tiesa? Ir ar iš viso galima lyginti padėtį Švedijoje su pavasario savaitėmis, kai šioje šalyje mirtingumas nuo koronos buvo vienas didžiausių Europoje? Taip ir ne.
Apie viską iš eilės. Gegužės mėnesio viduryje Christian Drosten per "Deutschlandfunk" kalbėjo: " Švedija pasirinko asmeninės atsakomybės modelį, ir mes matome šiomis dienomis, o per artimiausius mėnesius matysime dar aiškiau, kad ten mirtingumas yra labai didelis". Beje, federalinės vyriausybės patarėjas diametrialiai klydo, kaip ir Neil Fergus, kuris anksčiau dirbo tą patį darbą Didžiojoje Britanijoje: "Profesorius Lockdow'nas", taip kandžiai jį vadina kritikai, atsistatydino gegužės pradžioje po to, kai jis, paraginęs įvesti griežčiausius kontaktų apribojimus, dvi dienas į savo namus buvo atsivedęs ištekėjusią moterį. Jis prognozavo, kad Švedijoje nuo koronos mirs 90 000 žmonių. Tagi, metų pabaigoje Švedijoje būtų buvęs 100 procentinis perteklinis mirtingumas. Tačiau šiuo metu duomenys rodo, kad Švedija gali bent jau išgyventi 2020 m. be ženklaus perteklinio mirtingumo, o valstybės paskirtasis epidemiologas Anders Tegnell gali pasirodyti buvęs teisus nuo pat pradžių, kai jis teigė: "Duomenys rodo, kad daugybė mūsų koronos aukų šiaip ar taip būtų mirę šių metų balandį ".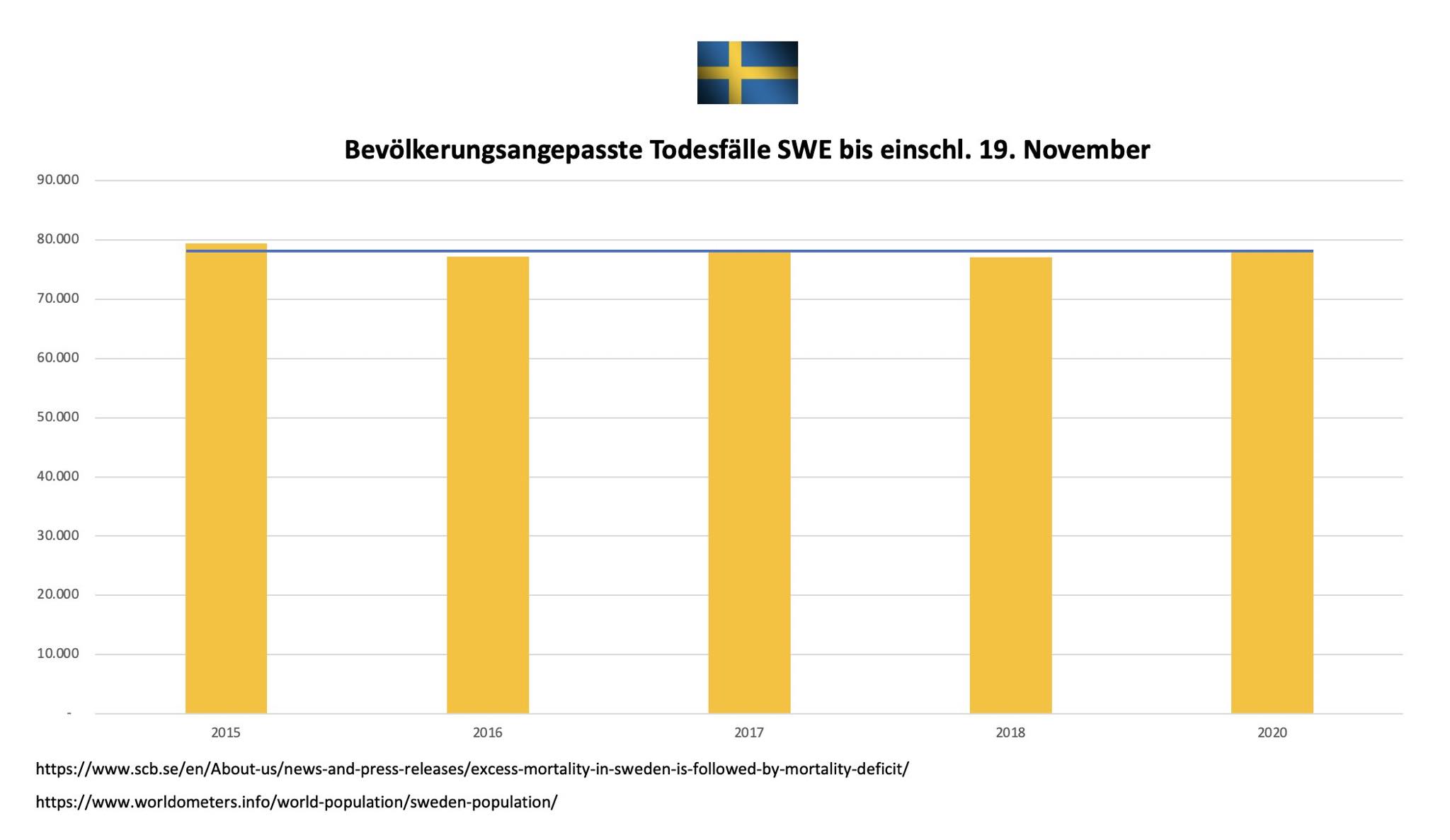 Ir štai mes matome pirmąjį didelį neatitikimą tarp to, kas buvo sakoma apie Švediją anuomet ir kokia yra realybė dabar: Švedijoje nėra didelio atotrūkio tarp mirusiųjų nuo koronos, lyginant su kitomis šalimis. Šiuo metu nėra jokio realaus pagrindo smerkti Švedijos ypatingąjį kelią (nes čia mirtingumas gerokai žemesnis, negu kai kurių ES šalių, kurios patyrė griežtus ,,lockdawn''us). Taigi, dabar kreipiamas dėmesys vien į"atvejų skaičių". Anot Ferguson tai tikra "katastrofa". Ir Drosten numatyto "labai didelio perteklinio mirtingumo Švedijoje" taip pat nebus, bent jau 2020 m. Tai rodo visi aktualūs skaičiai, t. y. "Covid 19" situacija intensyviosios terapijos skyriuose, kiek ten pacientų ir mirčių. Bet apie tai vėliau.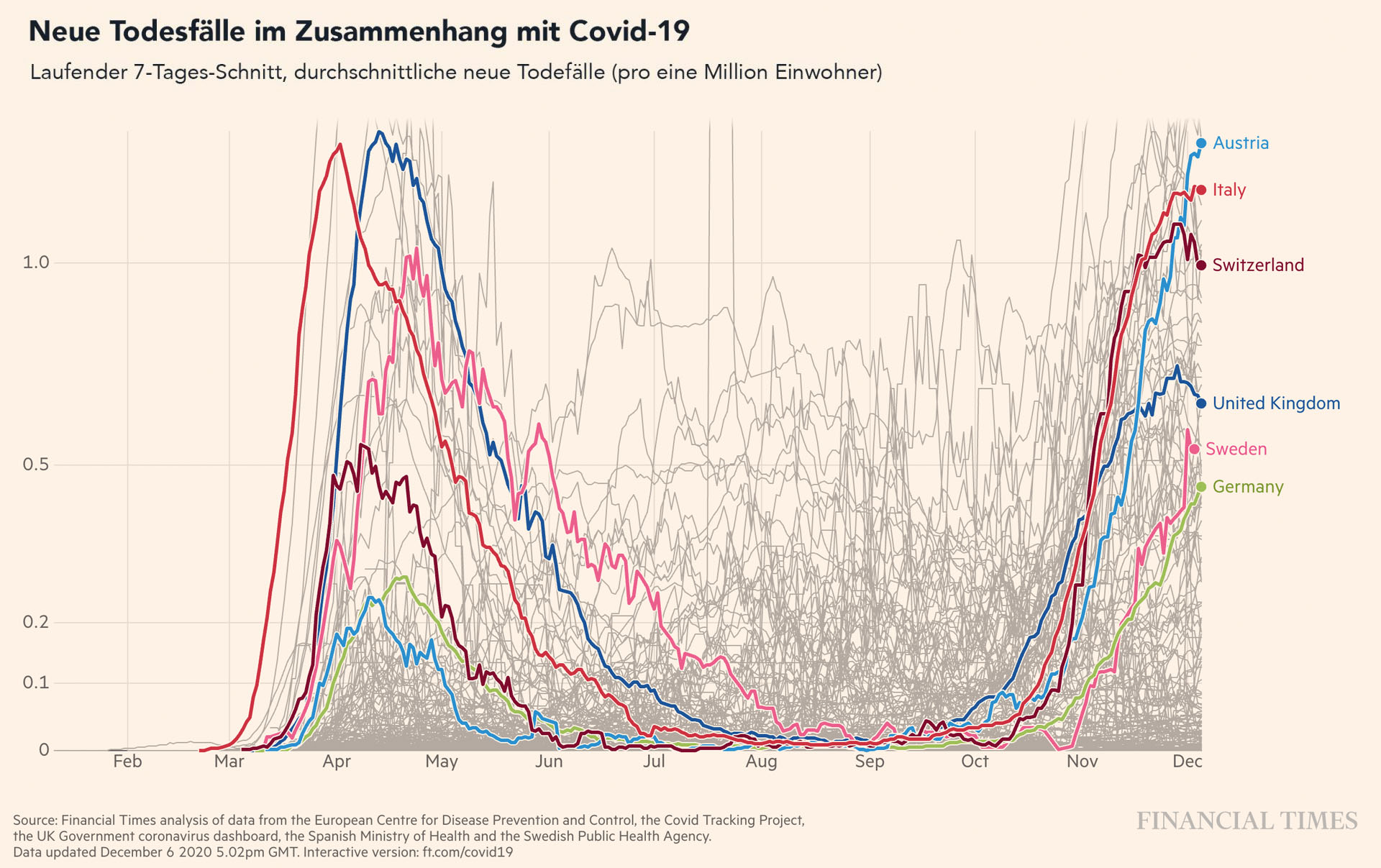 Atidžiau pažvelgus į "atvejų skaičių" paaiškėja, kad Švedija pastarosiomis savaitėmis pakilo į aukščiausią vietą Europoje pagal testuotų asmenų skaičių, ir šiuo metu testuoja daugiau nei beveik bet kuri kita ES šalis. Nors Vokietija nuo to laiko, kai buvo įvesti ,,lockdawn''ai, pakeitė savo testavimų strategiją, ir šiuo metu testuoja tik apie 2,24 iš 1 000 žmonių per dieną, Švedijoje lapkričio 22 d., smarkiai didinant testavimų kiekį, buvo testuojami 4,0 žmonės iš 1 000. O maždaug prieš tris savaites abiejose šalyse buvo testuojamas panašus žmonių skaičius.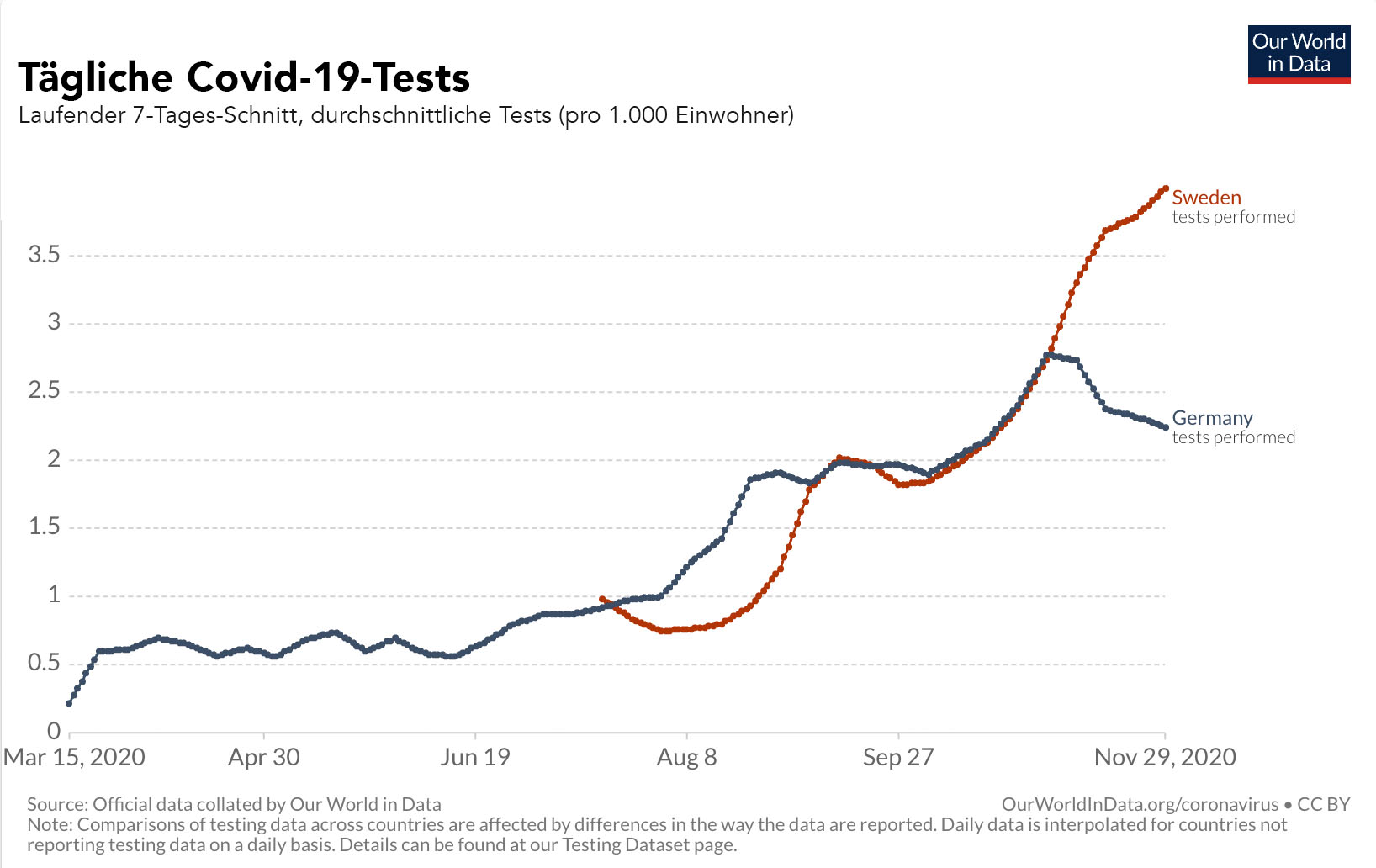 Atitinkamai išaugo atvejų skaičius: nuo rugsėjo pradžios iki spalio pabaigos šalyje buvo maždaug tiek pat atvejų vienam gyventojui. Dabar Švedijoje yra maždaug dvigubai daugiau teigiamų testų rezultatų nei Vokietijoje. Ir dabar visi pasaulyje, siekiantys būti kasandriškaisiais pranašais, naudoja šiuos skaičius. Jie jau tūkstantį kartų sakė, kad Švedijos kelias nepasiteisino ir kad ji priėjo liepto galą. Neužsimenama apie tai, kad kitose Europos šalyse vis mažiau testuojama, o Švedijoje daroma atvirkščiai. Žinoma, tuomet ir rezultatai skirtingi.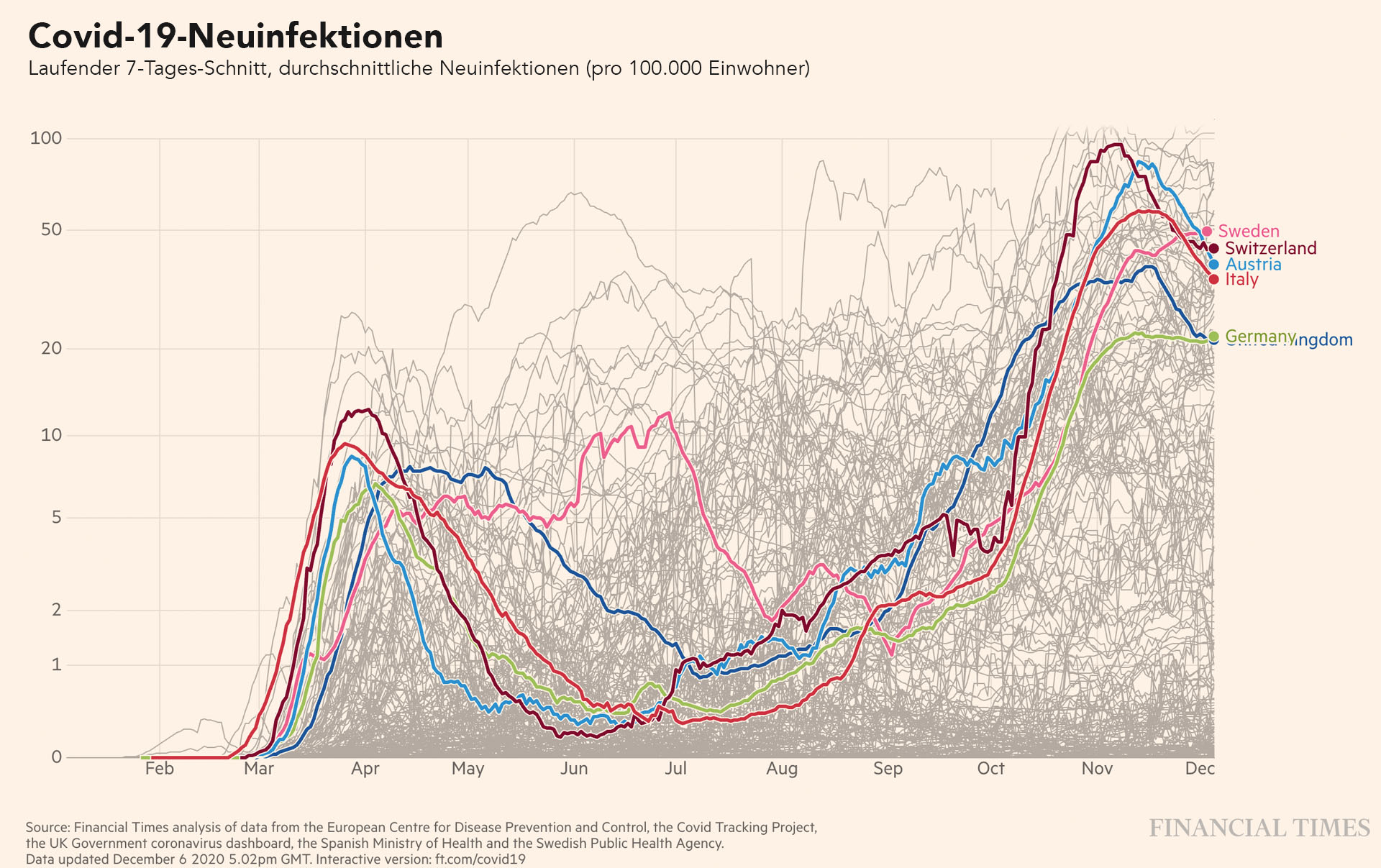 Net Švedijos žiniasklaida retai lygina atliktų testų skaičių ir pozityvių rezultatų kiekį, bent jau atliekant tarptautinę analizę, ir čia mes vėl pastebime skirtumus tarp situacijos balandžio ir gegužės mėnesiais ir dabar: valstybės paskirtas epidemiologas Anders Tegnell šiuo metu patiria dar didesnį žiniasklaidos ir politikų spaudimą, negu pavasarį. Praėjusį penktadienį SPD (Vokietijos socialdemokratų partijos-vert. past.) sveikatos ekspertas Karl Lauterbach per ,,Twitter'' netiesiogiai pareikalavo jo atsistatydinimo: "Tegnell beveik visada klydo. Jis labai pasitikintis savimi. Keista, kad jis vis dar eina tas pareigas. Niekas jo neapkaltintų, jeigu jis garbingai atsistatydintų." Galbūt tai padarytų 65 procentai švedų, kurie, remiantis naujausiomis apklausomis, vis dar palaiko "Tegnell"? 64-rių Tegnell vakar Stokholme vykusioje eilinėje sveikatos priežiūros institucijos spaudos konferencijoje dar kartą tvirtai laikėsi savo pozicijos ir įprastai ramiai atsakinėjo į piktos žurnalistų minios, reikalaujančio įvesti privalomą kaukių nešiojimą, klausimus. Tegnell paaiškino, kad "savo apžvalgoje [gruodžio 1 d.] PSO labai aiškiai nurodė, kad kaukių dėvėjimo nauda yra silpnai teoriškai pagrįsta". Daugelyje šalių, kuriose plačiai naudojamos kaukės, " infekcija vis dar yra smarkiai išplitusi".
Bet už gražaus fasado, ne viskas, taip tvirta. Antradienį Švedijos sveikatos priežiūros institucija paskelbė pirmąją didelę nuolaidą, elgiantis su mokiniais, kurių tėvų testas buvo teigiamas. Iki šiol jie vienareikšmiškai buvo raginami toliau eiti į mokyklą, jei neturi simptomų. Dabar mokiniai turėtų likti namie. Puikus, iš tikrųjų visiškai beprecedentis, valdžios pasiteisinimas: "Švedijos sveikatos apsaugos valdyba nemano, kad ši priemonė turės lemiamos įtakos infekcijų plitimui mokyklose ar apskritai visuomenėje." Tegnell tą pačią dieną pateikė panašius paaiškinimus. Pokyčiais siekiama, ir čia jau darosi įdomu, "kad mokyklose būtų taiki ir rami atmosfera ir kad būtų sutelktas dėmesys į pedagoginį darbą", cituojama Švedijos sveikatos priežiūros institucijų skyriaus vadovė Britta Björkholm. Taigi, naujos rekomendacijos tik tam, kad nusiramintų liaudis? O gal tikrųjų nepasitenkinimų šaltinis slypi kur nors kitur?
Švedijos bulvariniai leidiniai dabar vietoj klaustukų naudoja šauktukus, kai ieško nesutarimų tarp sveikatos priežiūros institucijų ir vyriausybės, t. y. tarp Tegnell ir Löfven. Taigi, abi pusės vis dar audringai ginčijasi. Tam yra puikių įrodymų: lapkričio mėnesio pradžioje, nedalyvaujant sveikatos valdybai, buvo nustatyta leisti susitikti viešumoje ne daugiau, kaip aštuoniems žmonėms, pvz.,. "Tai vyriausybės sprendimas, kokiam skaičiui žmonių leidžiama rinktis," pasakė Tegnell Sveriges radijui. O kai buvo panaikintas draudimas lankytis slaugos namuose, Švedijos sveikatos apsaugos ministrė kritikavo Tegnell požiūrį, kad dabar 70-ių žmonėms bus leista apkabinti ir pabučiuoti savo anūkus: "Aš iš esmės niekada nieko neturėjau prieš Anders Tegnell. Tačiau manau, kad turėtume būti atsargūs, ir kad interpretuotume tai, kaip bendro pobūdžio rekomendaciją", – taip spaudos konferencijoje spalio pabaigoje kalbėjo Lena Hallengren. Kai buvo uždraustas alkoholio pardavimas po 10 val. vakaro, spaudos konferencijoje nedalyvavo nei Anders Tegnell, nei joks kitas sveikatos apsaugos pareigūnas. "Vyriausybė vis dažniau vadovauja, nurodinėdama, ką daryti. Gal jie pradėjo prarasti pasitikėjimą Tegnell? Arba jie mano, kad situacija yra tokia rimta, jog jie nori pademonstruoti savo galią? Galiu tik spėlioti", – "Svenska Dagbladet" sako politologas Bo Rothsteinas.
Tačiau iki šiol Löfveno ir Co. kišimasis išlieka ribotas ir tik šiek tiek viršija tai, kas jau buvo padaryta pavasarį, pvz., kad gimnazijų vyresniųjų klasių moksleiviai, kol kas iki Kalėdų turi mokytis nuotoliniu būdu. Vis dar laikomasi bendro pobūdžio rekomendacijų, bendraujant privačioje sferoje apsiriboti aštuoniais asmenimis. Kad galėtų kištis į šias Konstitucijoje garantuotas asmens laisves, Löfven tikriausiai turėtų iš dalies pakeisti Švedijos Konstituciją, nes ji numato nepaprastąją padėtį tik karo atveju. "Mes nenorime nustatinėti tikslios galimų asmeninių kontaktų ribos per Kalėdas, nes, šeimos santykiai ir aplinkybės, yra labai skirtingi, tačiau aštuoni žmonės, kaip gairė, tikriausiai yra geras skaičius," sakė Johan Carlson, Švedijos sveikatos priežiūros institucijos vadovas. Penktadienį jis teigė: "Bet nei sveikatos priežiūros institucijos, nei vyriausybė negali uždrausti žmonėms rengti Kalėdinius vakarėlius, gerti karštą vyną ar susipažinti su naujais žmonėmis."
Taigi, kol kas Švedija eina savo ypatinguoju keliu : apie privalomą kaukių dėvėjimą net nediskutuojama, o rekomendacija, įpareigojanti dėvėti kaukę viešajame transporte ir patalpose, kurią prieš tris savaites pateikė gegužę įkurta Karališkosios mokslo akademijos "Vetenskapsforum" kritinė Covid 19 ekspertų taryba, po kelių dienų buvo pamiršta.
Restoranai tebėra neuždaryti kaip ir sporto salės bei visi kiti privatūs verslai. Tik prie stalo viešosiose vietose sėdėti gali ne daugiau nei aštuoni žmonės. O privačiai švedams leidžiama susitikti, neribojant žmonių skaičiaus, ir čia toliau taikomos tik rekomendacijos. Tai turi privalumų, nes ne taip smarkiai nukenčia ekonomika, žmonės nežalojami psichologiškai. Prisiminkime, ką Tegnell sakė nuo pat pradžių: "Tai maratonas, o ne sprintas." Ir kol jį palaikys du trečdaliai švedų, jo kritikams, įskaitant Löfveną, ir toliau bus sunku.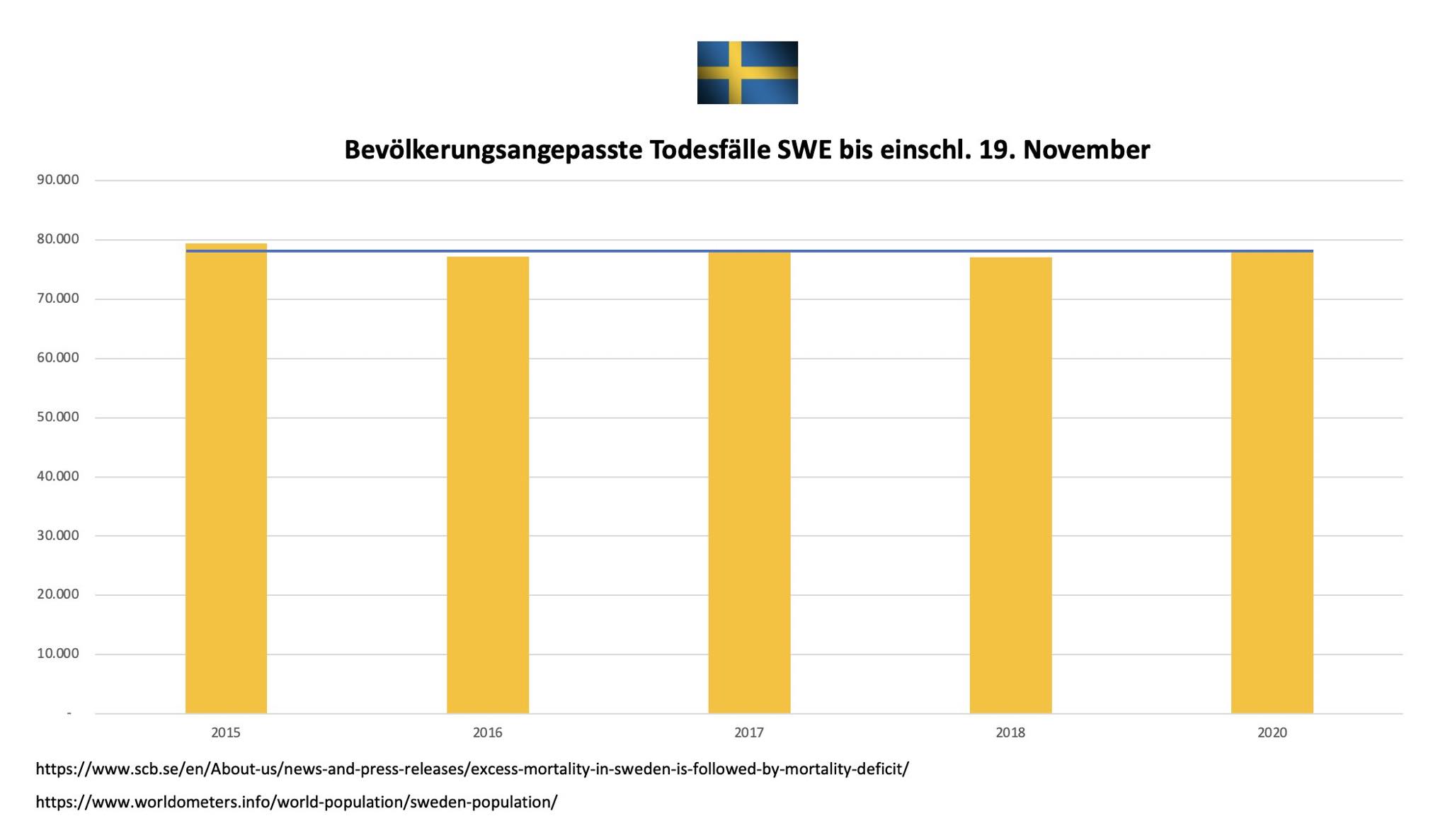 Tačiau daugelis švedų nežino, koks yra pats geriausias argumentas, pateisinantis jų ypatingą kelią. Tai paaiškėjo, kai Anders Tegnell fanų klubo narys socialiniame tinkle "Facebook" paskelbė Airijos ,,lockdawn''ų kritiko Ivor Cunnings vaizdo įrašą ir grafiką apie bendrą mirtingumo lygį 2020 m., pažymėdamas: "Švedijos žurnalistai turėtų atlikti savo darbą, jie turi patikrinti duomenis ir pateikti juos visuomenei. Jie neturi vien tik ieškoti konfliktų. Vietoj švedų žurnalistų tai padarė airis, nes įdomu palyginti Švediją su kitomis šalimis. Pavyzdžiui, tikėtina, kad 2020 m. santykinai mirs mažiau žmonių nei 2010–2013 m. ir 2015 m. Kodėl tai neskelbiama kaip svarbi naujiena?" Daugelis grupės narių, kurie turėtų žinoti, kas yra Tegnell ypatingojo kelio privalumai, akivaizdžiai to nežino. Apskritai Švedijos žiniasklaid susidomėjusiuose forumuose kursto paniką dėl pandemijos ir socialinių tinklų grupėse kritikuoja beveik daugiau, nei atsakingos institucijos.
Pastarosiomis dienomis labiau išaugo mirčių, susijusių su "Covid-19", skaičius, todėl Švedija, keletą savaičių esant panašioms tendencijoms, šiame grafike atrodo esanti šiek tiek blogesnėje padėtyje nei Vokietija. Tačiau Švedijos intensyvios terapijos priėmimo skyriai per paskutines tris savaites pasiekė tokią padėtį, kuri yra maždaug per pusę geresnė, negu blogiausių balandžio savaičių metu. Penktadienį R vertė nukrito iki 1, o mirtingumas priešingai paskutiniųjų savaičių atvejų skaičiui, lieka nekintantis. Čia reikia dar kartą priminti, , kad Švedija šiuo metu testuoja beveik dvigubai daugiau žmonių per dieną nei Vokietija, ir tendencija didėja – skaičiuojama, kiek atlikta testų vienam gyventojui.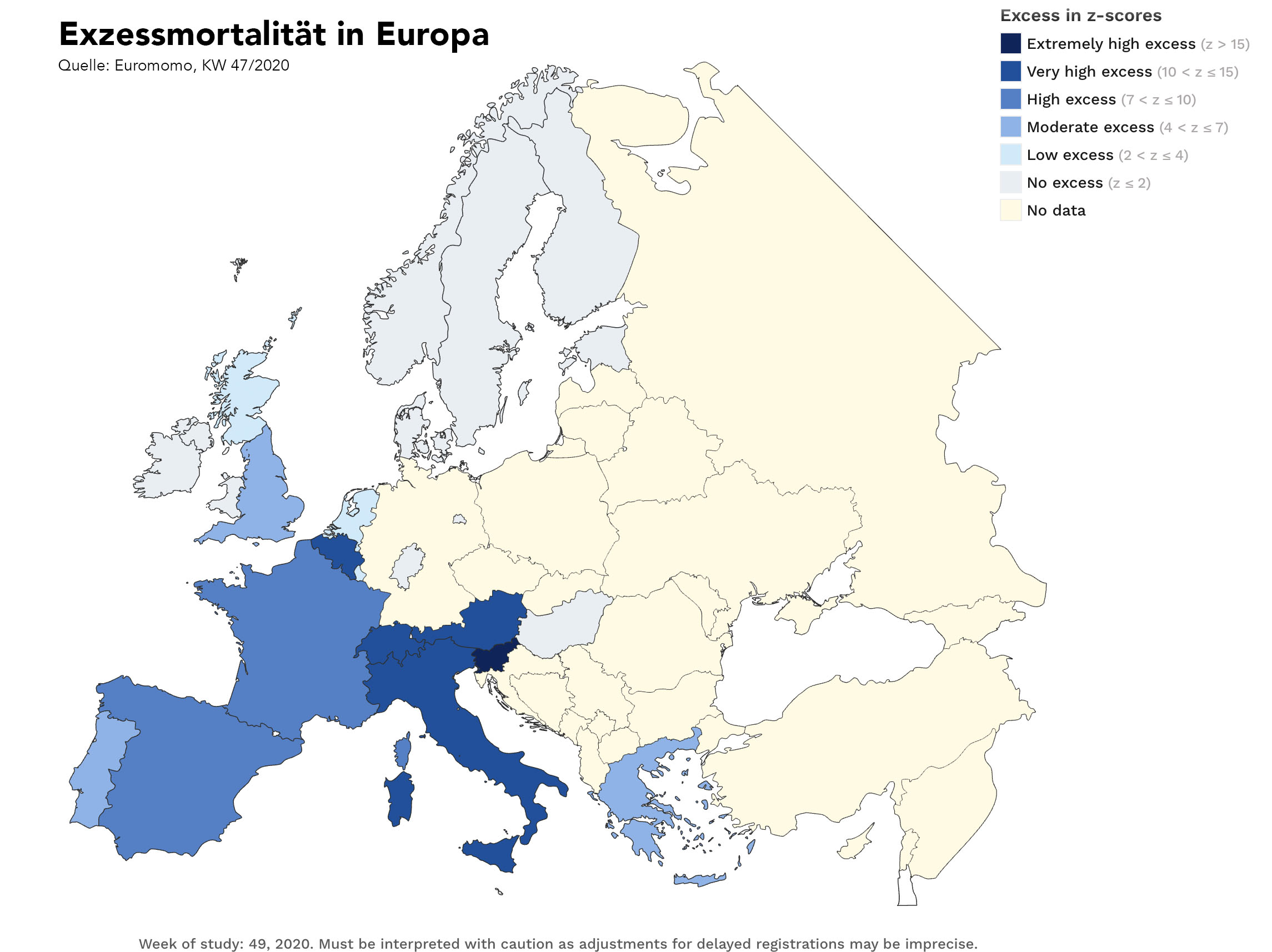 Tačiau šiuo metu, gruodžio mėnesio pradžioje, mes net neabejojame, kad apokaliptiniai pranašai, Drosten ir Ferguson, skelbę, kad Švedijoje 2020 m. bus katastrofiškai aukštas mirtingumas, skaudžiai klydo. Pono Lauterbach taip pat reiktų paklausti, kodėl jis neragina ,,garbingai atsistatydinti'' Belgijos, Italijos, Prancūzijos, Didžiosios Britanijos, Čekijos Respublikos ar Slovėnijos atsakingų asmenų, nes šiose šalyse mirtingumo statistika nuo covido-19 šiandien yra kur kas blogesnė, nepaisant visų ,,lockdawn''ų . Todėl negalima teigti, kad Švedijos ypatingasis kelias žlugo. Juo dar einama, ir šiuo metu niekas negali pasakyti, kur jis nuves.
Iš vokiečių kalbos vertė Nida Matiukaitė
Šis tekstas pirmą kartą pasirodė 2020 m. gruodžio 7 d. pavadinimu "Der schwedische Weg steht einmal mehr unter Beschuss – doch die nackten Zahlen sprechen eine andere Sprache" svetainėje https://www.nachdenkseiten.de/
Visas šios svetainės turinys yra licencijuojamas pagal "Creative Commons Attribution 4.0" tarptautinę licenciją. Nesivaržykite kopijuoti ir dalintis.