Originalus straipsnis paskelbtas 2021 m. gegužės 27 d.
Dr. Gérard Delépine
Prieš du mėnesius bandėme įspėti visuomenę dėl paradoksalių Covid-19 vakcinavimo rezultatų, išspausdindami prieš/po vakcinacines mirštamumo kreives Izraelyje ir Didžiojoje Britanijoje[1]. Jau tada jos rodė, kad 6-8 savaitės po vakcinacijos žymiai padidėjo užsikrėtimų ir mirštamumo lygis[2].
Nuo to laiko vakcinacijos kampanijos išplito pasauliniu lygiu net ir tose šalyse, kur Covid nebuvo fiksuojamas. Visur sekė dramatiškas naujų infekcijų ir mirštamumo lygio kilimas kelias savaites ar net mėnesius[3].
Kiek dar reikės mirčių bei ūmių atvejų, idant vyriausybės, PSO, FDA, EVA peržvelgs šio eksperimentinio pseudo vakcinavimo esamus įrodymus realiame pasaulyje ir padarys išvadas?
PSO paskelbti faktai
Žemiau pateikiame PSO paskelbtas labiausiai vakcinuotų valstybių epidemines kreives.
AZIJA
Nepalas (28mln gyventojų)
Vakcinacija kiniška bei indiška Astra Zeneca vakcinomis pradėta 2021m sausio pabaigoje. Iki tol per dešimt epidemijos mėnesių šalyje fiksuoti 270,092 patvirtinti ligos atvejai ir 2017 mirtys; per dieną buvo nustatomi 350 nauji atvejai.
Po keturių vakcinacijos mėnesių epidemija išsiplėtė iki vidutiniškai 8000 naujų atvejų per dieną. Gegužės 22trai dienai Nepale buvo 497,052 (+90%) patvirtintų susirgimų ir 6,024 (+200%) mirčių.
Tailandas (70mln gyventojų)
Vakcinacija kiniška vakcina prasidėjo pirmąją kovo savaitę. Iki tol, nuo epidemijos pradžios, šalyje fiksuoti tik 25,000 Covid infekcijos atvejų ir 83 mirtys. Per du mėnesius nuo vakcinacijos pradžios infekcijų skaičius pakilo penkis kartus (123,066 – gegužės 22), o mirčių skaičius net devynis kartus ( 735- gegužės 22).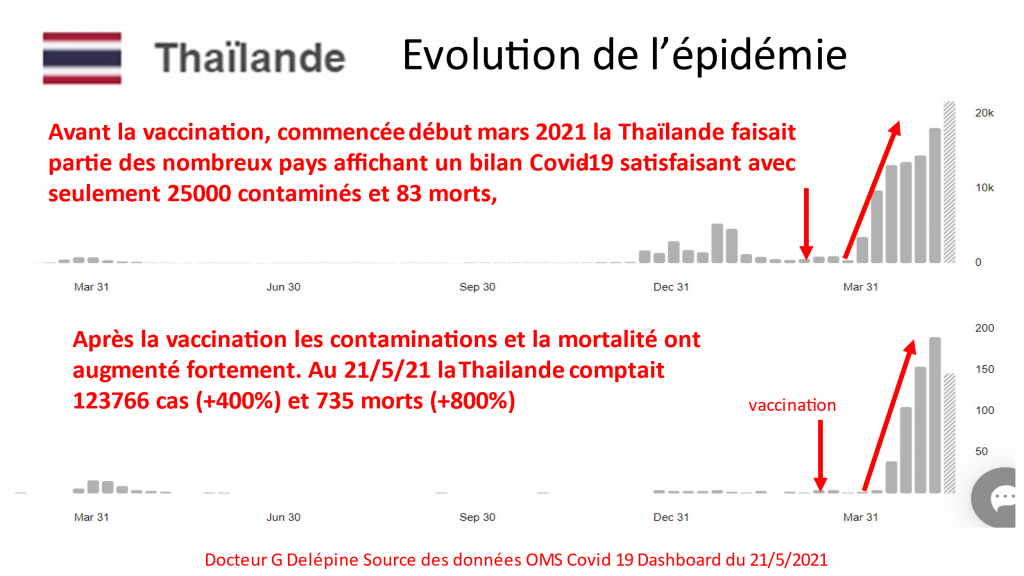 Kambodža (27mln gyventojų)
Mongolija(3,3mln gyventojų)
Pietų Amerika
Kolumbija ( 50 mln gyventojų)
Tai labai ligos paveikta šalis. Tačiau epidemija pradėjo ryškiai mažėti iki vakcinacijos įvedimo 2021 vasario 22d. Nuo tada dienos infekcijų skaičius išaugo keturis kartus, mirštamumo – tris kartus.
Čilė ( 18mln gyventojų)
Vakcinacija pradėta gruodžio 24d – mažiau nei 20mln žmonių panaudotos 17.1 mln vakcinos dozių. Nepaisant didžiausio vakcinavimo lygio visoje Pietų Amerikoje, naujų infekcijų bei mirčių skaičius Čilėje išaugo beveik tris kartus lyginant su periodu iki vakcinacijos pradžios…
Brazilija (217mln gyventojų)
Vakcinacija pradėta sausio 18d, kuomet savaitinis mirčių skaičius buvo apie 7000. Po to kreivė kyla į viršų.
Vidurio Rytai
Jungtiniai Arabų Emyratai (10,5mln gyventojų)
Kuveitas (4,2mln gyventojų)
EUROPA
Vengrija ( 9,8mln gyventojų)
Vasario mėnesį prasidėjusią vakcinaciją sekė didžiulis savaitinių užsikrėtimų skaičiaus padidėjimas, kuris pakilo nuo 25,576 vasario 25d iki 62,265 tik po mėnesio, prieš vėl pradėdamas kristi iki iki-vakcinacinio lygio.
Per du su puse mėnesio Vengrijoje padvigubėjo susirgimų (nuo 400,000 iki 800,000) bei mirčių (nuo 14,000 iki 29,000) skaičiai skaičiuojant nuo epidemijos pradžios.
Rumunija (20mln gyventojų)
Vakcinacija pradėta gruodžio pabaigoje, kuomet epideminiai rodikliai mažėjo. Pagal 2021 05 04 oficialius duomenis, Bucharešte buvo pasiektas didžiausias šalyje vakcinacijos lygis: vakcinuota 31,2% galimos vakcinuoti populiacijos. Tačiau netrukus po vakcinacijos pradžios naujų dienos užsikrėtimų bei mirštamumo skaičius išaugo. Iki vakcinacijos per dešimt epidemijos mėnesių Rumunijoje fiksuota 618,000 infekcijų bei 15,000 mirčių. Po penkerių vakcinacijos mėnesių skaičiai padvigubėjo.
Monakas (38tūkst gyventojų)
Iki vakcinacijos pradžios Monake buvo tik trys mirtys, po vakcinacijos – 32.
Gibraltaras (34tūkst gyventojų)
Vakcinacija mirštamumą padidino 800% nuo 10 iki 94.
Šios oficialios statistikos išvados. Hipotezės
Izraelio ir Britanijos "pergalės"[4]
Vakcinacijos šalininkai teigia, jog vakcinacijos kampanijos Izraelyje bei Britanijoje yra sėkmingos, nes šiuo metu dienos užsikrėtimų bei mirštamumo skaičiai yra žemi.
Tačiau ši akivaizdi sėkmė yra sąlygota fakto, jog ženkliai sumažėjo rizikos grupės žmonių ("harvesting" – "derliaus nuėmimas") ir spontaninio ligos silpnėjimo stebimo taip pat ir šalyse su žemu vakcinacijos lygiu.
"Harvesting" – "derliaus nuėmimas" vakcinų pagalba
Šiose dvejose valstybėse mirčių nuo Covid skaičius ženkliai padidėjo per 4-6 savaites, prilygdamas bendram mirčių skaičiui per visus 2020 metus. Ypač išraiškinga Izraelio Covid vakcinacijos kreivė.
1,404 žmonių mirčių "derlius" sausio mėnesį ir 949 vasario mėnesį (ekvivalentas visų 2020 metų Covid mirčių skaičiui be vakcinacijos) ženkliai sumažino rizikos grupės žmonių kiekį, tuo pačiu sumažindamas šios grupės mirčių lygį esamiems metams.
Tačiau kartu virusas mutavo ir tapo pavojingas kitoms amžiaus grupėms, ypač jaunesniems asmenims.
2020m lapkričio mėnesio Izraelio Sveikatos ministerijos duomenys rodo, kad buvo nustatyti 400 koronaviruso atvejai vaikams iki dvejų metų. 2021m vasarį šis skaičius išaugo iki 5,800.
Toks pats "derliaus nuėmimas" stebėtas ir Didžiojoje Britanijoje. Kadangi Covid-19 yra pavojingiausias mažai visuomenės daliai (senyviems žmonėms su gretutinėmis ligomis), šios dalies "išnykimas" (mirė tiek, kiek per visus 2020 metus be vakcinacijos) matematiškai sumažina mirštamumo rodiklius.
Nuo vakcinacijos pradžios, Britanijoje mirštamumas milijonui gyventojų yra dvigubai didesnis (934 mirtys milijonui gyventojų) nei labai menkai vakcinuotuose Nyderlanduose (411 mirtys milijonui gyventojų).
Natūralus epidemijos mažėjimas
Natūralus epidemijos mažėjimas taip pat paaiškina mirštamumo lygio mažėjimą, parodytą didžiulį vakcinavimą atlikusioje Didžiojoje Britanijoje bei mažai vakcinuotų Nyderlandų palyginime.
Dabartinė vakcinacija – epidemijos ir mirštamumo akseleratorius?
Labiausiai besivakcinuojančių šalių apžvalga rodo, kad vakcinacija tarnauja labiau kaip epidemijos bei mirštamumo akseleratorius nei kaip prevencijos priemonė[5].
Daugumoje itin vakcinuotų valstybių dviejų mėnesių mirčių skaičius prilygsta visoms 2020 metų mirtims iki vakcinacijos pradžios.
PAGRĮSTOS EKSPERIMENTINĖS INFORMACIJOS TRŪKUMAS
Atlikti vakcinų tyrimai yra nepakankami dėl vis dar vykstančio tyrimų proceso, kurį planuojama baigti tik 2023 metais.
Nei vienas iš atliktų tyrimų neparodė užsikrėtimų ir mirštamumo skaičiaus padidėjimo galimybės. Tyrimai taipogi nėra išsamūs dėl mažiau ar daugiau galimų rimtų šalutinių poveikių, tokių kaip ankstyvų kraujotakos sutrikimų po vakcinacijos dažnis, persileidimų bei menstruacijų sutrikimų padažnėjimas bei kitų galimų komplikacijų tiek trumpalaikėje, tiek ilgalaikėje perspektyvoje.
Šios vakcinavimo lenktynės bet kokia kaina gali įtakoti nepasitikėjimą visa vakcinacija bendrąja prasme. Kaip pasakytų La Fontaine: "nėra kur bėgti, viską reikia pradėti laiku". Tačiau naujieji milijardieriai, tokie kaip Moderna vadovas, tikrai taip nemano.
ATEITIS – ANKSTYVAS GYDYMAS
Tyrimų skaidrumas yra būtinas, kad suprasti šį aiškų situacijos pablogėjimą įvedus vakcinaciją bei atrasti prevencinius būdus naujų protrūkių atvejais. Ypač kuomet ateitis po tokių vakcinacijos eksperimentų yra labai neaiški. Valstybių lyderiai, kurie pažeidė medicinos ir demokratijos pamatus įgyvendindami masines greitas vakcinacijas be jokių medikamentams taikomų saugumo ir efektyvumo tyrimų, dabar visuomenėms kalba apie ankstyvą gydymą ateities protrūkiams – taip jie parodo, kaip kad Boris Johnson, jog daugiau nebetiki vakcinacija, kurią patys įgyvendino.
POLITIKA NETURI APSPRĘSTI MEDICINOS
Sveikatos politika daugiau neturėtų būti įtakojama dažnai iracionalių politinių žaidimų. Ji turėtų būti pagrįsta pagarba demokratijai ir klinikinei patirčiai, leidimu gydytojams naudotis tik neįpareigojančiomis rekomendacijomis. Visi duomenys turėtų būti skaidrūs, skaičiuojant realius pacientus su klinikiniais požymiais. Tyrimai turėtų būti daug patikimesni nei klaidingi PCR testai.
LAISVĖ RŪPINTIS IR BŪTI PASIRŪPINTU
Politikų sprendimas uždrausti gydymo būdo pasirinkimo laisvę kai kuriose šalyse, įskaitant Prancūziją, privedė prie mirčių, kurių daugumoje atvejų buvo galima išvengti. Vyksta teismo procesai, kurie, deja, neištaisys nepataisomos žalos ir netekčių.
ESMINIS MORATORIUMAS
Totalitarizmas, visuotinė cenzūra, oponentų persekiojimas bei pamatinių laisvių moksle, medicinoje ir ekonomikoje suvaržymas visada veda prie ilgalaikių katastrofų.
Laikas grįžti atgal prie įrodytų faktų ir jų kritiško įvertinimo be jokių išankstinių nuostatų. Visose valstybėse eksperimentinę vakcinaciją sekė išaugęs užsikrėtimų ir mirčių dėl Covid-19 skaičius bei mutacijų atsiradimas. Tol kol šis fenomenas nėra išaiškintas, antikovidinis vakcinacijos moratoriumas yra skubus ir būtinas.
Dr Gerard Delepine
Prof. Michelio Chossudovskio pastaba:
Šiame straipsnyje nedviprasmiškai įrodoma, kad mirtingumas ir sergamumas dėl vakcinos labai padidėjo. Taip pat padaugėjo Covid teigiamų atvejų.
"Ir visur po jų per kelias savaites ar mėnesius smarkiai išaugo naujos infekcijos ir mirtingumas".
Dr. Delépine'as kruopščiai analizuoja 14 šalių, esančių pagrindiniuose pasaulio regionuose, tendencijas prieš ir po vakcinacijos.
Naujausi oficialūs Europos Sąjungos duomenys, kuriuos retai pripažįsta didžioji žiniasklaida, rodo štai ką:
Nuo 2020 m. gruodžio pabaigos iki 2021 m. gegužės 22 d:
12 184 mirties atvejai ir 1 196 190 sužeidimai po keturių eksperimentinių COVID-19 injekcijų ("Moderna", "Pfizer-BionTech"; "AstraZeneca" ir "Johnson & Johnson's Janssen"). Sunkūs sužalojimai sudaro 604 744 (t. y. daugiau kaip 50 % visų sužalojimų)
Pfizer-BioNTech mRNA genų redaguota vakcina sukėlė daugiausiai mirtinų sužalojimų: Iš viso reakcijų, susijusių su mRNA vakcina "Tozinameran": 5 961 mirtis ir 452 779 sužeidimai iki 2021 05 22.
Nors daugiausiai mirčių ir sužeidimų patyrė "Pfizer", ES Komisija didžiąja dalimi kaltę suverčia bendrovei "AstraZeneka".
Ironiška, kad "Pfizer" ne tik turi JAV Teisingumo departamento baudžiamąją bylą dėl "nesąžiningos rinkodaros", bet ir ES Komisija pasirinko "Pfizer BioNTech" kaip "patikimą partnerį" 1,8 mlrd. dozių gamybai per ateinančius 3-4 metus pagal sutartį, dėl kurios šiuo metu vyksta derybos.
Global Research, 2021 m. gegužės 27 d.
[1] Great Britain: actual results of the anti-Covid-19 vaccination as of March 29 – (ripostelaique.com) [ ]
[2] Analysis of the results of the anti-Covid19 vaccination in Israel as of February 23, 2021 – Nouveau Monde (nouveau-monde.ca) [ ]
[3] https://nouveau-monde.ca/et-surgit-une-hecatombe-post-vaccinale/ [ ]
[4] A Pyrrhic victory is a tactical victory, achieved at the cost of losses so heavy to the winner that they compromise his chances of final victory. [ ]
[5] F Gobert Since we were vaccinated (anticovid), the average daily mortality has increased in 13 countries out of 14 Agoravox https://www.agoravox.fr/actualites/sante/article/depuis-qu-on-vaccine- anticovid-la-233252 [ ]
[6] https://www.francesoir.fr/societe-sante/boris-johnson-veut-un-traitement-precoce-contre-la-covid-dici-lautomne 
Šis tekstas pasirodė 2021 m. gegužės 27 d. pavadinimu "French Medical Doctor: COVID-19 Injections Increasing DEATHS and New Infections – The Evidence is Overwhelming" svetainėje https://vaccineimpact.com/
Šis Dr. Gérard'o Delépine'o straipsnis pirmą kartą buvo paskelbtas prancūzų kalba svetainėje mondialisation.ca
Pirminis šio straipsnio šaltinis – nouveau-monde.ca ir mondialisation.ca
Autorinės teisės © Dr. Gérard Delépine , nouveau-monde.ca , 2021 m.