Originalus straipsnis paskelbtas 2021 m. birželio 23 d.
Peter F. Meyer. Išversta padedant www.DeepL.com/Translator.

Dabar dėl vaikų ir paauglių skiepijimo kilo aštri diskusija. Politikai siekia kuo greičiau ir išsamiau paskiepyti vaikus, o kai kurie politikai, priklausantys medikų asociacijoms ir kitoms politinėms medikų asociacijoms, pasisako už tai, kad mokyklos lankymas būtų siejamas su skiepijimu.
Net tokios pediatrų organizacijos kaip Austrijos pediatrų ir paauglių medicinos draugija pritarė Nacionalinės skiepijimo komisijos rekomendacijai, kartais pateikdamos argumentus, iš kurių plaukai šiaušiasi. Tiesiog vengiama pažeisti Vaistų įstatymo 42 straipsnį, kuris leidžia gydyti paauglius tik tuo atveju, jei tai jiems padeda, kalbant apie indėlį į "bendruomenės apsaugą" (anksčiau vadintą "bandos apsauga"), bet po to grasinant:
"Jei vaikai ir paaugliai būtų vienintelė neskiepyta amžiaus grupė, COVID-19 "sugrįžimas" 2021/22 m. rudenį/žiemą pirmiausia paveiktų šią amžiaus grupę. Tokiu atveju labai tikėtina, kad bus uždaryti vaikų darželiai, mokyklos ir kitos vaikams skirtos įstaigos. Taigi vaikų ir paauglių skiepijimas taip pat padeda palaikyti iš esmės normalų vaikų ir paauglių socialinį gyvenimą. PSO teigimu, pastarasis yra esminis sveikatos komponentas".
Tai, kad vaikai taip pat buvo užsikrėtę ir todėl įgijo imunitetą, kad jie taip pat turi kryžminį imunitetą dėl kitų koronavirusų, atrodo, pareiškimo autoriams neužkliuvo. Šiems "gydytojams" nesvarbu, kad vaikai beveik nenukentės ir kad mokyklų uždarymas apskritai niekada neturėjo prasmės, kaip akivaizdžiai rodo kitų šalių pavyzdžiai.
Naujas PSO pareiškimas
Naujausiame pareiškime PSO netikėtai net laikosi kitokios pozicijos:
Vaikų ir paauglių ligos eiga paprastai būna lengvesnė nei suaugusiųjų. Taigi, jei jie nepriklauso grupei, kuriai gresia didesnė rizika susirgti sunkia COVID-19 forma, skiepyti juos reikia ne taip skubiai kaip vyresnio amžiaus žmones, asmenis, sergančius lėtinėmis ligomis, ir medicinos personalą. (angl.: Children and adolescents tend to have milder disease compared to adults, so unless they are part of a group at higher risk of severe COVID-19, it is less urgent to vaccinate them than older people, those with chronic health conditions and health workers.)
Norint pateikti bendras rekomendacijas dėl vaikų skiepijimo nuo COVID-19, reikia daugiau įrodymų apie įvairių COVID-19 vakcinų naudojimą vaikams.

PSO Strateginė patariamoji ekspertų grupė (SAGE) padarė išvadą, kad "Pfizer" ir "BionTech" vakcina yra tinkama naudoti 12 metų ir vyresniems asmenims. 12-15 metų amžiaus vaikams, kuriems yra didelė rizika, ši vakcina gali būti siūloma kartu su kitomis prioritetinėmis skiepijimo grupėmis. Šiuo metu atliekami vaikų vakcinų bandymai, o PSO atnaujins savo rekomendacijas, jei įrodymai ar epidemiologinė situacija pateisins politikos keitimą.
Tačiau savo pareiškime PSO iš karto pateikia vakcinacijos veiksmingumo ir naudingumo perspektyvą. Pavyzdžiui, nurodoma, kad net ir pasiskiepiję žmonės turėtų ir toliau būti bent 1 metro atstumu nuo kitų asmenų, dėvėti kaukes, dažnai dezinfekuoti rankas ir atidaryti langus patalpose.
Neįtikėtina, kaip sumenkinamas šalutinis poveikis, kuris, remiantis FDA ir EMA patvirtinimo dokumentais, pasireiškia daugiau kaip 90 % paskiepytųjų, kai kuriems iš jų – labai stipriai.
Veiksmingumas ir šalutinis poveikis
Merilendo universiteto Farmacijos mokyklos docentas ir žurnalo "Britsh Medical Journal" vyresnysis redaktorius daktaras Peteris Doshi per viešą svarstymą teigė, kad nėra jokios skubios situacijos, kuri pateisintų sąlyginį ar skubų leidimą leisti naudoti "Covid" vakcinas vaikams.
Cituodamas "Pfizer" atliktą 12-15 metų amžiaus vaikų tyrimą, kuris pagrindė neseniai skubos tvarka suteiktą patvirtinimą, Doshi teigė, kad žala yra didesnė už naudą ir kad placebą gavusiems asmenims buvo "geriau" nei tiems, kurie gavo vakciną.
Dėl naudos Doshi sakė: "Pfizer" tyrime nurodytas 100 proc. veiksmingumas buvo pagrįstas 16 COVID atvejų placebo grupėje ir nė vieno atvejo visiškai paskiepytųjų grupėje. Tačiau placebą gavo apie 1 000 pacientų, taigi tik 2 % gavo COVID. Kitaip tariant, 2 % visiškai paskiepytų asmenų išvengė COVID, o 98 % paskiepytų asmenų vis tiek nebūtų užsikrėtę COVID."
Doshi atkreipė dėmesį į Ligų kontrolės ir prevencijos centro (CDC) duomenis, rodančius, kad 23 proc. 0-4 metų amžiaus vaikų ir 42 proc. 5-17 metų amžiaus vaikų jau yra sirgę COVID ir turi stiprų natūralų imunitetą. Šį jau plačiai paplitusį imunitetą ignoruoja ir skiepų komisijos, medicinos asociacijos bei politikai.
Tam tikrą susirūpinimą kelia gana dažnas berniukų širdies raumens uždegimas, apie kurį pranešama tiek JAV, tiek Izraelyje.
Beje, OpenVAERS duomenų bazėje apie šalutinį vakcinų poveikį JAV, kaip ir EMA duomenų bazėje, taip pat yra nemažai jaunų žmonių mirčių po skiepijimo. Čia pateikiamas Vokietijos partijos "die Basis" "Wiki" vertinimas pagal EMA duomenis pagal amžiaus grupes nuo 2021 m. birželio 20 d.: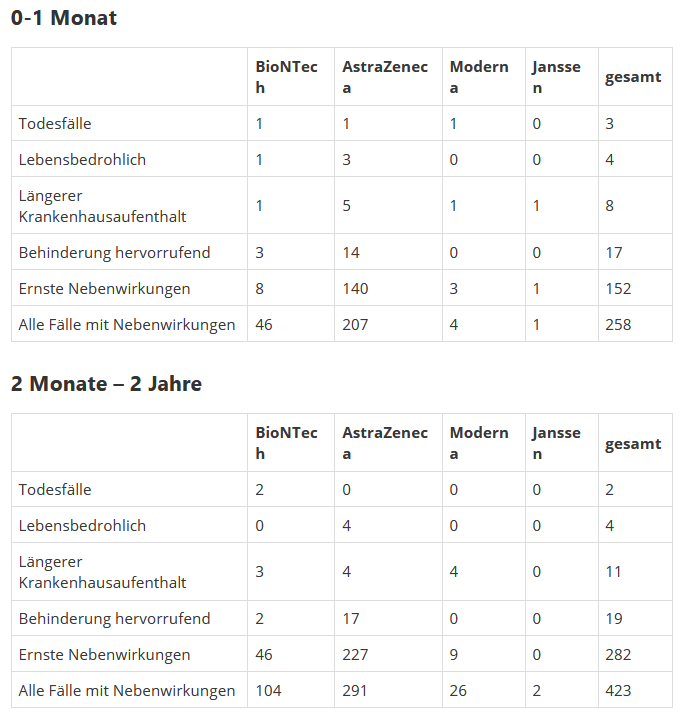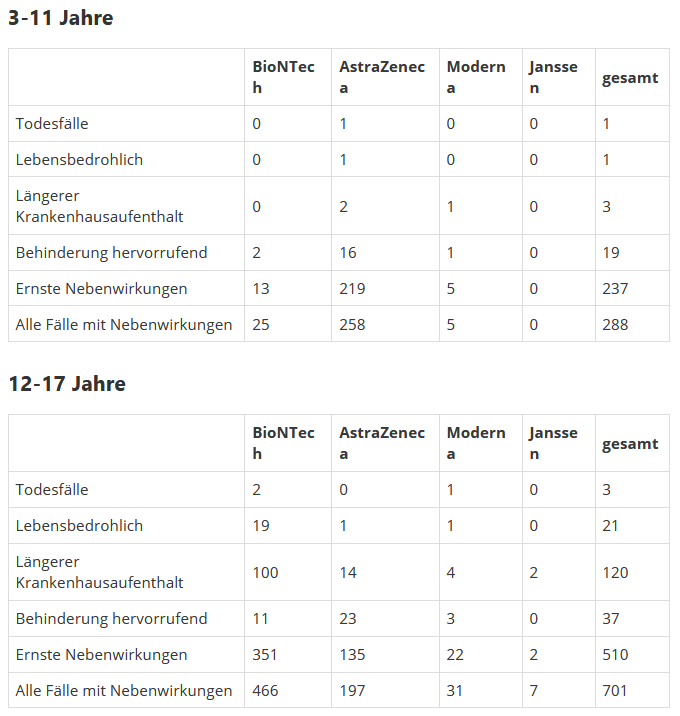 ______________________________________________
Šis tekstas pasirodė 2021 m. birželio 23 d. pavadinimu "WHO: keine Empfehlung zur Impfung Kindern und Jugendlichen unter 18 Jahren" svetainėje https://tkp.at/
Išversta padedant www.DeepL.com/Translator.
Šis tekstas yra licencijuojamas pagal "Creative Commons Attribution 4.0" tarptautinę licenciją. Nesivaržykite kopijuoti ir dalintis.