Originalus straipsnis paskelbtas 2021 m. liepos 5 d.
Peter F. Meyer. Išversta padedant www.DeepL.com/Translator
Nėščios moterys nebuvo įtrauktos į visus naujų genetiškai modifikuotų vakcinų registracijos tyrimus. Tačiau dabar tai rekomenduojama. Žurnale "New England Medical Journal" buvo atliktas tyrimas apie galimas problemas, kuriame teigiama, kad atsargumas yra būtinas. Bent jau skiepijant vakcinomis nėštumo pradžioje.
Naujajame žurnale "New England Journal of Medicine" paskelbtame tyrime "Preliminary Findings of mRNA Covid-19 Vaccine Safety in Pregnant Persons" ("Preliminarūs mRNA Covid-19 vakcinos saugumo nėščiosioms duomenys") nustatyta, kad "Covid" vakcinos sukėlė spontaniškus abortus 104 iš 127 nėščiųjų per pirmąjį nėštumo trimestrą. Iš viso tyrime dalyvavo 827 nėščiosios, tačiau 700 iš jų eksperimentinę vakciną gavo tik trečiąjį nėštumo trimestrą. Tai reiškia, kad vakcina sutrikdo svarbiausius ankstyvojo prenatalinio vystymosi etapus ir per pirmąsias 20 nėštumo savaičių nužudo keturis iš penkių kūdikių.
Tačiau stebina tai, kad tyrimas buvo pateiktas klaidingai ir klaidinančiai, o net ir pareikalavus nebuvo ištaisytas.
Paaiškinimui 4 lentelėje nurodyta, kad iš 827 moterų 700 buvo paskiepytos trečiąjį trimestrą. Per pirmąsias 20 savaičių užregistruoti 104 persileidimai, t. y. būtent tokie, kokie būna per pirmuosius du nėštumo trimestrus, tačiau per juos paskiepytos tik 127 moterys. Ir iš jų ne 12,6 % patyrė persileidimą, kaip teigiama, o 104 iš 127, t. y. 82 %.
Dr. Peteris McCulloughas, Teksaso A&M medicinos profesorius, neseniai davė interviu Mike'ui Adamsui laidoje "Brighteon Conversations", kur kalbėjo apie veiksmingą Covid profilaktiką, gydymą ir antikūnų infuzijas. McCullough teigė, kad šie metodai buvo sėkmingi gydant pagyvenusius ir pažeidžiamus žmones. Tačiau jis paaiškino, kad daugumai jaunesnių nei 50 metų žmonių jie nereikalingi, nes jiems Covid-19 įveikti nesunku.
Toliau gerbiamas gydytojas aptaria skiepus, kurių preparatai nėščiosioms leidžiami tik su tam tikromis sąlygomis. JAV, Europos ir Jungtinės Karalystės valdžios institucijos mano, kad skiepai yra visiškai priimtini kiekvienai nėščiai moteriai.
"Nėščios moterys gali lengvai apsisaugoti nuo Covid-19", – sakė McCullough. "Nė viena moteris nėštumo metu neturėtų rizikuoti skiepytis Covid-19 vakcina." Klinikinių tyrimų metu vakcinos Covid-19 niekada nebuvo bandomos su nėščiomis moterimis, nes neetiška nėščias moteris taip žaloti. Todėl atliekant tyrimus nebuvo tiriamas mutageniškumas ar reprodukciniai defektai.
"Moterys nerimauja dėl to, kad nėštumo metu gali išgerti pusę taurės vyno, tad kaip jos gali suleisti eksperimentinę, nepatikrintą, nesaugią vakciną? Tarsi gydytojams, amerikiečiams ir visiems kitiems bendrai būtų plaunamos smegenys, propagandos priemonėmis, ir jie aklai priima tai, nuo ko turėtų laikytis atokiau."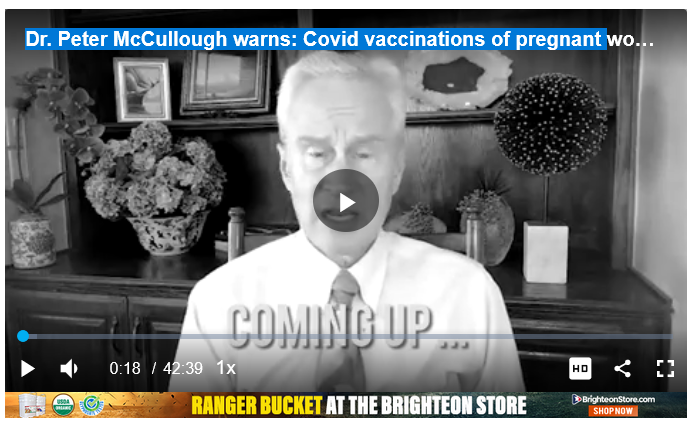 _________________________________________________
Šis tekstas pasirodė 2021 m. 2021 m. liepos 5 d. pavadinimu "Studie: Corona Impfung von Schwangeren führt zu hohem Prozentsatz von Fehlgeburten" svetainėje https://tkp.at/
Išversta padedant www.DeepL.com/Translator.
Šis tekstas yra licencijuojamas pagal "Creative Commons Attribution 4.0" tarptautinę licenciją. Nesivaržykite kopijuoti ir dalintis.