Originalus straipsnis paskelbtas 2021 m. lapkričio 1 d.
Martin Kulldorff ir Jay Bhattacharya. Išversta padedant www.DeepL.com/Translator.
Prasidėjus pandemijai, Amerikai reikėjo kreiptis į ką nors patarimo. Žiniasklaida ir visuomenė natūraliai atsigręžė į daktarą Anthony Fauci – Nacionalinio alergijos ir infekcinių ligų instituto direktorių, gerbiamą laboratorijos imunologą ir vieną iš prezidento Donaldo Trumpo pasirinktų COVID patarėjų. Deja, spręsdamas svarbiausius epidemiologijos ir visuomenės sveikatos klausimus, daktaras A. Fauci suklydo. Dabar jį vejasi realybė ir moksliniai tyrimai.
Štai pagrindinės problemos:
Natūralus imunitetas. Ragindamas įvesti privalomus skiepus, Daktaras Fauci ignoruoja COVID persirgusiųjų natūraliai įgytą imunitetą, šių žmonių Jungtinėse Valstijose yra daugiau kaip 45 mln. Vis daugiau įrodymų rodo, kad natūralus imunitetas yra stipresnis ir ilgesnis, nei suteikiamas vakcinų. [Red: Ilgalaikės tendencijos vis dar neaiškios. Neseniai atlikto tyrimo išvados buvo priešingos, tačiau jį kritikavo šio straipsnio autorius]. Izraelyje atliktame tyrime skiepytieji 27 kartus dažniau sirgo simptominiu COVID nei neskiepytieji, susirgę antrąkart.
Apie natūralų imunitetą persirgus žinome bent jau nuo Atėnų maro 430 m. prieš Kristų. Apie tai žino pilotai, sunkvežimių vairuotojai ir ilgapirščiai, o slaugytojai tai žino geriau nei bet kas kitas. Pagal Fauci nurodymus ligoninės atleidžia didvyriškus slaugytojus, kurios persirgo COVID, užsikrėtusios slaugydamos pacientus. Turėdami geresnį imunitetą, jie gali saugiai slaugyti pačius seniausius ir silpniausius pacientus, nes jų rizika užkrėsti dar mažesnė nei paskiepytųjų.
Vyresnio amžiaus žmonių apsauga. Nors užsikrėsti gali bet kas, mirtingumo rizika tarp senų ir jaunų žmonių skiriasi daugiau nei tūkstantį kartų. Po daugiau nei 700 000 pranešimų apie COVID mirtis Amerikoje dabar žinome, kad lockdown'ai neapsaugojo didelės rizikos vyresnio amžiaus žmonių. Kai daktaro Fauci paklausė apie idėją kryptingai apsaugoti pažeidžiamus asmenis, jis prisipažino, kad neįsivaizduoja, kaip tai padaryti, ir teigė, kad tai būtų neįmanoma. Tai gali būti suprantama laboratorijos mokslininkui, tačiau visuomenės sveikatos mokslininkai pateikė daug konkrečių pasiūlymų, kurie būtų padėję, jei Fauci ir kiti pareigūnai nebūtų jų ignoravę.
Ką galime padaryti dabar, kad sumažintume mirtingumą nuo COVID? Dabartinės skiepijimo pastangos turėtų būti sutelktos į vyresnius nei 60 metų žmones, kurie nėra nei pasveikę nuo COVID, nei paskiepyti, įskaitant sunkiai pasiekiamus, mažiau pasiturinčius žmones kaimo vietovėse ir miestų centruose. Vietoj to daktaras Faučis (Dr. Fauci) siekė, kad skiepytis būtų įpareigoti vaikai, studentai ir darbingo amžiaus suaugusieji, kurie jau turi imunitetą, t. y. mažos rizikos grupės, ir dėl to labai sutriko darbo rinkos ir daugelio ligoninių veikla.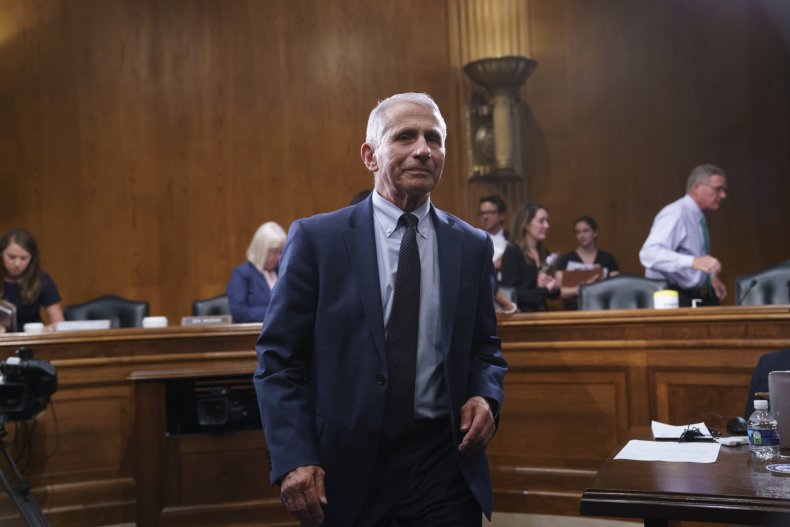 Mokyklų uždarymas. Mokyklos yra pagrindiniai gripo, bet ne COVID, plitimo taškai. Nors vaikai ir užsikrečia, jų mirties nuo COVID rizika yra nedidelė, mažesnė nei ir taip maža rizika mirti nuo gripo. Per 2020 m. pavasario bangą Švedijoje visi 1,8 mln. vaikų nuo 1 iki 15 metų amžiaus lankė vaikų darželius ir mokyklas be kaukių, testų ir socialinės atskirties. Rezultatas? Nulis mirčių nuo COVID tarp vaikų ir mažesnė COVID rizika mokytojams nei kitų profesijų vidurkis. 2020 m. rudenį dauguma Europos šalių pasekė šiuo pavyzdžiu ir pasiekė panašių rezultatų. Atsižvelgiant į pražūtingą mokyklų uždarymo poveikį vaikams, daktaro Fauci mokyklų uždarymo propagavimas gali būti didžiausia jo karjeros klaida.
Kaukės. Auksinis medicinos tyrimų standartas yra atsitiktinių imčių tyrimai, o šiuo metu buvo atlikti du COVID kaukės suaugusiems tyrimai. Nėra patikimų mokslinių įrodymų, kad kaukės vaikams yra veiksmingos. Danijoje atliktame tyrime nenustatyta statistiškai reikšmingo skirtumo tarp kaukės naudojimo ir nenaudojimo, kai kalbama apie koronavirusinę infekciją. [Red. neseniai atliktas tyrimas parodė, kad kaukės mažina infekcijų skaičių.] Tyrimas Bangladeše atskleidė, jog kaukės sumažino infekcijų perdavimą nuo 0 iki 18 proc. Vadinasi, kaukės duoda arba nulinę, arba ribotą naudą. Dr. Fauci galėjo akcentuoti daug svarbesnes pandemijos priemones, pavyzdžiui, geresnę ventiliaciją mokyklose ir slaugos namų personalo, turinčio natūralų imunitetą, įdarbinimą.
Kontaktų atsekamumas. Kai kurių infekcinių ligų, pavyzdžiui, Ebolos ir sifilio, atveju, kontaktų atsekamumas yra labai svarbus. Tokios plačiai cirkuliuojančios virusinės infekcijos, kaip COVID, atveju tai buvo beviltiškas, ligos sustabdymui nepadėjęs vertingų visuomenės sveikatos išteklių švaistymas.
Šalutinė žala visuomenės sveikatai. Pagrindinis visuomenės sveikatos principas yra tas, kad sveikata yra daugialypė; vienos infekcinės ligos kontrolė nėra sveikatos sinonimas. Būdamas imunologas, daktaras Fauci tinkamai neįvertino ir nepasvėrė, kokį pražūtingą poveikį lockdown'ai turės vėžio diagnostikai ir gydymui, širdies ir kraujagyslių ligų rezultatams, diabeto priežiūrai, vaikų skiepijimo rodikliams, psichikos sveikatai, perdozavimui opiatų preparatais ir kt. Amerikiečiai dar daugelį metų gyvens su šiomis lockdown'ų pasekmėmis arba nuo jų mirs.
Privačiuose pokalbiuose dauguma mūsų kolegų mokslininkų su paminėtais argumentais sutinka. Nors keli iš jų pasisakė viešai, kodėl to nedaro daugiau? Kai kurie bandė, bet jiems nepavyko. Kiti tylėjo, kai matė, kaip kolegos buvo šmeižiami ir juodinami žiniasklaidoje arba cenzūruojami "Big Tech". Kai kurie yra valstybės tarnautojai, kuriems draudžiama prieštarauti oficialiai politikai. Daugelis bijo prarasti pareigas ar dotacijas moksliniams tyrimams, žinodami, kad ant didžiausios pasaulyje infekcinių ligų tyrimams skirtų pinigų krūvos sėdi Dr. Fauci. Dauguma mokslininkų nėra infekcinių ligų protrūkių ekspertai. Jei būtume, tarkime, onkologai, fizikai ar botanikai, tikriausiai taip pat pasitikėtume daktaru Faučiu.
Įrodymų yra. Gubernatoriai, žurnalistai, mokslininkai, universitetų rektoriai, ligoninių vadovai ir verslo lyderiai gali toliau sekti daktaru Fauci arba atsibusti. Po daugiau kaip 700 000 COVID mirčių ir pražūtingo lockdown'ų poveikio atėjo laikas grįžti prie pagrindinių visuomenės sveikatos principų.
---
Dr. Martinas Kulldorffas yra epidemiologas, biostatistas ir Harvardo medicinos mokyklos medicinos profesorius. Jay Bhattacharya, medicinos mokslų daktaras, yra Stanfordo universiteto Medicinos mokyklos sveikatos politikos profesorius. Abu jie yra naujai įsteigto Brownstone instituto vyresnieji mokslininkai. Šiame straipsnyje išreikšta nuomonė yra autorių asmeninė.
---
Šis tekstas pasirodė 2021 m. lapkričio 1 d. pavadinimu "How Fauci Fooled America | Opinion" svetainėje newsweek.com.
Išversta padedant www.DeepL.com/Translator.
Šis tekstas yra licencijuojamas pagal "Creative Commons Attribution 4.0" tarptautinę licenciją. Nesivaržykite kopijuoti ir dalintis.