Originalus straipsnis paskelbtas 2022 m. vasario 16 d. nachdenkseiten.de.
Jens Berger. Išversta padedant www.DeepL.com/Translator. Be pataisymų.
---
Jei būtų priklausę nuo "labai detalios" "informuotųjų sluoksnių" CŽV žvalgybos, taip mėgstamos cituoti Vokietijos žiniasklaidos, Rusijos kariuomenė būtų įsiveržusi į Ukrainą šiandien 2.00 val. ryto. Nenuostabu, kad tai neįvyko. Rusijos ambasadorius ES Vladimiras Čižovas tai lakoniškai pakomentavo sakiniu: "Karai Europoje retai kada prasideda trečiadienį". Iš tiesų, reikia nemažos dozės šmaikštaus humoro, kad neapsigalvotum dėl neįtikėtinos dezinformacijos kampanijos, kurią pastarosiomis savaitėmis žiniasklaidoje dominuoja JAV ir NATO sluoksniai. Jei šis neįvykęs karas turi pralaimėtoją, tai visų pirma yra Vokietijos žiniasklaida, nekvestionavusi alternatyvių faktų ir taip prisidėjusi prie eskalacijos. (…) Tai visiškai atitinka JAV interesus, kurių tikslas – pasitelkus sukurtą grėsmės scenarijų pajungti Europą savo doktrinai. Jensas Bergeris.
Dezinformacijos kampanija apie tariamą Rusijos invazijos į Ukrainą planą buvo suplanuota iš anksto. Dar gruodžio pradžioje laikraštis "Washington Post" citavo anoniminio JAV vyriausybės šaltinio "konfidencialius dokumentus", kurie turėjo įrodyti tariamus Rusijos planus dėl neišvengiamos invazijos į Ukrainą. Tai, kad JAV žiniasklaida dalyvauja JAV politikoje sąmoningai skleisdama tarnybų dezinformaciją, nėra naujiena. 2002 m. būtent laikraštis "New York Times", sąmoningai skleisdamas melagingus pranešimus apie tariamus Sadamo Huseino masinio naikinimo ginklus, padėjo pateisinti JAV vyriausybės invazijos planus. Iš šių klaidų nepasimokyta. Priešingai. Tai vis labiau pasakytina apie Vokietijos žiniasklaidą.
Čia, Vokietijoje, būtent SPIEGEL pirmiausia pasižymėjo skleisdamas JAV tarnybų sąmoningai paskleistą dezinformaciją ir praėjusį penktadienį išpranašavo Rusijos invaziją į Ukrainą šį trečiadienį. Minėti šaltiniai – CŽV, JAV kariuomenė ir "neįvardyti saugumo šaltiniai". Užuot suabejojus šiais tikslingai paskleistais dokumentais, jie netgi buvo pažymėti etikete "SPIEGEL informacija". Taigi tarnybos, kurios turėjo įrodymų apie neegzistuojančius Sadamo masinio naikinimo ginklus ir nepastebėjo talibų Afganistane, kai jie jau buvo Kabulo priemiesčiuose, dabar turėtų būti patikimas šaltinis Rusijos invazijos planui?
Tačiau SPIEGEL toli gražu nėra vienintelis. Britų "The Sun" šį kartą buvo ypač įkyrus: vakar jis teigė žinąs tikslų Rusijos invazijos laiką, remdamasis britų tarnybomis ir Didžiosios Britanijos užsienio reikalų sekretore Liz Truss, o šiandien, kai rusai vis dėlto neįsiveržė, skubiai perrašė visą vakarykštį straipsnį.
Tačiau kodėl reikia ieškoti Didžiosios Britanijos, jei Vokietijos žiniasklaida nėra nė kiek geresnė? Beveik visa Vokietijos žiniasklaida noriai perėmė tarnybų dezinformaciją. Ji nebuvo kvestionuojama ar kritikuojama. Vietoj to, įvyko analogų neturinti žiniasklaidos kampanija. Nesvarbu, ar tai būtų dpa, Tagesschau, Heute, Süddeutsche, RND, WELT ar FAZ – užuot tyrusi ir analizavusi, visa, taip save vadinanti, "kokybiška žurnalistika" dalyvavo kuriant absurdišką grėsmės scenarijų ir, bendradarbiaudama su politikais, pateikė daugybę šalutinių pranešimų.
ES ruošiasi nutraukti Rusijos dujų tiekimą ir, žinoma, naudojasi situacija, kad perkeltų karius prie Rusijos sienos ir pažadėtų Ukrainai šimtus milijonų eurų. Kodėl? Tačiau tokie klausimai, savaime suprantama, neprasiskverbia į dabartinę karo isteriją.
Retai kada vyksta tokia masinė kampanija, o pažįstamų pokalbiai rodo, kad ji buvo sėkminga. Daugelis mūsų bendrapiliečių iš tikrųjų manė, kad Rusija įsiveržė į Ukrainą ir kad tik stebuklas gali užkirsti kelią karui. Dabar žiniasklaida bando įrodyti, kad tik beprotiškai puiki kanclerės diplomatija ir mūsų brangių sąjungininkų iš už Atlanto grasinimai paskutinę minutę neleido įvykti dar blogesniam dalykui. Istorijos iš alternatyvaus paralelinio pasaulio. Buvo aišku, kad pasibaigus manevrams Rusija įsakys savo kariams grįžti į savo bazes, ir net šio "pasitraukimo" data buvo nustatyta ir žinoma visame pasaulyje.
Kodėl visa tai? Kam kurti milžinišką grėsmės scenarijų pasitelkiant netikras naujienas? Atsakymas yra paprastesnis, nei gali pasirodyti iš pradžių. Daugybė kritiškų balsų mano, kad tikrasis žiniasklaidos kampanijos taikinys yra ne tiek Rusija ar Ukraina, kiek priešingai – Vokietija. Vokietijos visuomenė verčiama paklusti grėsmių scenarijui, o Vokietijos vyriausybė – dar labiau integruotis į JAV vykdomą eskalacijos politiką. Norint suprasti šią strategiją, naudinga atidžiau pažvelgti į JAV geostrateginę doktriną.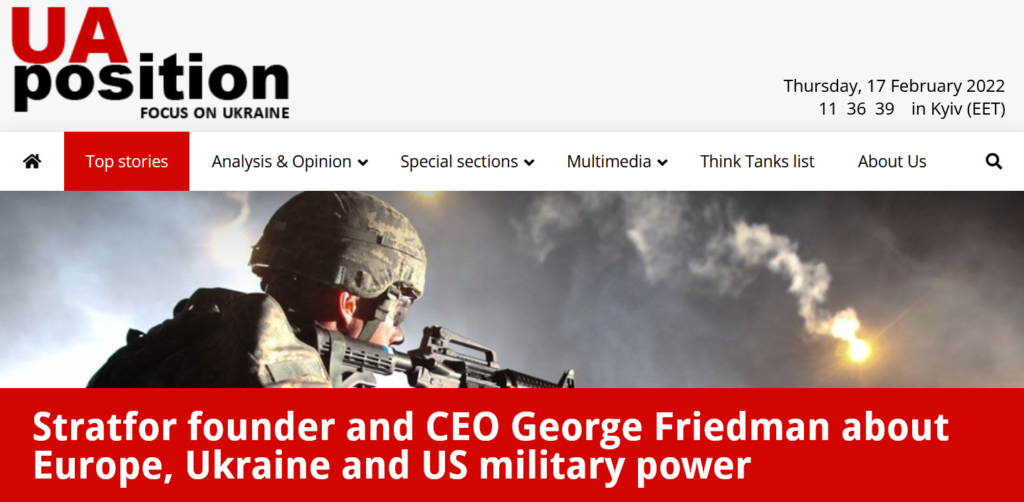 Siekdamos užtikrinti savo dominavimą pasaulyje, JAV nori įvaryti pleištą tarp Vidurio Europos, visų pirma Vokietijos, ir Rusijos."Naujasis šaltasis karas" ypač kenkia Vokietijai ir stumia ją į nuolankią priklausomybę nuo JAV – visa tai, be kita ko, organizuoja NATO. Kuo realesnis atrodo grėsmės scenarijus, tuo mažiau Vokietijoje girdėti balsų, kurie vis dar pasisako už tai, kad apskritai būtų vykdoma atšilimo politika, ir nori gerai sutarti su kaimynais. Skaldyk ir valdyk. Senas dominavimo principas, ištobulintas JAV. O jei Europa susilpnins ekonominius santykius su Rusija, ateityje brangiau pirks skalūnų dujas ir ginkluotę iš JAV, tai, žinoma, bus naudinga imperijai. Taigi ir vėl pakliuvome į JAV paspęstus spąstus. Tai nebūtų įmanoma be paslaugių Vokietijos žiniasklaidos priemonių. Karai retai kada prasideda trečiadienį, tačiau jie kasdien asimetriška forma vyksta kaip informaciniai karai mūsų žiniasklaidoje.
---
Šis tekstas pasirodė 2022 m. vasario 16 d. pavadinimu ""Kriege beginnen selten an einem Mittwoch"" svetainėje nachdenkseiten.de .
Išversta padedant www.DeepL.com/Translator. Be pataisymų.
Šis tekstas yra licencijuojamas pagal "Creative Commons Attribution 4.0" tarptautinę licenciją. Nesivaržykite kopijuoti ir dalintis.
Nuotrauka: Screencap bild.de