Originalus straipsnis paskelbtas 2022 m. gegužės 2 d. dailysceptic.org.
Zacharias Fögen. Išversta padedant www.DeepL.com/Translator. Be pataisymų.
---
Toliau pateikiamas svečio straipsnis, kuriame daktaras Zacharias Fögenas, kurio naujame (recenzuojamame) straipsnyje žurnale "Medicine" aprašoma, kaip veido kaukės padidina COVID-19 mirtingumą.
Prireikė daug laiko, bet mano tyrimas apie kaukes pagaliau pasirodė prestižiniame žurnale "Medicine". Apie ką yra mano tyrimas?
Tyrime kalbama apie tai, ar kaukės sumažina mirštamumą nuo COVID-19 (nes perduodama mažiau virusinės medžiagos), ar jį padidina. Padidėjimas skamba nelogiškai? Paklauskite savęs: ar užsidėtumėte naudotą kaukę nuo paciento, kuris serga Covid-19? Tikriausiai nedėtumėte, nes priešingu atveju galėtumėte užsikrėsti įkvėpdami virusus, kuriuos jis ar ji įkvėpė į kaukę.
Mano tyrimas, atliktas JAV Kanzaso valstijoje, pateikia atsakymą: apygardose, kuriose nebuvo privalomų kaukių, mirtingumas nuo susirgimų buvo gerokai mažesnis. Privalomos kaukės ten mirtingumą nuo ligos atvejų padidino 85 %. Net ir atsižvelgus į dėl kaukių sumažėjusį susirgimų skaičių, šie skaičiai vis tiek išlieka 52 % didesni. Daugiau kaip 95 % šio poveikio galima priskirti tik COVID-19, taigi tai nėra CO2, bakterijos ar grybeliai po kauke.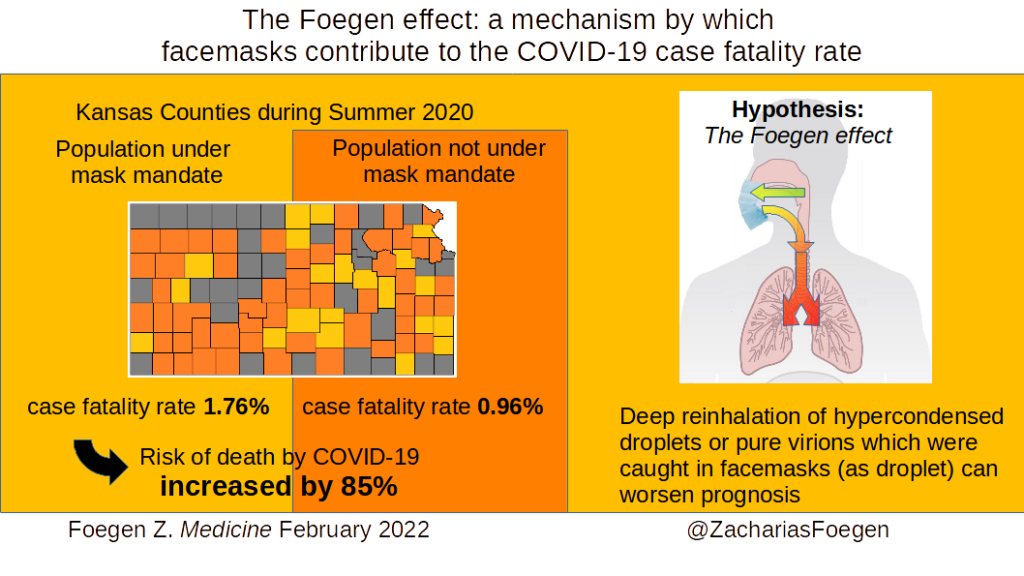 To priežastis yra tai, ką aš vadinu Fogeno efektu: gilus pakartotinis kondensuotų lašelių ar grynų virionų, kurie buvo įstrigę kaukėje lašelių pavidalu, įkvėpimas gali pabloginti prognozę. Kiekvienas iš šių žingsnių buvo dokumentuotas literatūroje.
Dabar šis poveikis netgi įrodytas gyvūnų modeliuose. Tolesni tyrimai su žmonėmis, lyginant kaukę su šalmu ar nosies vamzdeliu, rodo tą patį rezultatą.
Kiti du dar didesni vertinimai rodo tokį patį poveikį mirštamumui. Žurnale "Cureus" atliktas recenzuojamas (peer-reviewed) tyrimas rodo, kad Europoje nėra ryšio tarp kaukės naudojimo atitikties ir atvejų skaičiaus, tačiau yra statistiškai reikšmingas teigiamas ryšys tarp kaukės naudojimo atitikties ir mirčių skaičiaus. Tai reiškia: daugiau kaukių, tas pats atvejų skaičius, bet daugiau mirčių.
Adjodah ir kt. atliktame recenzuojamame tyrime, kuriame analizuojamas kaukės naudojimo įpareigojimų poveikis atvejų skaičiui ir mirtingumui (bet ne mirštamumui) JAV, remiantis išankstiniu ir paskesniu vertinimu, nustatyta, kad panaikinus kaukės naudojimo įpareigojimą atvejų skaičius padidėja, bet mirtingumas ne, o tai reiškia, kad panaikinus kaukės naudojimo įpareigojimą sumažėja mirštamumas. Ir atvirkščiai, įgyvendinus įpareigojimą dėvėti kaukes, mirtingumas nuo mirtinų atvejų padidėja.
Mano tyrimas yra atviros prieigos ir jį galite rasti čia – ypač rekomenduojama PDF versija (galima atsisiųsti paspaudus mygtuką kairėje juostoje) dėl naudingo išdėstymo.
---
Šis tekstas pasirodė 2022 m. gegužės 2 d. pavadinimu "The Foegen Effect: Why Face Masks Increase the Death Rate of COVID-19" svetainėje dailysceptic.org.
Išversta padedant www.DeepL.com/Translator. Be pataisymų.
Šis tekstas yra licencijuojamas pagal "Creative Commons Attribution 4.0" tarptautinę licenciją. Nesivaržykite kopijuoti ir dalintis.