Kiek padidėjo kovidų atvejų skaičius JAV? Koreguojant pagal testavimo lygį (kuris sparčiai mažėja), JAV duomenys atrodo grėsmingai.
Originalus straipsnis paskelbtas 2022 m. birželio 29 d. bad cattitude.
El gato malo. Išversta padedant www.DeepL.com/Translator. Be pataisymų.
---
Pastaba sapereaude: Šis tekstas buvo automatiškai išverstas ir patikrintas. Kadangi nesu nei gimtakalbis lietuvis, nei gydytojas, rekomenduoju, kilus abejonių, susipažinti su originaliu tekstu anglų kalba. Dr. Simonas Goddekas (biotechnologijos mokslų daktaras) atkreipia dėmesį į šio straipsnio svarbą.
"Šis puikus straipsnis – tai viskas, ką šiandien reikia perskaityti. Gato analizė kelia daug naujų klausimų dėl vakcinos veiksmingumo. Žvelgdami į duomenis, galime daryti išvadą, kad tęsti vakcinacijos kampaniją yra beatodairiška. Yra daug mokslininkų ir politikų, kurie žino šiuos duomenis, tačiau ir toliau skatina skiepyti vaikus ir kūdikius.
Ši ydinga scientizmo tendencija yra pražūtinga žmonijos ateičiai."
---
PGR testavimas dėl kovido yra abejotinas procesas. Testas beveik visada yra per daug jautrus, o mes jo nerūšiuojame pagal klinikinį pasireiškimą (angl. clinical presentation). Tačiau su tokiomis klaidomis susiję tai, kad jos bent jau išlieka gana nuoseklios, todėl net jei tai suteikia sudėtingą metriką tiksliam paplitimo skaičiavimui, paprastai galime bent jau palyginti duomenis tarpusavyje.
Problema tai darant "atvejais" yra ta, kad tyrimų lygiai labai skiriasi. Jei turite 1000 žmonių, iš kurių 100 serga kovidu, ir ištiriate 200, rasite 20 atvejų. Jei ištirsite 400 žmonių, rasite 40 atvejų. Dėl to kovidas netapo labiau paplitęs. Pranešti, kad "kovido atvejų padvigubėjo", būtų neteisinga. Jūs tiesiog sunkiau jo ieškojote. Tai vadinama "imties dažnumu" (angl. sample rate), o norint gauti tikrus duomenis apie atvejus, reikia jį kontroliuoti, nes, kaip aš mėgstu sakyti, pateikti duomenis apie sergamumą, nekontroliuojant imties dažnumo, prilygsta melui.
Žinoma, toks koregavimas niekada nebus tikslus, bet jis velniškai geresnis už neapdorotus atvejus.
Didžiąją dalį ankstyvojo Kovido laikotarpio testavimo lygis nuolat didėjo. Dėl to pirminis atvejų skaičius pervertino paplitimo didėjimą. Daugeliu atvejų tai tiesiog apvertė eilučių nuolydį (pavyzdžiui, 2020-21 m. žiemos pikas atrodė didesnis nei 2020 m. pavasario pikas. Taip nebuvo.)
Dabar testavimo lygiai mažėja. Ir tai gerokai nuvertina atvejų skaičių.
Tai, kas iš tikrųjų yra daug daugiau nei praeityje, atrodo mažiau.
Ir tai maskuoja OAS (pirminės antigeninės nuodėmės, angl. original antigenic sin) poveikį ir išpučia santykinį CFR – abu šie veiksniai turi gilių pasekmių.
Pažvelkime: Tai neapdoroti atvejai JAV ir tyrimų skaičiai.

Žiūrint į tai, galima manyti, kad atvejų skaičius nuo gegužės vidurio nesikeičia ir yra maždaug 25 % mažesnis už praėjusią vasarą pasiektą aukščiausią lygį. Tačiau tai yra imties rodiklio (angl. sample rate) iliuzija.
Tikrovė yra visai kitokia.
Šioje serijoje normalizavau testavimo rodiklį iki 5 per dieną 1000 žmonių ir pakoregavau visus atvejų duomenis, kad tai atsispindėtų. Tai reiškia, kad absoliutūs skaičiai iš tikrųjų nebeatitinka nieko (nes dabartinis tyrimų rodiklis yra maždaug 1,5), tačiau visa serija tampa palyginama su savimi taip, kaip anksčiau nebuvo.
Kaip matyti, daug kas pasikeitė.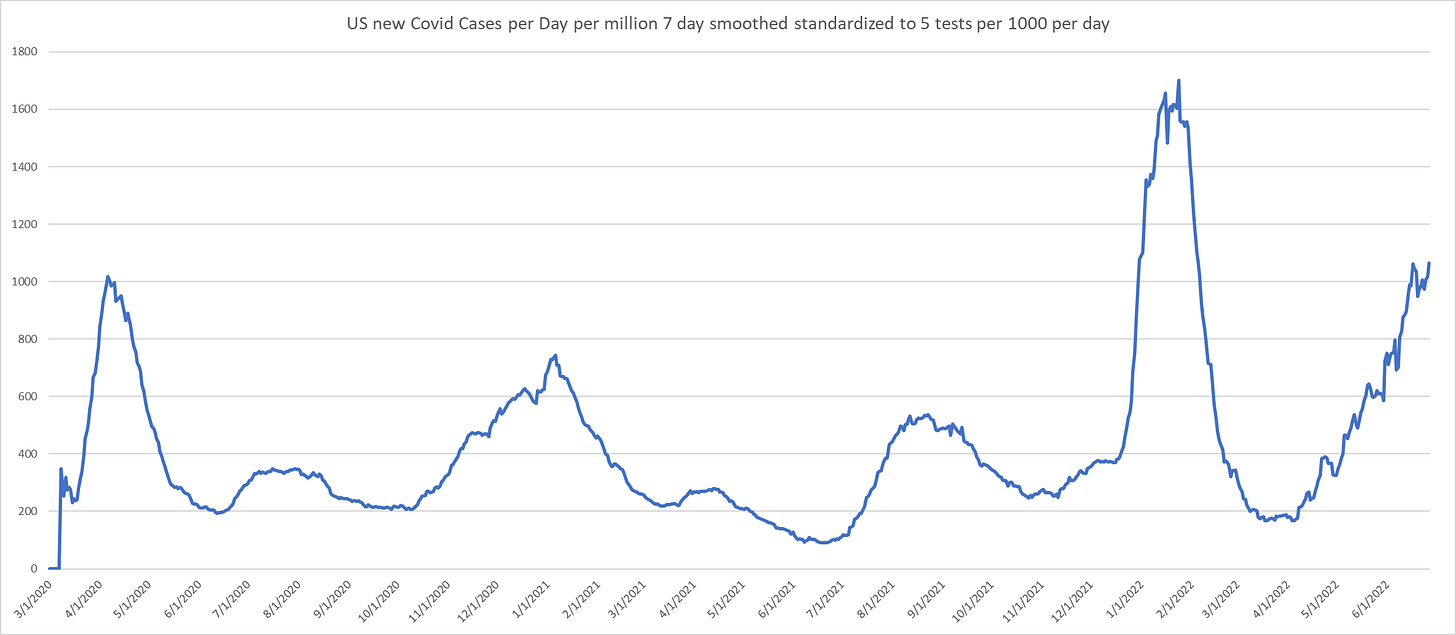 Dabar matome, kad 2020-1 m. žiemos pikas buvo mažesnis už 2020 m. balandžio mėn. piką.
Taip pat matome, kad dabartinis atvejo lygis sparčiai kyla ir šios vasaros pradžioje.
Absoliutus lygis yra LABAI aukštas ir jau ~100 % nustelbė praėjusių metų vasaros sezoninį piką.
Mes nesame "sumažėję 25 %", mes esame "pakilę 100 %" ir sparčiai didėjame.
Jau dabar viršijame 2020-21 m. žiemos sezoninį piką ir, atrodo, turime realių galimybių pasiekti / viršyti 2021-22 m. žiemos sezoninį piką, kuris buvo daugiau nei 3 kartus didesnis už praėjusių metų piką.
Tai labai nukrypsta nuo normos ir tai maskuojama dėl smarkiai mažėjančio testavimo rodiklio.
JAV atvejų skaičius sparčiai auga.
Kitas vaizdas yra šiek tiek painus, bet taip pat labai daug atskleidžiantis.
Žalios linijos yra nuo piko iki piko arba nuo piko iki dabartinio lygio. Raudonos linijos yra nuo 6/27/22 iki tos pačios datos prieš metus ir dvejus metus, kad matytumėte, kur esame laukiamame sezoniniame cikle.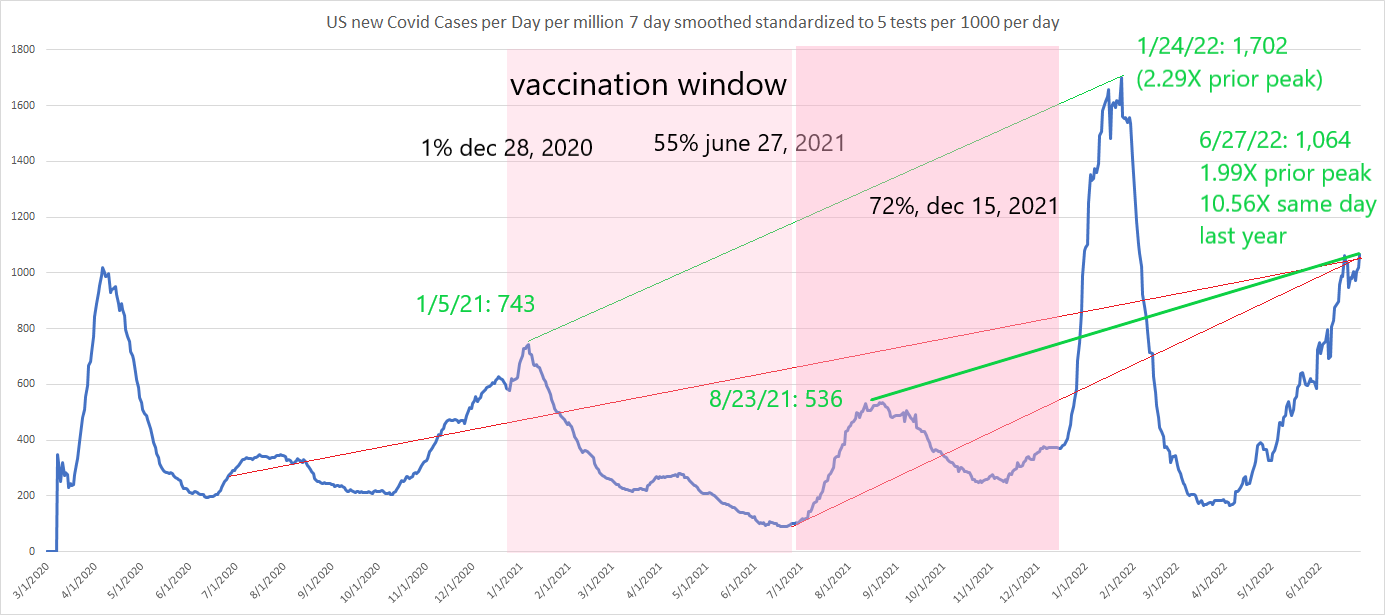 Žiemos pikas 2020-1 m., palyginti su ankstesniais metais, sumažėjo apie 25 %.
Tada prasidėjo vakcinacija. Kitos žiemos pikas buvo 2,29 karto.
Vasaros pikas 2021 m. buvo daugiau nei 1,5 karto didesnis nei ankstesniais nevakcinuotais metais.
O šie metai, po Booster Omnicron eros (angl. post booster Omnicron age), yra visiškai pašėlę.
Tai daugiau nei 10 kartų didesnis nei pernai tą pačią dieną.
Tai ~2 kartus daugiau nei praėjusių metų vasaros PEAK, o iki piko atvejų liko geros 6 savaitės, gal 8, jei išsilaikys sezoniškumas.
Atrodo, kad yra reali galimybė pasiekti naujas visų laikų aukštumas.
Prieš skiepijimą pikas buvo mažesnis nei ankstesniais metais.
Po skiepijimo jie VISI buvo didesni.
Sulig kiekvienu aukščiausiu tašku jie vis didėja.
Praėjusių metų viršūnių didėjimą galite pamatyti čia. Tai yra ta pati imties rodiklio pakoreguota serija, tačiau padalinta iš tos pačios praėjusių metų dienos, kad būtų galima matyti, kiek kartų daugiau atvejų yra dabar ir kiek tada. Skaičius, mažesnis už 1, rodo, kad atvejų skaičius, palyginti su praėjusiais metais, sumažėjo. Skaičius 2 reiškia dvigubai daugiau atvejų ir t. t.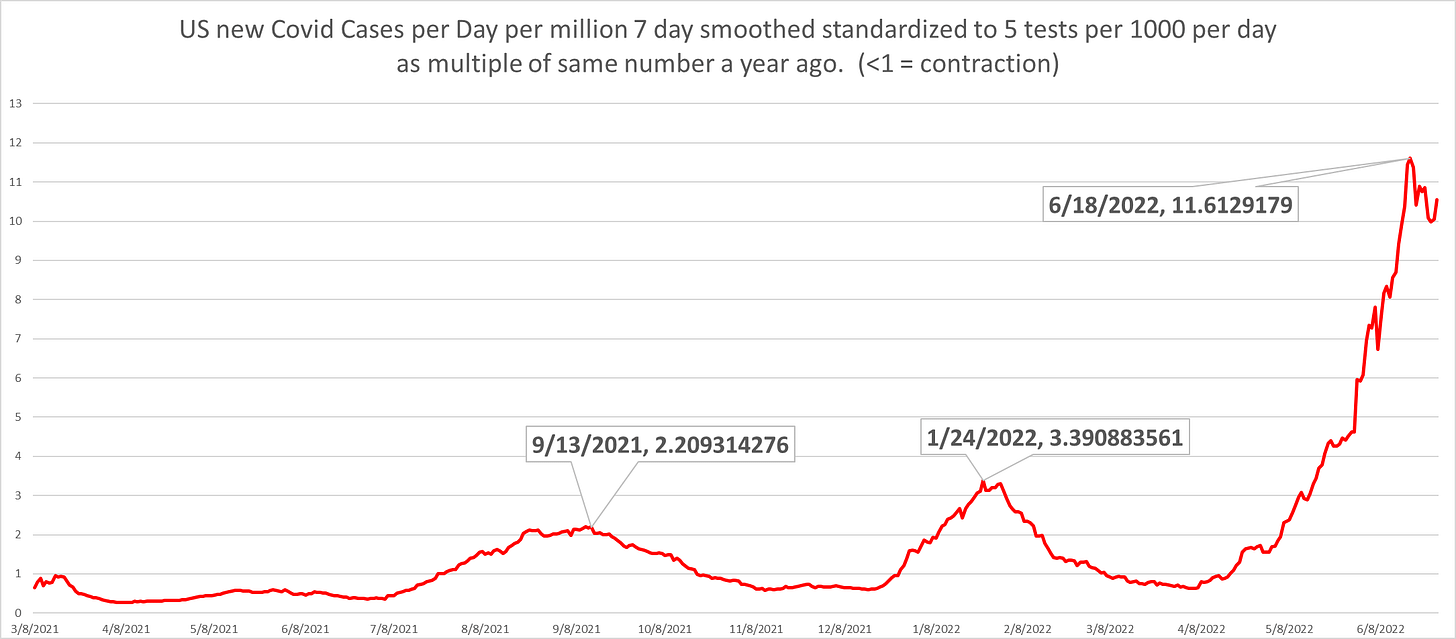 Tendencija čia labai grėsminga. Kiekviena paskesnė viršūnė vis didesnė. Bangos didėja, o ne mažėja.
2,2 karto, tada 3,4 karto, tada 11,6 karto išmuša iš vėžių kiekvienas naujas sezoninis pagreičio pikas, palyginti su praėjusiais metais (atkreipkite dėmesį, kad šių metų šuolis yra gerokai ankstesnis nei praėjusių metų, todėl šis 10-11X rodiklis greičiausiai yra išpūstas ir turėtų šiek tiek susispausti, nes pradedamas lyginti su 2021 m. šuoliu, o ne su įduba, tačiau net jei jis sumažės perpus, 5-6X yra bauginantis).
Tai ne bandos imunitetas, tai vis labiau pažeidžiama banda.
O taip laukinėje gamtoje nebūna. Ne tokiu mastu.
Mes stebime, kaip vanduo teka į kalną. Ir kai tai matote, reikia pradėti ieškoti išorinio veiksnio.
Daugelis vis bando tai vadinti vidinio kovidų užkrečiamumo pokyčiu, bet įtariu, kad tai greičiausiai klaidinga arba bent jau dažniausiai klaidinga. Žinau, kad nuolat skelbiu šią diagramą kaip kokį sugedusį įrašą, bet taip yra todėl, kad manau, jog ji tikrai labai svarbi.
Nes diagrama, kurią ką tik matėte, labai panaši į šią diagramą, tik su gale pridėtu kitu šuoliu.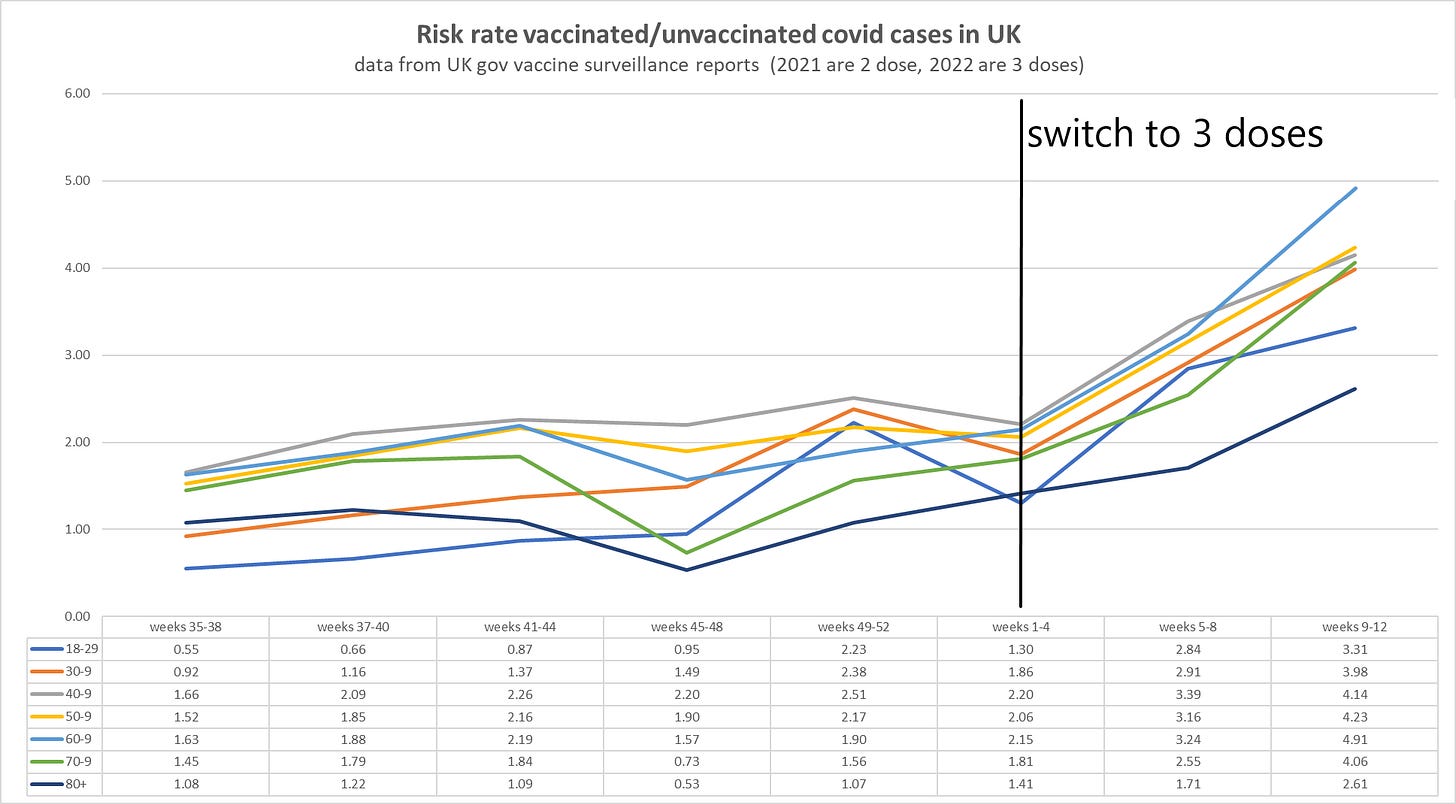 Ji jums parodo, kad, pasirodžius Omnikronui, vakcinuotų, o ypač stiprinamosios vakcinacijos vakcinuotų asmenų (angl. booster vaxxed) rizikos santykiai išsipūtė. Jie ne tik gerokai viršijo neskiepytųjų, bet ir kiekvieną mėnesį vis didėjo. Šis susiliejimas yra provokuojantis.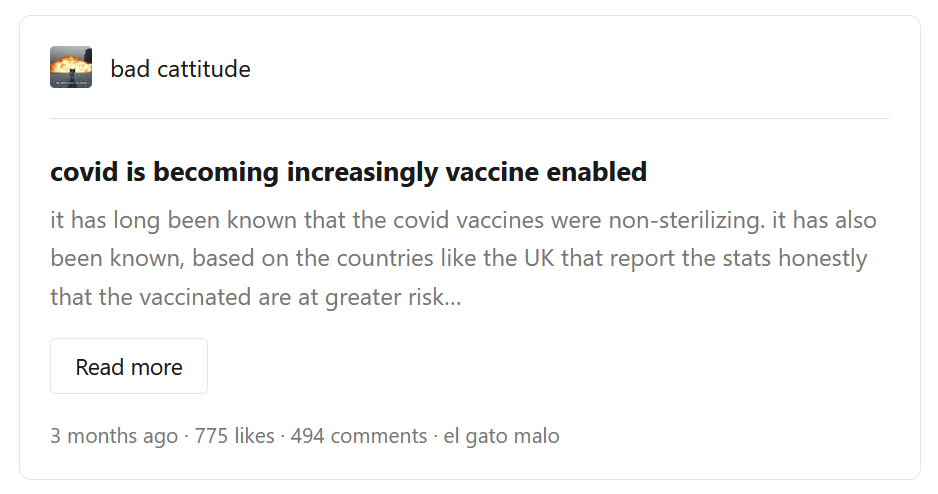 Jungtinė Karalystė nustojo pranešti apie šią seriją. Pažvelkite į JAV paplitimo duomenis ir galbūt suprasite, kodėl. Santykinis rizikos santykis per 8 savaites padvigubėjo nuo ~2 iki ~4, nepaisant to (o gal dėl to), kad jie perėjo prie pranešimų apie skiepijimą triguba, o ne dviguba vakcinos doze.
Tai griauna pasakojimą apie "labiau užkrečiamą infekciją". Galbūt šiek tiek taip ir yra, bet dažniausiai dėl to kaltos vakcinos. Ji nėra 3,4 karto, o juo labiau 11 kartų užkrečiamesnė.
Jokiu būdu. Niekaip.
O skiepytų ir neskiepytų duomenys aiškiai išdėstydavo varomąją jėgą, kol jie nenustojo jų teikti.
Duomenys atvirai sako, kad didžiulis genetinis šuolis į Omnicron buvo staigi OAS varianto atranka, kuriam pranašumą suteikė vakcinų sukelta bandos antigenų fiksacija, atsirandanti dėl nutekėjusių vakcinų. Omnicronas nėra delta palikuonis, tai yra grįžimas į daug ankstesnį bendrą protėvį. Jį iš "nepavykusių variantų" krūvos ištraukė naujas galingas evoliucinis selektorius.
Būtent taip elgiasi "nutekėjusios" vakcinos: jos atrenka OAS (originalią antigeninę nuodėmę) ir ADE (nuo antikūnų priklausomą stiprinimą, angl. antibody dependent enhancement).
Štai KODĖL mes nenaudojame šių skaičių.
Ir šios vakcinos siekia sukelti stiprią antigeninę fiksaciją, dėl kurios jūsų imuninė sistema negali prisitaikyti prie naujų šio patogeno variantų.
Mano žiniomis, bandos antigenų fiksacija žmonėms dar niekada nebuvo įvykusi. Jei tai vyksta dabar, viskas bus labai dramatiška.
Matematika, susijusi su tuo ir su tuo, kad lengvesni variantai (o Omnikronas yra daug mažiau virulentiškas, todėl tikriausiai iš dalies geriau plinta), gali tapti tikrai grėsminga ir gali padaryti taip, kad vakcinos, dėl kurių apskritai miršta daugiau žmonių, nei būtų mirę kitu atveju (net ir skiepytųjų), atrodys, kad jos veikia, nes santykinis poveikis ignoruoja sergamumo padidėjimą.
Ir mes pradedame matyti to požymių. Šią žiemą JAV šiaurės rytuose, kur skiepijama labai daug vakcinų, į ligoninę pateko daugiau senų žmonių nei ankstesniais metais, nepaisant to, kad žiemos variantas buvo švelnesnis, o skiepijimų skaičius – labai didelis.
Daugelyje šalių šį pavasarį antrą kartą padidėjo sergamumas, pranokdamas žiemos sergamumą.
Tai Omnicron virusas, peršokęs skiepytus asmenis ir sparčiai plintantis į naujas ir vis labiau optimizuotas sublinijas, kad užkrėstų skiepytus asmenis.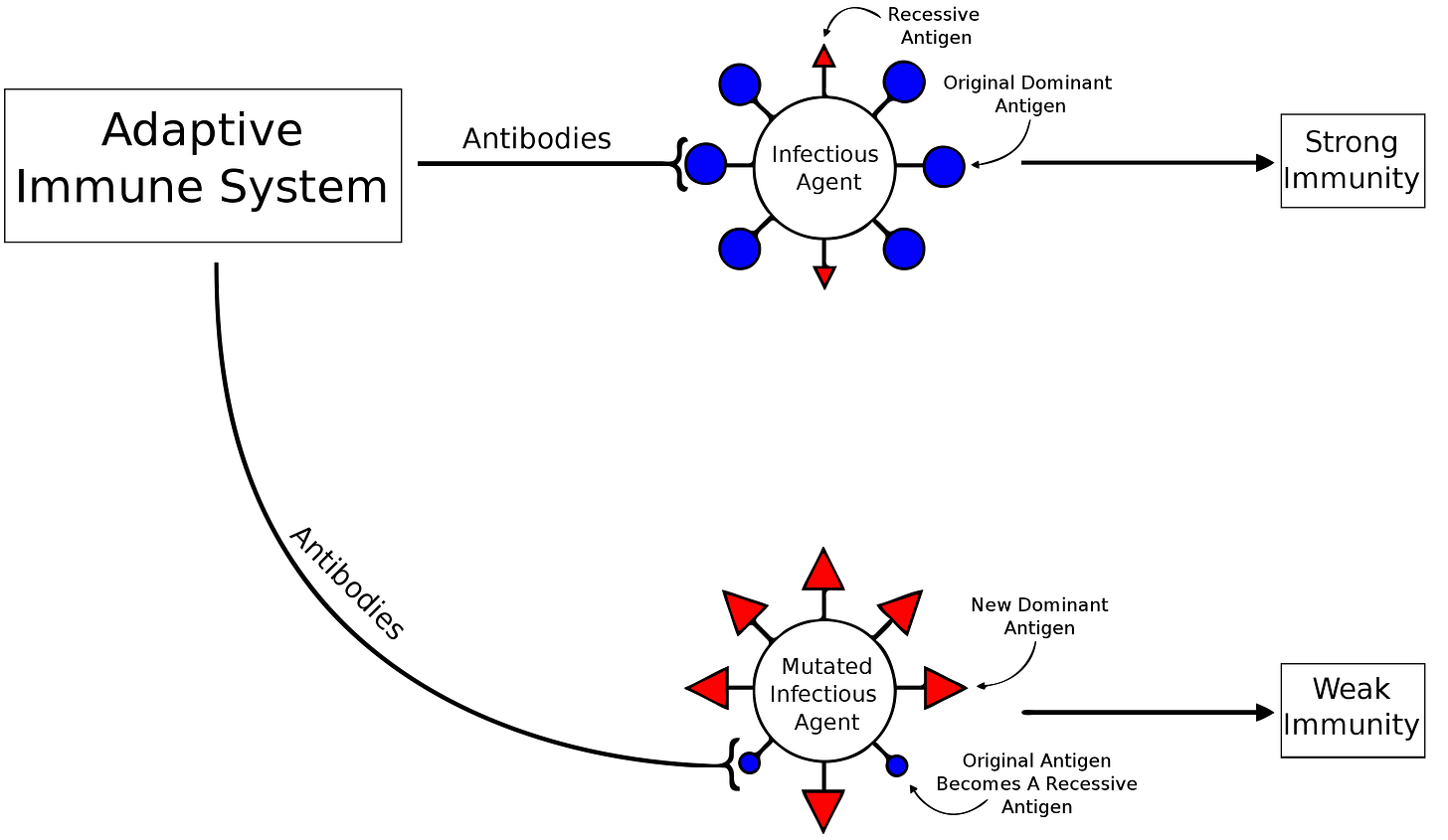 Tai pradeda tapti ir vasaros problema.
Pažiūrėkite, kas vyksta su vyresniais nei 70-ies JAV gyventojais. Beveik visi vakcinuoti, dažniausiai sustiprintai (angl. boosted).
Jų 2,3 karto daugiau nei tą pačią dieną pernai ir sparčiai daugėja. Sezonas turėtų vos prasidėti, bet skaičiai auga jau kelis mėnesius. Šiuo metu jis siekia 10,5. Praėjusią vasarą didžiausias rodiklis buvo 14,4.
Nerekomenduočiau mažinti sezoninio skaičiaus nuo piko iki piko. Jei tai viršija vasario mėnesio piką, žinokite, kad prasideda rimta nesėkmė.
Tai gali būti daugiausia "hospitalizavimo su" vs "dėl" signalas arba didelio hospitalinio perdavimo požymis. Sunku pasakyti, ar tai lems mirties atvejų padidėjimą, palyginti su praėjusiais metais (dar neįvyko). Omnikronas iš esmės yra daug švelnesnis, o CFR didėja dėl mažesnio atvejų skaičiaus fiksavimo dėl mažesnio mėginių skaičiaus.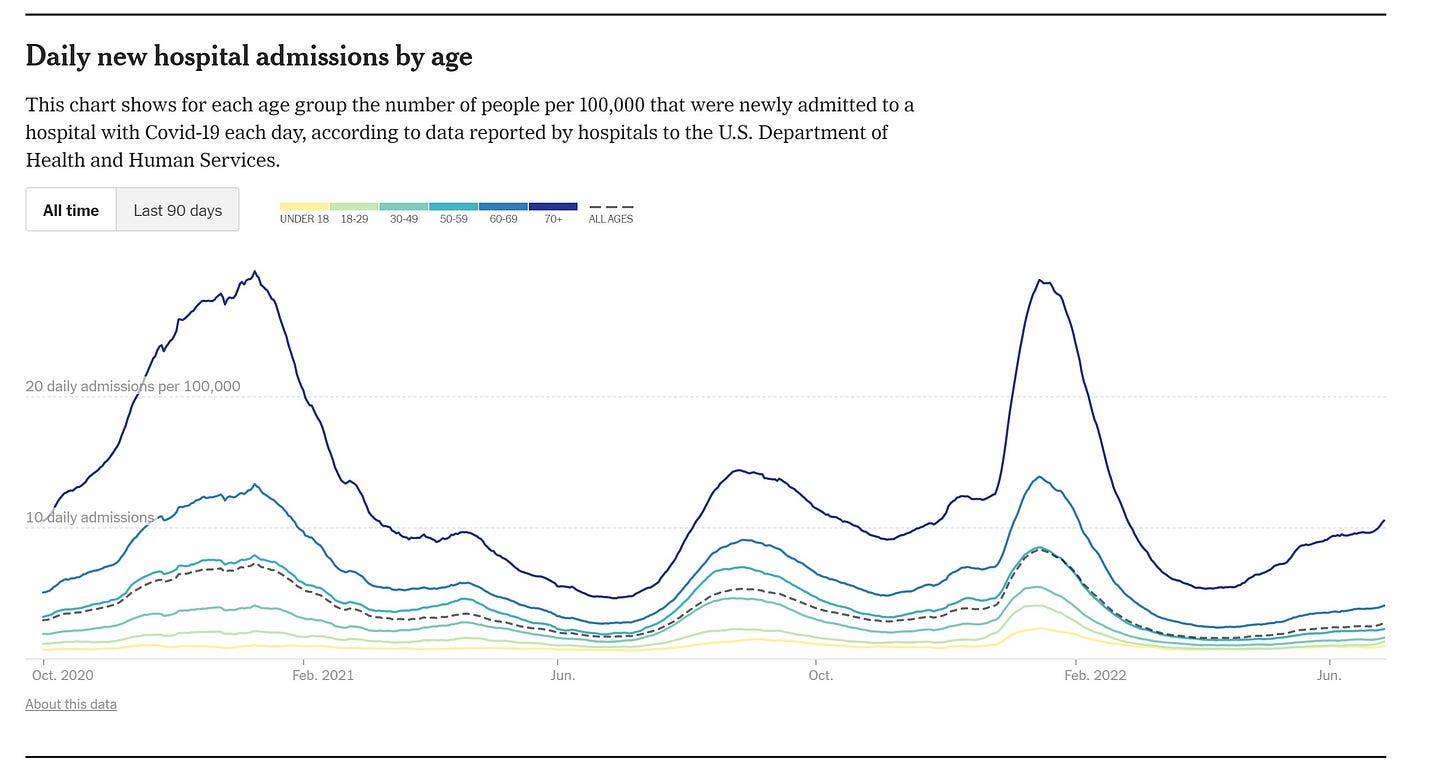 Gatopal™ ir jo kolega eugyppius prieina prie tų pačių išvadų, atlikę gudrią Vokietijos analizę, kur mažai skiepytų žmonių rytinėje dalyje nėra tokio padidėjimo, kaip daug skiepytų žmonių vakarinėje dalyje.
Visa tai leidžia daryti tvirtas išvadas.
Omnicron yra daug švelnesnis už ankstesnius štamus, netgi švelnesnis, nei rodo duomenys. Tikėtina, kad vidinis CFR sumažėjo maždaug visu logaritmu (90%).
Tačiau Omnikron plinta kaip miškų gaisras, nes jis optimizuotas užkrėsti paskiepytuosius. Jų antigeninis fiksavimas įšaldė imuninį atsaką ir akivaizdu, kad variantais pagrįsti stiprintuvai nepadės. Fiksuota yra fiksuota (angl. fixated is fixated).
Ir laikui bėgant tai vis blogėja, greičiausiai dėl nuolatinio atrankinio spaudimo imuniteto fiksuotoje bandoje. (Kaip blogai gali būti, galima tik spėlioti. Nesu tikras, ar net turime tinkamą praeities šio proceso modelį).
Paplitimas slopina virulentiškumo mažėjimą, ir tai pradeda atsispindėti hospitalizacijos duomenyse (angl. Prevalence is swamping declines in virulence and this is starting to show up in hospitalization data). Dar neaišku, ar tai baisu, ar atsitiktinumas.
Sunku patikimai prognozuoti, ar tai galiausiai atsispindės ir mirčių skaičiuje. Tikriausiai reikėtų didžiulio užkrečiamumo šuolio, kad būtų neutralizuotas CFR sumažėjimas, bet kai pradedame kalbėti apie 10 kartų didesnį paplitimą, tai tampa įmanoma, bent jau matematiškai. (ar ir kiek tą 10-11 kartų padidėja dėl sezoninių pokyčių, dar neaišku).
Apibendrinimas:
Vakcinos skatina kovidų evoliuciją ir superplitimą, ir jos su kiekviena diena vis labiau žlunga.
Duomenys apie praneštus atvejus tai maskuoja, tačiau prasidėjusių įvykių mastas bus per didelis, kad būtų galima ilgiau slėpti nuo plačiosios visuomenės.
Kai esi keturiskart vakcinuotas ir penktą kartą persirgęs kovidais, o tavo savijauta yra blogesnė nei ketvirtą kartą, tai pradeda pastebėti net ir ištikimieji "pasitikėkite ekspertais"…
Ši vasara gali būti prastesnė, nei daugelis planavo.
---
Šis tekstas pasirodė 2022 m. birželio 29 d. pavadinimu "just how much are covid cases up in the US?" svetainėje bad cattitude .
Išversta padedant www.DeepL.com/Translator. Be pataisymų.
Šis tekstas yra licencijuojamas pagal "Creative Commons Attribution 4.0" tarptautinę licenciją. Nesivaržykite kopijuoti ir dalintis.