Originalus straipsnis paskelbtas 2021 m. gegužės 13 d.
Peter F. Meyer. Išversta su www.DeepL.com/Translator
Skiepijimo kampanija "Corona" neabejotinai pasiekė precedento neturintį mastą tiek dėl per labai trumpą laiką atliktų skiepijimų skaičiaus, tiek dėl farmacijos bendrovių pardavimų ir pelno. Tačiau tuo pat metu dar niekada nebuvo tiek daug šalutinių poveikių, o svarbiausia – sunkių ligų ir mirčių nuo skiepų.
Tai akivaizdžiai matyti iš JAV ir ES institucijų duomenų bazių analizės. Anksčiau pranešiau apie EMA Europos duomenų bazės analizę, kurią atliko olandų analitikas Wouter Aukema. Štai jo išvados: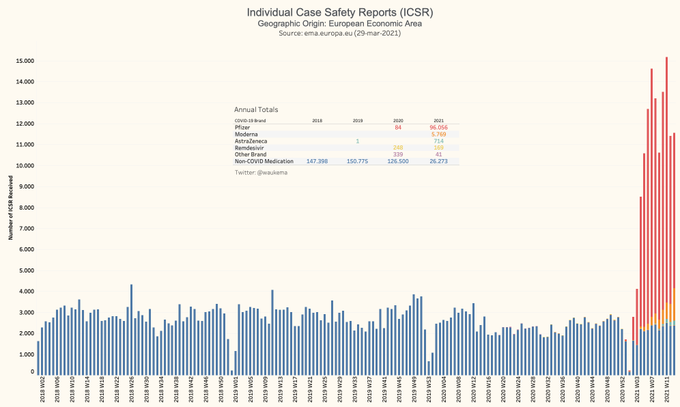 Matome, kad nuo 2021 m. 3 savaitės pranešimų apie atvejus stiprai padaugėjo. Raudona spalva įrašytos "Covid" vakcinos, mėlyna – dešimtys tūkstančių kitų ES patvirtintų ir vartojamų vaistų.
Į duomenų bazę patenka ne daugiau kaip 10 % faktinių atvejų. Tai rodo ir šalių palyginimai, vėlgi iš @waukema: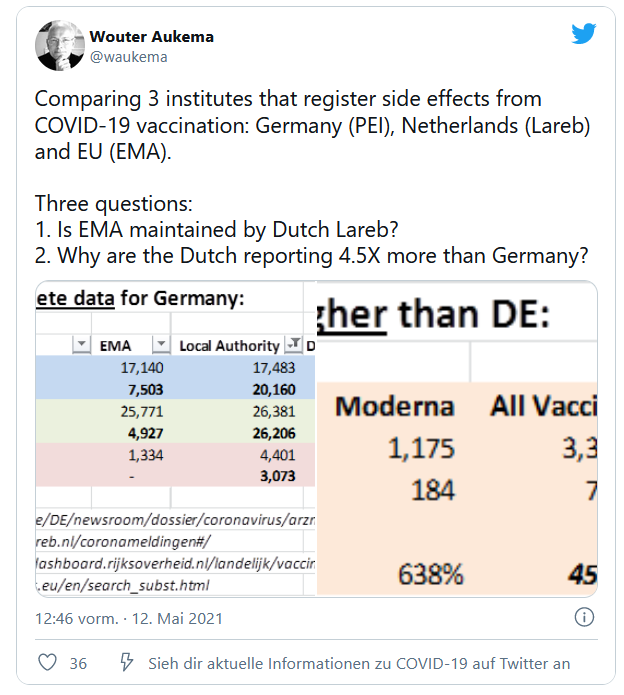 Taigi, remiantis šiais duomenimis, Olandijoje skiepai turėjo 4,5 karto daugiau šalutinio poveikio nei Vokietijoje, kuri yra 8 kartus didesnė.
Vokietija, matyt, gana sėkmingai slopina pranešimus. Kaip tai daro net gydytojai, aprašyta šio straipsnio komentare. Taip pat Paul Ehrlich instituto, kurio užduotis būtų rinkti ir skelbti duomenis, puslapyje. Tačiau jie iš tikrųjų to nedaro, o svetainėje iš karto grėsmingai teigiama:
"Pagal Autorių teisių ir gretutinių teisių įstatymą (), duomenų bazėje esanti informacija negali būti naudojama viešiems pristatymams, publikacijoms ar pan. be raštiško Paul Ehrlich instituto sutikimo.
Jei norite prašyti sutikimo, siųskite planuojamos publikacijos aprašymą adresu pei@pei.de."
PEI yra Sveikatos apsaugos ministerijai pavaldi įstaiga, finansuojama iš mokesčių mokėtojų pinigų. Galima pranešti tik tai, kas tinka PEI.
Prie advokato Aleksandro Todoro-Kostičiaus diagnozės apie skandalingą kratą Veimaro šeimos teismo teisėjo namuose nedaug ką galima pridurti, PEI nori ją patvirtinti.
"Vokietija retai kada buvo geras pavyzdys demokratijos srityje. Ne tik prieš 80 metų, bet, deja, ir šiandien. Dėl stulbinančio užmaršumo istorijai šiomis dienomis stebime didelį jautrumą totalitariniam praeities palikimui."
Bet dabar apie Jungtines Valstijas. Čia plėtra atrodo taip:
Apie tai autorė rašo:
"Kalbame ne apie nedidelį pranešimų apie mirtį skaičiaus padidėjimą, apie kurį galėtume kalbėti susirūpinusiais balsais prie arbatos ir bandelių įmonės renginyje. Kalbame apie didžiulį ir precedento neturintį padidėjimą - tokį didelį, kad vien per pastaruosius keturis mėnesius VAERS gavo daugiau kaip 40 % visų pranešimų apie mirtį, kada nors gautų per visą savo daugiau kaip 30 metų istoriją. Tiesą sakant, toks didelis, kad jis tiesiogine žodžio prasme "netelpa į rėmus". Pirmoje žemiau pateiktoje poroje esančioje diagramoje pateikiami 2014-2020 m. VAERS pranešimai apie mirtį, o jei bandytumėte pridėti 2021 m. duomenis, jie netilptų į diagramą. Antroje diagramoje parodyta, kiek detalių prarandama, kai brėžiami 2021 m. duomenys. "
Praeitais metais JAV nuo 250-350 mln. vakcinų kasmet mirdavo apie 100 žmonių. Šiandien kalbame apie 3800 mirčių nuo maždaug 150 milijonų COVID skiepų – ne per visus metus, o vos per keturis mėnesius.
Ekspertai teigia, kad mirčių skaičius nekelia nerimo, atsižvelgiant į tai, kad buvo suleista labai daug vakcinų. Tačiau tai apgaulė.
Per daugelį metų buvo daug rašyta (net ir pagrindiniuose leidiniuose) apie tai, kas slypi už pranešimų apie vakcinų sukeltus sužalojimus ir mirtis. Apytikriai apskaičiuotas tikrasis sužalojimų skaičius yra gerokai didesnis nei nurodytas.
Apie visa tai kalbėjausi su nuostabia Milena Preradovič jos vaizdo tinklaraštyje @PunktPreradovic, kurį galite peržiūrėti čia:
Šis tekstas pasirodė 2021 m. gegužės 13 d. pavadinimu "Corona Impfungen: noch nie dagewesene Häufung von Nebenwirkungen und Todesfällen" svetainėje https://tkp.at/
Translated with www.DeepL.com/Translator