Originalus straipsnis paskelbtas 2021 m. gegužės 19 d.
Peter F. Meyer. Išversta su www.DeepL.com/Translator
JAV nuo pat pradžių buvo susiskaldžiusios į dvi stovyklas, o per šiuos metus šis pasidalijimas dar labiau sustiprėjo. Panikos apimti demokratų politikai ir laisvę mylintys respublikonai vykdė visiškai skirtingą politiką Coronos atžvilgiu: Demokratų pusėje – apribojimai ir drakoniškos priemonės, o respublikonų pusėje – liberalūs, nuosaikūs ar visai be apribojimų.
Kaip pranešama, šiuo metu 24 valstijose nėra jokių priemonių ir kaukių, o 13 valstijų draudžiama išduoti skiepų pasus. Tai vis dažniau patvirtina ir įstatymai, draudžiantys naudoti kaukes, skiepų pasus ir lockdownus. Be to, jau galioja įstatymai, draudžiantys interneto korporacijoms vykdyti cenzūrą.
Juokas tame, kad šiose valstybėse paprastai užregistruojama mažiau arba bent jau ne daugiau atvejų nei šalyse, kuriose taikomas griežtas lockdownas, tačiau jose geriau sekasi nedarbo srityje ir nėra arba yra žymiai mažesnė šalutinė žala sveikatai ir visuomenei. Imuninė sistema ir sveikata labai neigiamai reaguoja į baimę ir nesaugumą.
Dėl skiepų pasų Bideno administracija jau prieš kurį laiką atsitraukė – jie jų neskatins, o paliks tai spręsti privačioms šalims. Tačiau jie ir toliau spaudė, kad būtų pasirengę skiepytis, kartais su dviem kaukėmis ant veidų.
Tačiau dabar naujasis CDC sveikatos agentūros vadovė tviteryje praneša apie naują kurso pasikeitimą: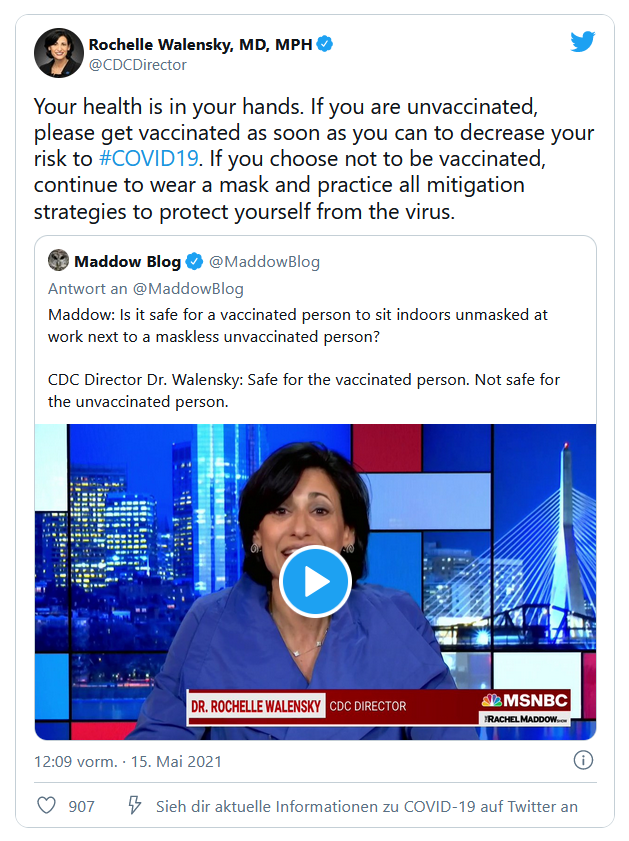 "Jūsų sveikata yra jūsų rankose. Jei nesate paskiepyti, pasiskiepykite kuo greičiau, kad sumažintumėte COVID19 riziką. Jei nusprendėte nesiskiepyti, toliau dėvėkite kaukę ir taikykite visas žalos mažinimo strategijas, kad apsisaugotumėte nuo viruso.
Tačiau dabar tviterio žinutė vis tiek taikoma tik pusei JAV, kur vis dar galioja kaukės reikalavimai ir kiti apribojimai.
Pakeista strategija
Taigi J. Bideno administracija praktiškai per naktį perjungė jungiklį ir po 15 mėnesių neapgalvotos propagandos ir baimės kampanijos perėjo nuo teiginio, kad Amerikoje siaučia nesibaigianti mirties ir naikinimo pandemija, prie teiginio "žmonės saugokitės save".
Walensky gali užimti svarbias CDC direktoriaus pareigas, tačiau sprendimų priėmimo galia priklauso politiniams pareigūnams, tiesiogiai bendradarbiaujantiems su Baltaisiais rūmais, o ne CDC būstinei Atlantoje. Griežtosios linijos šalininkai tarp gubernatorių tokiose valstijose kaip Niujorkas ir Kalifornija taip pat patiria vis didesnį spaudimą, nes jie neturi jokių sėkmingų rezultatų, jų rodikliai prastesni nei atvirų valstijų, tačiau jie sukėlė ekonominių problemų ir didelį nedarbą.
Be žlungančios ekonomikos, Bideno administracija susiduria su daugybe nacionalinių ir tarptautinių krizių, taip pat su daugeliu kitų gresiančių burbulų ir nelaimių. Jiems reikėjo kuo greičiau rasti išeitį. COVID panika sukėlė tiek daug problemų, kad tikriausiai jau pradeda kelti grėsmę visos sistemos vientisumui. Bidenui reikėjo pasitraukimo strategijos, todėl jis liepė Wakensky baigti COVID maniją, tarsi tai būtų buvę nieko tokio.
Karo grėsmė
Taip pat gali būti, kad už šios krypties pasikeitimo stovi Vašingtone transatlantinę politiką formuojantys ir vykdantys analitiniai centrai, pavyzdžiui, Užsienio santykių taryba (Council on Foreign Relations, CFR). Joe Bidenas pažadėjo, kad sudarys "įvairiausią kabinetą" per visą JAV istoriją. Galbūt tai tiesa, kalbant apie odos spalvą ir lytį, tačiau beveik visi būsimi svarbiausi jo kabineto nariai turi vieną bendrą bruožą: jie iš tikrųjų yra JAV Užsienio santykių tarybos nariai. Apie tai praneša ir analizuoja "Swiss Policy Research".
Autorius ir analitikas Ernstas Volfas (Ernst Wolff) savo vaizdo įrašuose atkreipia dėmesį į tai, kad Ukraina ir NATO tampa vis agresyvesnės Rusijos atžvilgiu Kryme. Karinių pajėgų telkimas nuolat didina karšto karo, į kurį gali įsitraukti net JAV ir taip tiesiogiai susidurti su Rusija, riziką. Antirusiška propaganda Europoje per transatlantinę ir CFR finansiškai remiamą žiniasklaidą paruošė dirvą.
JAV taip pat padidino įtampą Pietų Kinijos jūroje, pasiųsdamos lėktuvnešius. Tie, kurie tikėjosi, kad naujoji J. Bideno administracija sutelks dėmesį į prekybos karo, kurį paskatino D. Trumpas, sušvelninimą, nusivylė. Tiesą sakant, varžtas dar labiau pasisuko. Jau daug metų Artimuosiuose Rytuose vyksta karai, kurie bet kada gali būti eskaluojami, bent jau pasitelkiant įgaliotinius. Izraelyje jau įvyko eskalacija, į kurią neįtikėtinai kvailai įsikišo Austrijos federalinė vyriausybė.
Atsižvelgiant į tai, kad visuomenė išskirtinį dėmesį skiria vieno vidutiniškai pavojingo viruso problemai, ir į besaikes priemones, nukreiptas prieš jį, po šia priedanga lengvai gali prasidėti karai, – toliau pateikiamame interviu perspėja A. Wolffas. Konkrečiai kalbant apie padėtį Kryme, jis mano, kad situacija savo pavojingumu panaši į Kubos raketų krizę. Tačiau karas negali būti gerai vedamas su kauke ant veido ir uždarius pusę šalies teritorijos.
Wolffas taip pat įtaria, kad silpnos sveikatos JAV prezidentas netrukus atsistatydins ir jį pakeis viceprezidentė Kamala Harris. Taip kariuomenei ir karinės pramonės kompleksui būtų lengviau inicijuoti ginkluotus konfliktus. Kas nori kritikuoti pirmąją moterį, užėmusią aukščiausią JAV postą, be to, tamsiaodę.
Bet pažiūrėkite ir išgirskite patys (vokiečių kalba):
Šis tekstas pasirodė 2021 m. gegužės 19 d. pavadinimu "Kurswechsel in den USA: weg von Corona Panik hin zu Selbstverantwortung" svetainėje https://tkp.at/
Visas šios svetainės turinys yra licencijuojamas pagal "Creative Commons Attribution 4.0" tarptautinę licenciją. Nesivaržykite kopijuoti ir dalintis.