Originalus straipsnis paskelbtas 2021 m. rugsėjo 18 d.
sciencefiles.org. Išversta padedant www.DeepL.com/Translator
Akivaizdu, kad yra skaitytojų, kurie sugeba įveikti daugiau nei 8 valandas trukusį JAV Maisto ir vaistų administracijos (FDA) Vakcinų ir susijusių biologinių produktų patariamojo komiteto posėdį, vykusį rugsėjo 17 d., penktadienį, nuo 8.30 iki 16.45 val. Džiaugiamės, kad tokių skaitytojų yra, nes vienas iš jų mums davė patarimą:
COVID-19 ankstyvojo gydymo fondo vykdomasis direktorius Steve'as Kirschas šiame posėdyje trumpai pristatė svarbų pranešimą. Visų pirma, tvarkos dėlei: šio posėdžio pabaigoje komiteto nariai sutarė nerekomenduoti JAV atlikti stiprinamuosius skiepus.
Pereikime prie Steve'o Kirscho pranešimo.
Mes jį išėmėme iš daugiau nei 8 valandas trukusio posėdžio (angl. hearing):
Savo trumpame pranešime Kirschas iškelia keletą svarbių klausimų. Čia pateikėme keturis mums aktualiausius:
Darant prielaidą, kad vakcinos yra 100 proc. veiksmingos, o taip nėra, JAV vakcinų nepageidaujamų įvykių registravimo sistemos (VAERS) duomenys rodo, kad norint išgelbėti vieno vakcinuotojo gyvybę, dėl šalutinio vakcinos poveikio tenka paaukoti 2 žmones. Tai pats optimistiškiausias scenarijus, nes vakcinos toli gražu neužtikrina 100 proc. apsaugos:

Vakcinų ir susijusių biologinių produktų patariamasis komitetas – 9/17/2021
Ši Kirscho išvada patvirtina Walacho, Klemento ir Aukemos išvadą, apie kurią pranešėme čia ir dėl kurios šie trys autoriai sulaukė daug pasmerkimo iš tų, kurie nori užgniaužti bet kokią mokslinę diskusiją pačioje jos užuomazgoje.
Kitas klausimas, kurį iškelia Kirschas, susijęs su tuo, kad "Pfizer" klinikinio tyrimo metu daugiau žmonių mirė skiepijimo grupėje nei kontrolinėje grupėje. Be klausimo, ar skiepai buvo didesnio mirčių skaičiaus skiepytųjų grupėje priežastis, žinoma, klinikiniam tyrimui, kuriuo siekiama išbandyti vakciną, kuri, be kita ko, turėtų apsaugoti nuo mirties, labai nepalanku, jei tarp paskiepytųjų vakcina miršta daugiau žmonių nei tarp paskiepytųjų placebu. Paprastai tokie rezultatai nelemia, kad vakcina būtų patvirtinta tiesiog šiaip sau.
Mums svarbiausias Kiršo pranešimo punktas yra jo teiginys, kad "Pfizer" SUKČIAVO atlikdama klinikinius tyrimus. Kad juose ne viskas buvo visiškai švaru, rodo tai, jog protokolo, pagal kurį atliekamas tyrimas ir kuris turi užtikrinti, kad rezultatai būtų pagrįsti ir patikimi, o svarbiausia – kad vakcinos ir kontrolinės grupės rezultatai būtų palyginami, pažeidimų vakcinos grupėje buvo penkis kartus daugiau nei kontrolinėje grupėje. Paprastai tai yra priežastis būti atsargiems, net ir gavus sąlyginį patvirtinimą.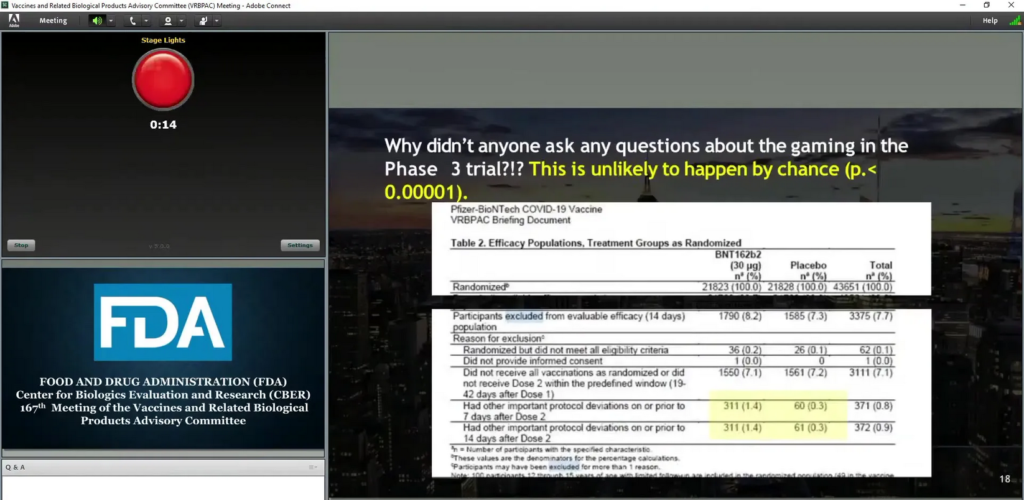 Akivaizdus bet kokios etikos, kuria turėtų būti grindžiami klinikiniai bandymai ir medicininiai tyrimai, pažeidimas, o šiuo atveju – visuomenės apgaudinėjimas, yra Maddie de Garay atvejis. Dvylikametė dalyvavo "Pfizer" tyrime, skirtame 12-15 metų vaikams. Po antrosios BNT162b2/Comirnaty dozės de Garay buvo paralyžiuota nuo juosmens žemyn ir tokia yra iki šiol. Neaišku, ar šis paralyžius kada nors pasikeis. "Pfizer" niekuomet neatšaukė Maddie de Garay iš tyrimo, tačiau ji nepateikiama jo ataskaitoje. Ji paprasčiausiai buvo praleista, tikriausiai tam, kad nereikėtų pranešti apie svarbų šalutinį poveikį – paralyžių.
Kas galėtų taip pasielgti?
Žaisti su žmonių gyvenimais?
Palikti dėl skiepijimo "Pfizer" sultiniu paralyžiuotus vaikus šaltyje?
Klastoti savo paties tyrimo duomenis?
"Pfizer" galėtų taip pasielgti.
Įmonė jau seniai pažeidė daugybę teisės aktų. Nuo 2000 m. jų suskaičiuota 71. Nuo 2000 m. "Pfizer" iš viso turėjo sumokėti 4,7 mlrd. dolerių baudų, iš jų 3,3 mlrd. dolerių už nepatvirtintą medicinos produktų reklamą ir 1,1 mlrd. dolerių, be kita ko, už melagingus teiginius apie savo produktų poveikį.
Akivaizdu, kad susiduriame su sąžiningumo, teisingumo, atidumo ir rūpinimosi kitų sveikata "créme de la créme".
____________________________________________________
Šis tekstas pasirodė 2021 m. rugsėjo 14 d. pavadinimu "FDA-Hearing: Pfizer hat in klinischen Trials betrogen" svetainėje sciencefiles.org.
Išversta padedant www.DeepL.com/Translator.
Šis tekstas yra licencijuojamas pagal "Creative Commons Attribution 4.0" tarptautinę licenciją. Nesivaržykite kopijuoti ir dalintis.