Originalus straipsnis paskelbtas 2021 m. rugsėjo 14 d.
Jeffrey A. Tucker. Išversta padedant www.DeepL.com/Translator
Kiek reikšminga tai, kad praėjusią savaitę atsistatydino du aukščiausi FDA pareigūnai, atsakingi už vakcinų tyrimus, o šią savaitę pasirašė laišką žurnale The Lancet, kuriame griežtai įspėjama dėl stiprinančiųjų skiepų (angl. vaccine boosters)? Tai ryškus ženklas, kad vyriausybės vykdomas viruso kontrolės projektas yra paskutinėje stadijoje prieš sužlugimą.
Stiprinančius skiepus jau propagavo pagrindiniai uždarymo (angl. lockdown) šalininkai Neilas Fergusonas (Neil Ferguson) iš Imperatoriškojo koledžo ir Anthony Fauci (Anthony Fauci) iš NIH, net ir didėjant visuomenės nepasitikėjimui jų, "ekspertų", patarimais. Šiems dviem FDA pareigūnams išsakius rimtas abejones – o jų požiūrį neabejotinai patvirtina neįspūdinga stiprinančiųjų vakcinų patirtis Izraelyje – iš esmės nutrūksta pasakojimas, kad atsakingi ekspertai nusipelno mūsų pasitikėjimo ir pagarbos.
Kas čia pastatyta ant kortos? Kalbama ne vien apie stiprinančiuosius skiepus. Kalbama apie visą patirtį, kai iš žmonių ir medikų atimama sveikatos valdymo kontrolė ir ji perduodama modeliuotojams ir prievartos nesibaidantiems valdžios pareigūnams.
Nuo 2020 m. kovo pirmosios savaitės JAV ėmėsi drąsaus viruso tramdymo eksperimento, pradėdamos diegti tokias plataus masto priemones, kokių anksčiau niekas nebandė nei moderniaisiais, nei net antikos laikais. Kontrolės priemonių ir taktikų sąrašas ilgas. Daugelis šių priemonių išliko daugelyje JAV regionų. Mažmeninės prekybos kraštovaizdis vis dar užpildytas pleksikoliu. Vis dar esame kviečiami dezinfekuotis įeidami į patalpas. Žmonės vis dar prisidengia kaukėmis būdami šalia kitų. Negailestingi vakcinų gynėjai vis dar aktyviai gėdina ir smerkia visus, kurie įtariami reikalavimų nesilaikymu.
Ypač daug nesutarimų sukėlė vakcinų skatinimas, o prezidentas J. Bidenas aktyviai ragina "pykti" ant tų, kurie nesiskiepija, nors atsisako pripažinti infekcijos sukelto imuniteto egzistavimą. Keliuose miestuose skiepų atsisakiusiems žmonėms neleidžiama aktyviai dalyvauti visuomeniniame gyvenime, kyla populistinis judėjimas, kuris atsisakiusius skiepytis kaltina kaip vienintelę priežastį, dėl kurios virusas tebėra problema.
Visos šios priemonės buvo pradėtos taikyti kontrolės bangomis. Viskas prasidėjo nuo renginių atšaukimo ir mokyklų uždarymo. Vėliau įsigaliojo draudimai keliauti, kurių dauguma vis dar aktyvūs. Toliau sekė dezinfekavimas ir pleksikolis. Buvo pradėtos naudoti kaukės, o paskui jos tapo privalomos. Priverstinio žmonių atskyrimo principas reguliavo socialinius susitikimus. Dažnai buvo taikomi patalpų erdvės apribojimai. JAV pavyzdys įkvėpė daugelį vyriausybių visame pasaulyje priimti šias NPI (nefarmacines intervencijas) ir atimti iš žmonių jų laisves.
Kiekviename kontrolės etape buvo skelbiama vis naujų teiginių, kad pagaliau radome atsakymą, pagrindinį metodą, kuris pagaliau sulėtins ir sustabdys SARS-CoV-2 plitimą. Niekas nepadėjo, nes atrodė, kad virusas eina savo vaga, nepaisant visų šių priemonių. Iš tiesų niekur pasaulyje nebuvo jokio skirtumo, ar kuri nors iš šių priemonių buvo naudojama ir kokiu mastu.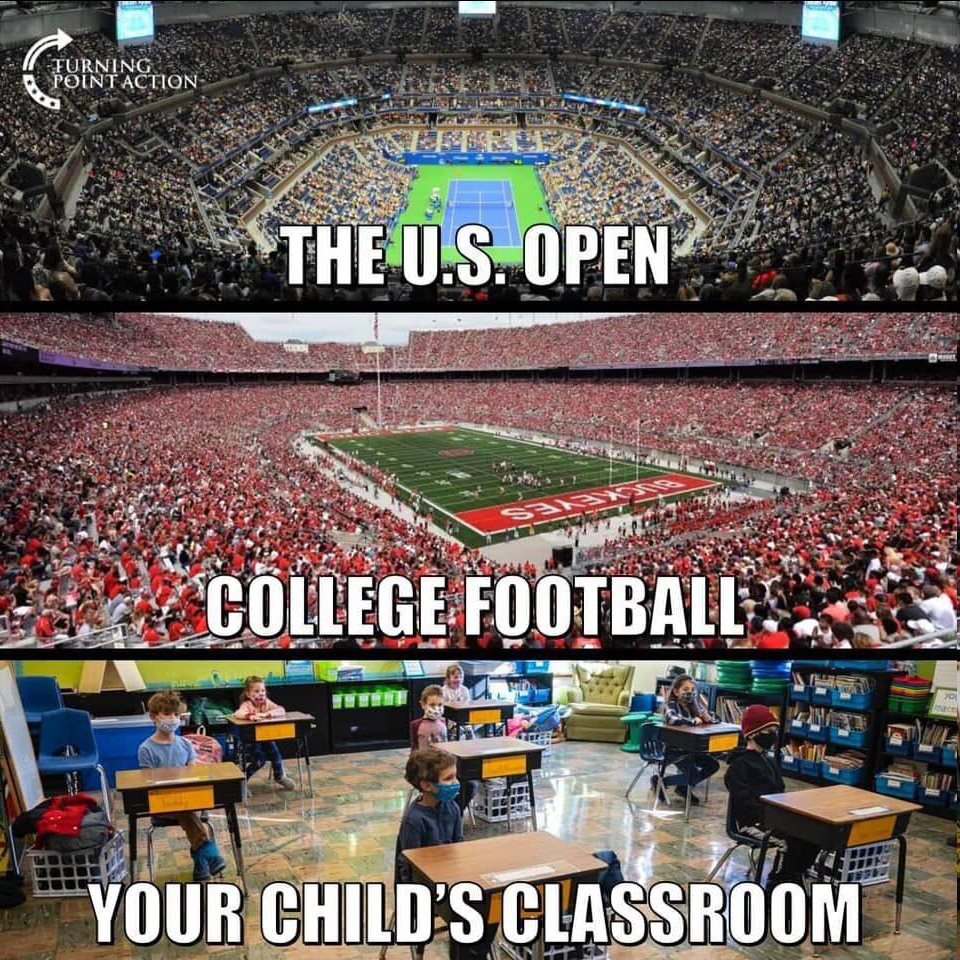 Galiausiai buvo imtasi farmacinių intervencijų, iš pradžių savanoriškų, bet palaipsniui privalomų, kaip ir kiekvienas ankstesnis reglamentas, kuris prasidėjo kaip rekomendacija, o tuomet tapo privalomas.
Per šiuos 19 mėnesių nė karto nematėme aiškaus vyriausybės pareigūnų nesėkmės pripažinimo. Iš tiesų dažniausiai buvo atvirkščiai – agentūros tvirtino apie priemonių veiksmingumą, nors nenurodė jokių duomenų ar tyrimų, o socialinės žiniasklaidos bendrovės visa tai palaikė šalindamos priešingus pranešimus ir įžūliai ištrindamos žmonių, išdrįsusių cituoti prieštaraujančius mokslinius atradimus, paskyras.
Vakcina buvo didžiausia loterija vien dėl to, kad programa buvo tokia brangi, tokia asmeniška ir taip beatodairiškai išpardavinėjama. Netgi tie iš mūsų, kurie priešinosi visiems kitiems įgaliojimams, tikėjosi, kad vakcinos pagaliau užbaigs visuomenės paniką ir suteiks vyriausybėms galimybę atsisakyti visų kitų strategijų, kurios žlugo.
Taip neatsitiko.
Dauguma žmonių tikėjo, kad vakcina veiks kaip ir daugelis kitų prieš tai buvusių, blokuodama infekciją ir plitimą. Žmonės tiesiog tikėjo tuo, ką sakė CDC vadovas. "Mūsų šiandieniniai C.D.C. duomenys rodo, kad paskiepyti žmonės nenešioja viruso, neserga", – Rochelle Walinsky teigė Rachel Maddow. "Ir kad tai rodo ne tik klinikinių tyrimų, bet ir realaus pasaulio duomenys".
"Jūs nesusirgsite COVID, jei būsite paskiepyti šiomis vakcinomis", – sakė prezidentas Bidenas, atspindėdamas tai, kas buvo paplitusi nuomonė 2021 m. vasarą.
Žinoma, paaiškėjo, kad taip nėra. Atrodo, kad vakcinos padėjo sušvelninti kai kurias sunkias pasekmes, tačiau pergalės prieš virusą nepasiekė. Rugpjūčio mėnesį Izraelyje užfiksuotas staigus užsikrėtimo atvejų padidėjimas buvo tarp visiškai paskiepytų asmenų. Tas pats nutiko Jungtinėje Karalystėje ir Škotijoje, o rugsėjo mėnesį būtent toks rezultatas pasiekė JAV. Iš tiesų, visi turime paskiepytų draugų, kurie pasigavo virusą ir sirgo kelias dienas. Tuo tarpu natūraliam imunitetui didžiulį postūmį suteikė Izraelyje atliktas didelis tyrimas, kuris parodė, kad žmonės, pasveikę nuo Covid, įgyja kur kas didesnę apsaugą, nei galėtų gauti skiepijant vakcina.
Tuomet kaip atsarginis variantas buvo pasirinkta sustiprinamoji vakcinacija (angl. booster). Be abejo, tai yra atsakymas! Izraelis buvo pirmasis, įpareigojęs jas naudoti. Ir čia vėl ėmė ryškėti problemos, nes dar viena stebuklinga priemonė ligai sušvelninti žlugo. Tada pasirodė neišvengiama antraštė: Izraelis ruošiasi galimai ketvirtajai COVID vakcinos dozei. Taigi pagalvokite apie tai, nes tam tikra prasme vakcinos priskiriamos prie didžiausių nesėkmių: per kelis trumpus mėnesius nuo teiginio, kad jos visiškai apsaugo, perėjome prie teiginio, kad jos visai gerai, jei reguliariai ir visiems laikams gausite stiprinamuosius skiepus.
Dabar apie stulbinantį dviejų aukščiausių FDA pareigūnų, atsakingų už vakcinų saugumą ir administravimą, atsistatydinimą. Tai buvo Vakcinų tyrimų biuro direktorė ir jos pavaduotojas, Marion Gruber ir Phillipas Kause'as. Jie nepateikė jokių savo pasitraukimo, kuris numatytas spalio ir lapkričio mėnesiais, priežasčių.
Šis atvejis įdomus, nes 1) žmonės retai pasitraukia iš patogių valstybinių pareigų, nebent jų laukia geriau apmokamas ir prestižiškesnis darbas privačiame sektoriuje arba 2) jie yra išstumiami. Retai pasitaiko, kad kas nors, užimantis tokias pareigas, atsistatydintų dėl principinio mokslo klausimo. Kai pirmą kartą perskaičiau, kad jie išeina, pamaniau, kad kažkas tikrai ne taip.
Šiomis dienomis Bideno administracijoje vyksta itin keistų dalykų. Nors jo reitingai krenta, prezidentas turi apsimesti, kad jis turi visus atsakymus, kad mokslas, kuriuo grindžiami jo įgaliojimai ir virusų karas, yra visuotinai priimtas, kad visi, kurie su juo nesutinka, iš tikrųjų yra tik politiniai priešai. Jis nuėjo taip toli, kad pasmerkė, demonizavo ir teisiškai grasino raudonųjų valstijų gubernatoriams, kurie su juo nesutinka.
Tai didelė problema tikriesiems mokslininkams, dirbantiems biurokratijoje, nes jie tikrai žino, kad visa tai yra apsimetinėjimas ir kad vyriausybė negali laimėti šio karo su virusu. Jie paprasčiausiai negali pritarti dar daugiau melagingų pažadų, ypač kai visas jų profesinis pasirengimas susijęs su vakcinų saugumo ir veiksmingumo vertinimu.
Taigi ką jie gali padaryti? Šiuo atveju atrodo, kad jie tiesiog pasišalino prieš numesdami bombą.
Ši bomba vadinasi "COVID-19 vakcinos imuninio atsako stiprinimo aspektai". Ji išspausdinta prestižiniame britų medicinos žurnale "The Lancet". Tarp autorių yra minimi du aukščiausi FDA pareigūnai. Straipsnyje rekomenduojama neskirti Kovido stiprinamosios injekcijos, kurią Bideno administracija, vadovaudamasi Fauci patarimu, siūlo kaip sprendimą, kad vakcinos veiktų geriau ir pagaliau išpildytų savo pažadus.
Faučis ir kompanija skatina naudoti stiprinamuosius skiepus, nes žino, kas laukia ateityje. Iš esmės mes einame Izraelio keliu: dauguma žmonių yra paskiepyti, bet pats virusas nėra kontroliuojamas. Vis daugiau ir daugiau hospitalizuojamų ir mirštančiųjų yra paskiepyti. Tokia pati tendencija artėja ir į JAV. Skiepai yra tik priemonė, kuria valdžia padeda išsaugoti savo veidą, bent jau daugelis taip mano.
Bėda ta, kad su tuo nesutinka geriausi FDA mokslininkai. Jie taip pat mano, kad skatinimas taikyti stiprinamuosius skiepus sukels problemų. Jie mano, kad dabartinis vieno ar dviejų injekcijų režimas veikia taip gerai, kaip galima tikėtis. Jie teigia, kad sustiprinamasis skiepijimas niekaip nepadeda pasiekti geresnių rezultatų. Tiesiog nėra pakankamai įrodymų, kad turėtume rizikuoti gaudami dar vieną papildomą injekciją, ir dar vieną, ir dar vieną, ir dar vieną.
Autoriai žinojo, kad šis straipsnis pasirodys. Jie žinojo, kad pasirašę jį dar dirbdami FDA, sulauks reikalavimo atsistatydinti. Jų abiejų gyvenimas taptų labai sunkus. Jie užbėgo už akių pranešimui ir atsistatydino prieš jam pasirodant. Labai protinga.
Pasirašytame straipsnyje įspėjama apie dar daugiau galimų trūkumų. Jie nurodo, kad gali atrodyti, jog stiprinančiosios vakcinos būtinos, nes "naujus antigenus išreiškiantys variantai išsivystė tiek, kad imuninis atsakas į pirminius vakcinos antigenus nebegali tinkamai apsaugoti nuo šiuo metu cirkuliuojančių virusų". Tuo pat metu galimi šalutiniai poveikiai, kurie gali diskredituoti vieną ar daugiau visų vakcinų kartų. "Gali iškilti pavojų, – rašo jie, – jei stiprinamosios vakcinos bus pradėtos plačiai naudoti per anksti arba per dažnai, ypač su vakcinomis, kurios gali turėti imuninės sistemos šalutinį poveikį (pavyzdžiui, miokarditas, kuris dažniau pasireiškia po antrosios kai kurių mRNA vakcinų dozės, arba Guillain-Barre sindromas, kuris buvo siejamas su adenovirusų sukeltomis COVID-19 vakcinomis").
Tokių šalutinių poveikių aptarimas iš esmės yra tabu. Tai, kad tai parašė du aukščiausio rango FDA pareigūnai, yra nepaprastas dalykas, ypač todėl, kad tai daroma tuo metu, kai Bideno administracija imasi visų priemonių, kad skiepai taptų privalomi. Tuo tarpu tyrimai rodo, kad paaugliams berniukams vakcina kelia didesnį pavojų nei pats Kovidas. "16-17 metų berniukams, neturintiems gretutinių ligų, CAE (kontingentinių šalutinių reiškinių) dažnis šiuo metu yra nuo 2,1 iki 3,5 karto didesnis nei jų 120 dienų hospitalizacijos rizika dėl COVID-19 ir nuo 1,5 iki 2,5 karto didesnis tuo metu, kai padidėjęs COVID-19 savaitinių hospitalizacijų kiekis."
Nuo pat šių draudimų pradžios – kartu su visomis kaukėmis, apribojimais, fiktyviais sveikatos patarimais, pradedant pleistru ir baigiant dezinfekcijos priemonėmis, visuotiniais skiepų įpareigojimais ir t. t. – buvo aišku, kad už tai kas nors degs pragare. Jie žlugdė teises ir laisves, žlugdė ekonomiką, traumavo ištisą vaikų ir kitų mokinių kartą, šiurkščiai pamynė religijos laisvę, ir dėl ko? Nėra jokių įrodymų, kad tai ką nors pakeitė. Mus supa jų sukeltos skerdynės.
"The Lancet" pasirodęs dviejų geriausių FDA vakcinų mokslininkų straipsnis yra išties triuškinantis ir informatyvus, nes jis pakerta paskutinę tikėtiną priemonę, galinčią išgelbėti visą vyriausybinį ligų valdymo aparatą, kuris 19 mėnesių buvo diegiamas tokiomis milžiniškomis socialinėmis, kultūrinėmis ir ekonominėmis sąnaudomis. Per visą mūsų gyvenimą dar nėra buvę, kad politika taip smarkiai žlugtų. Intelektualinės ir politinės pasekmės yra milžiniškos. Tai reiškia, kad tikroji Kovido krizė – užduotis nustatyti atsakomybę už visą šalutinę žalą – ką tik prasidėjo.
2006 m., ankstyvaisiais lockdowno ideologijos gimimo metais, didysis epidemiologas Donaldas Hendersonas perspėjo, kad jei pandemijos atveju bus imtasi bet kurios iš šių ribojamųjų priemonių, tai sukels "pasitikėjimo valdžia praradimą" ir "suvaldytina epidemija gali peraugti į katastrofą". Katastrofa kaip tik ir įvyko. Dabartinis režimas nori parodyti pirštu į taisyklių nesilaikančius asmenis. Tuo nebeįmanoma patikėti. Jie negali ilgiau atidėlioti neišvengiamo: atsakomybė už šią katastrofą tenka tiems, kurie pirmiausia ėmėsi šio politinio eksperimento.
_______________________________________________________________
Autorius
Jeffrey A. Tucker yra Brownstone instituto įkūrėjas ir prezidentas, daugelio tūkstančių straipsnių mokslinėje ir populiariojoje spaudoje ir dešimties knygų penkiomis kalbomis autorius, paskutinioji iš jų "Liberty or Lockdown". Jis taip pat yra knygos "The Best of Mises" redaktorius. Plačiai skaito paskaitas ekonomikos, technologijų, socialinės filosofijos ir kultūros temomis.
tucker@brownstone.org
____________________________________________________
Šis tekstas pasirodė 2021 m. rugsėjo 14 d. pavadinimu "The Meaning of the FDA Resignations" svetainėje https://brownstone.org/
Išversta padedant www.DeepL.com/Translator.
Šis tekstas yra licencijuojamas pagal "Creative Commons Attribution 4.0" tarptautinę licenciją. Nesivaržykite kopijuoti ir dalintis.