Originalus straipsnis paskelbtas 2021 m. rugsėjo 11 d.
FactSheetAustria. Išversta padedant www.DeepL.com/Translator.
Komentaras Andreas Rodenbeck: Geriausius man žinomus grafikus galima rasti "Telegram" kanale t.me/FactSheetAustria. Beje, aš ne vienas esu tokios nuomonės.
Tekstas po grafiniu vaizdu:
Tai rodo nauji oficialūs "Pasaulinės vakcinacijos laboratorijos" duomenys. Kadangi vėl įvesta 3G taisyklė (paskiepytas, patikrintas, pasveikęs), taip pat galima daryti prielaidą, kad tarp "paskiepytųjų" yra gerokai mažiau patikrinimų.
Akivaizdu, kad genų inžinerijos preparatai nuo placebo skiriasi tik šalutiniu poveikiu.
Ačiū, pasilikite tai sau!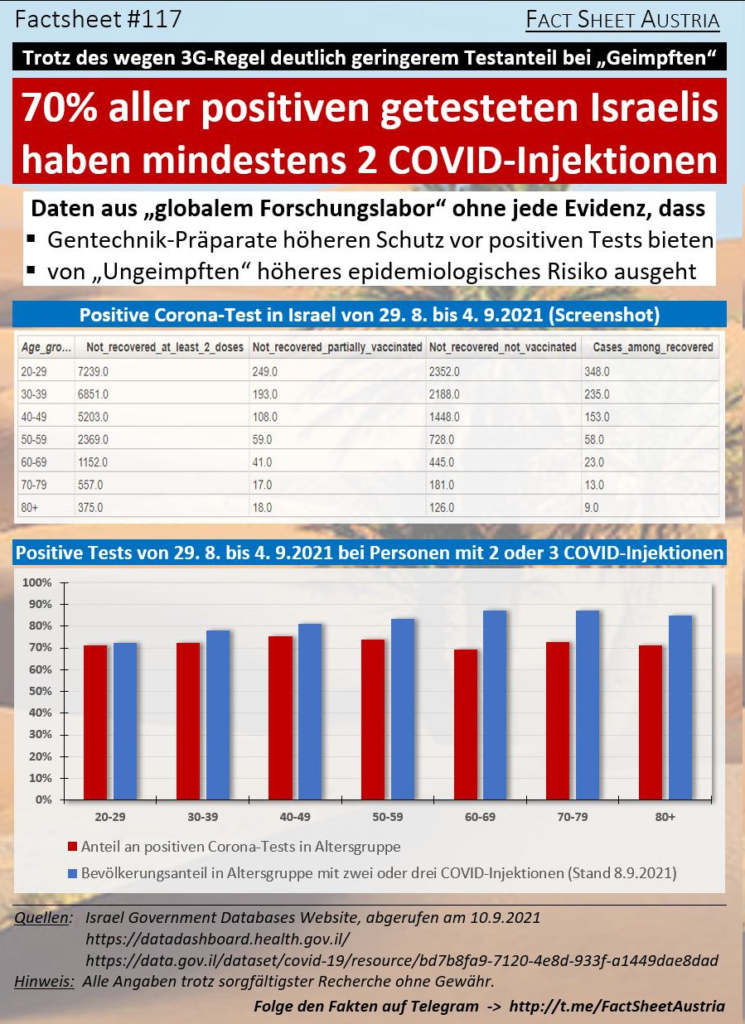 Grafikos tekstų vertimas:
Nepaisant to, kad tarp "paskiepytųjų" yra mažesnis tyrimų procentas.
70 proc. visų teigiamai patikrintų izraeliečių yra gavę bent 2 Covid injekcijas
Duomenys iš "pasaulinės mokslinių tyrimų laboratorijos" be jokių įrodymų, kad
genetiškai modifikuoti preparatai užtikrina didesnę apsaugą nuo teigiamų testų
yra didesnė "neskiepytų" asmenų epidemiologinė rizika.
Teigiami "Corona" testai Izraelyje nuo 2021 08 29 iki 09 04
Teigiami (Corona) tyrimai (Izraelyje) nuo 2021 m. rugpjūčio 29 d. iki 2021 m. rugsėjo 4 d. žmonėms, kuriems buvo atliktos 2 arba 3 Covid injekcijos.
Šaltiniai: https://data.gov.il/dataset/covid-19/resource/bd7b8fa9-7120-4e8d-933f-a1449dae8dad (patikrinta 2021 09 10)
Pastaba: nepaisant kruopštaus tyrimo, visa informacija yra pateikiama be garantijų.
https://t.me/FactSheetAustria/169
_______________________________________________________________
Šis tekstas pasirodė 2021 m. rugsėjo 14 d. pavadinimu "70% aller postiv getesteten Israelis haben mindestens 2 Covid-Injektionen!!" svetainėje FactSheetAustria.
Išversta padedant www.DeepL.com/Translator.
Šis tekstas yra licencijuojamas pagal "Creative Commons Attribution 4.0" tarptautinę licenciją. Nesivaržykite kopijuoti ir dalintis.