sapereaude.lt. Originalus straipsnis paskelbtas 2022 m. sausio 18 d. Išversta padedant www.DeepL.com/Translator. Be pataisymų.
---
Iš Baden Badeno (Vokietija) ligoninės "Acura Kliniken" "Facebook" puslapio.
"Naujausia informacija apie "Corona": daugėja žmonių, kuriems nustatytas teigiamas testas. Tačiau "kietoji valiuta" – mirčių, pacientų, esančių intensyviosios terapijos ir intensyviosios terapijos skyriuose, skaičius mažėja arba išlieka pastovus. Lyginamasis rodiklis taip pat yra ankstesni metai: 2021 m. tuo pačiu metu mirė tris kartus daugiau žmonių.
Taigi Covid-19 pavojus prilygsta gripui.
Mūsų, kaip klinikos, raginimas: nebūkite neatsargūs, ištirkime tiek skiepytus, tiek neskiepytus. Apsaugokime rizikos grupes.
Individualiai apsvarstykite, ar skiepytis. Tačiau šis svarstymas tampa vis svarbesnis, nes skiepijimas taip pat susijęs su santykiniu neveiksmingumu net ir ketvirtosios vakcinos, gerokai didesniu komplikacijų skaičiumi, nei buvo pranešta iš pradžių, ir vis dar atviru mokslinių tyrimų klausimu dėl netyčinio neigiamo struktūrinio poveikio imuninei sistemai.
Remiantis turimais duomenimis, privalomas skiepijimas, švelniai tariant, negali būti pateisinamas."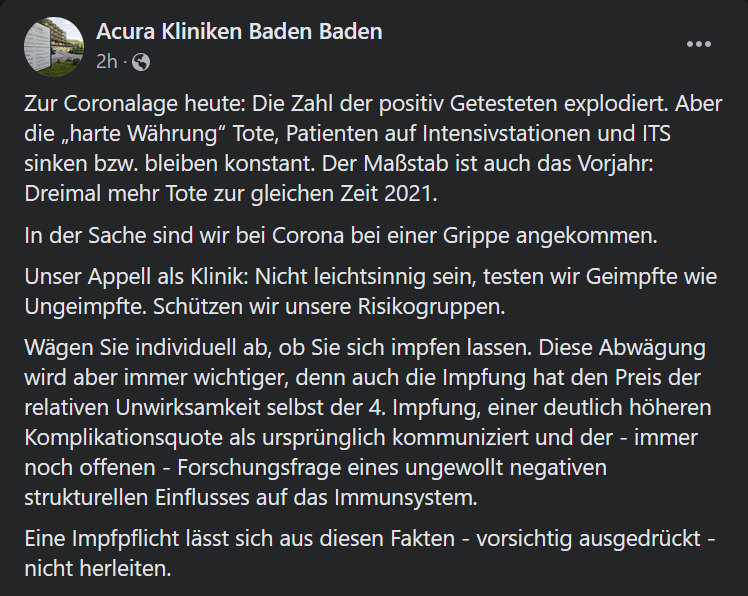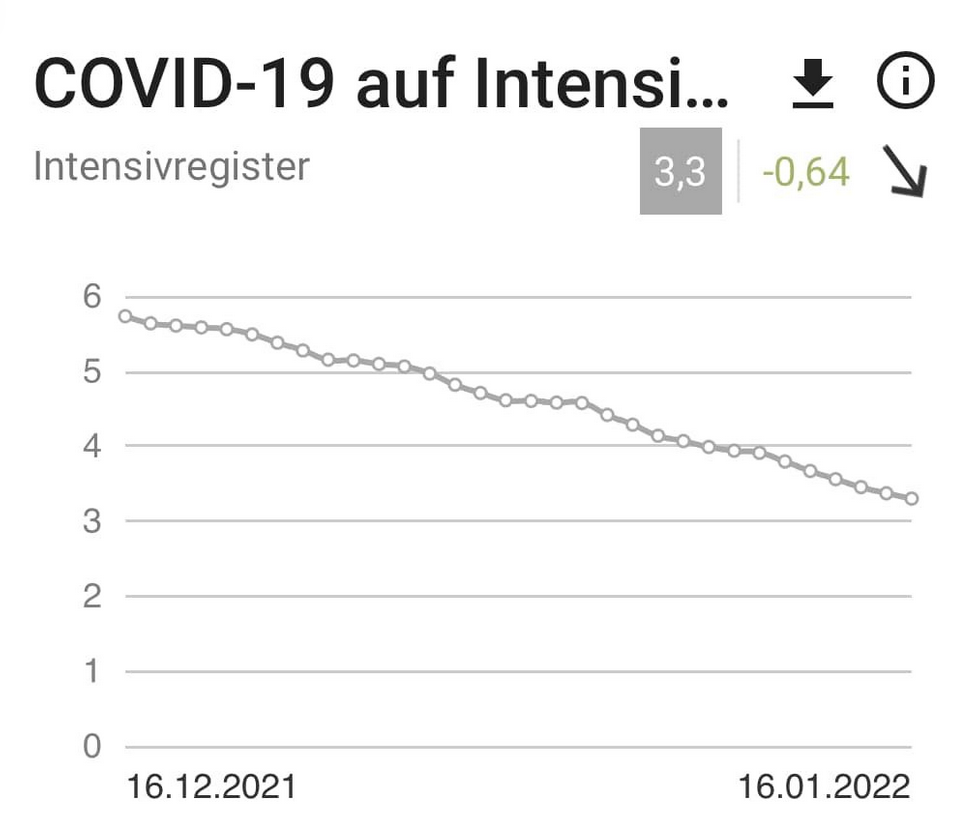 Daugiau diagramų rasite adresu: https://www.facebook.com/173180676038765/posts/4975191732504278/
---
Originalią informaciją rasite "Acura Klinken" FB puslapyje, kurio nuoroda pateikta aukščiau.
Išversta padedant www.DeepL.com/Translator. Be pataisymų.