Nors visos sveikatos krizės Big Farmai atneša didelius pinigus, "naujoji AIDS atmaina" gali būti daugiau nei tik godumas.
Originalus straipsnis paskelbtas 2022 m. vasario 11 d. off-guardian.org.
Išversta padedant www.DeepL.com/Translator. Ačiū vertėjui.
---
Vakar paskelbėme straipsnį, kuriame atkreipėme dėmesį į naują žiniasklaidos fenomeną – nuo "Kovid" yra pereinama prie ŽIV/AIDS. Trumpai tariant, be naujienų apie bauginančią "naują atmainą" buvo paskelbta apie artėjančias testavimo kampanijas ir vyriausybės pažadus "užbaigti AIDS epidemiją". Visko dar kartą smulkiai nekomentuosime, galite perskaityti čia.
Mūsų straipsnyje buvo teigiama, kad tai greičiausiai buvo tik priedanga, siekiant išlaikyti žmonių baimę ir parduoti daugiau mRNA "vakcinų", ir nors tai neabejotinai yra vienas iš veiksnių, tolesni tyrimai parodė kitus galimus šios istorijos aspektus. Nors informacijos nepakanka, kad būtų galima padaryti kokias nors galutines išvadas, yra keletas labai įdomių klausimų ir teorijų, kurias reikėtų apsvarstyti.
Pirmiausiai, yra įmanoma, kad "baisusis naujas AIDS variantas" yra ne tik gąsdinantis vaiduoklis, naudojamas vakcinoms parduoti, koks buvo Kovid-19, bet iš tikrųjų gali būti pačių vakcinų sukeltų ligų ir šalutinių poveikių priedanga.
2021 m. spalio mėn. žurnale "Lancet" paskelbtame tyrime įtariama, kad Kovid "vakcinos" gali sukelti vadinamąjį VAIDS – vakcinomis įgyto imunodeficito sindromą. Jei šie tyrimai pasitvirtins, daugybė žmonių gali juo susirgti, ir netrukus.
Jau matėme daugybę pranešimų apie padažnėjusius insultus ir širdies priepuolius, kurie priskiriami visai ne vakcinoms. Kaltė suverčiama visoms kitoms priežastims – nuo padidėjusių energijos kainų iki su karantinu susijusios depresijos. Tai, be abejo, atrodo kaip išsisukinėjimas nuo tiesos. Ir šis "naujas AIDS variantas" gali būti dar vienas bandymas nuslėpti tiesą.
Jei dėl Kovid "vakcinų" milijonams žmonių staiga sutrinka imuninė sistema, tai "pavojingesnė nauja AIDS atmaina" yra nebloga priedanga, nemanote? Vėlgi, kol kas nėra tiesioginių įrodymų, kad tai yra tiesa, tačiau tai yra įmanoma.
2020 m. spalio mėn. viena mokslininkų grupė, kurią cituoja "Forbes", įspėjo, kad bet kokia potenciali Kovid "vakcina" gali padidinti riziką užsikrėsti ŽIV. Tyrėjai teigė, kad viename iš nedaugelio atsisakytų "Kovid" vakcinos kandidatų – Kvynslando universitete – iš tikrųjų buvo naudojamas ŽIV baltymas kaip "molekulinis spaustukas" jų dirbtiniams spyglių baltymams sujungti. Šios galimos "vakcinos" akivaizdžiai atsisakyta po to, kai ŽIV testų rezultatai buvo "klaidingai teigiami".
Nenoriu veltis į diskusiją apie AIDS ir ŽIV, tačiau, kad ir kokia būtų jūsų pozicija šiuo klausimu, turite pripažinti, kad čia vyksta kažkas labai keisto. Dar vienas faktas, į kurį verta atkreipti dėmesį: Luc Montagnier mirtis. Daktaras Montanjė buvo virusologas, 2008 m. gavęs Nobelio premiją už ŽIV tryimus. Jis ne kartą pasisakė prieš vakcinas ir teigė manantis, kad vakcinų spyglio baltymas yra panašus į ŽIV. Vakar jis mirė. Tiesa, jam buvo 89-eri metai. Bet vis dėlto tai labai keistas sutapimas.
Jo mirtis primena daktaro Kary Mullio situaciją, kai Nobelio premijos laureatas, PGR testų išradėjas, mirė 2019 m. pabaigoje likus vos keliems mėnesiams iki to, kai jo išradimu buvo piktnaudžiaujama parduodant pseudo-pandemiją.
Įdomu tai, kad 80 % šio rašinio parašiau prieš pamatydamas naujausią laidos "New World Next Week" epizodą, kuriame Jamesas Corbettas ir Jamesas Evanas Pilato diskutavo būtent šia tema: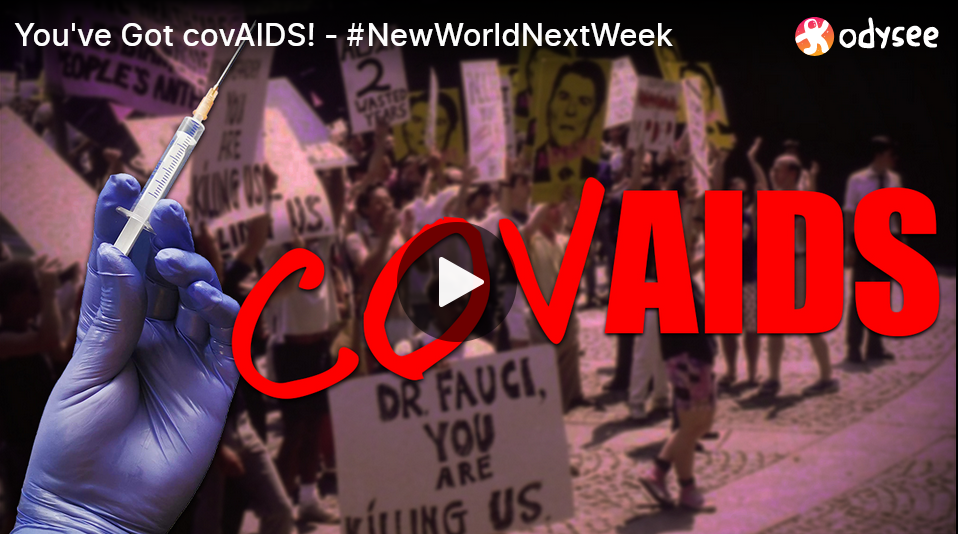 Mes visuomet laikėmės pozicijos, kad reikia vengti panikos, kol ji nėra šimtu procentų pagrįsta. Tačiau mes taip pat tikime, kad reikia pateikti visą informaciją ir niekada neatmesti jokios nuomonės ar pozicijos, jei yra ją patvirtinančių įrodymų, o šiuo klausimu įtarimų tikrai yra.
Ateityje beveik neabejotinai bus skirti dideli pinigai ŽIV testams ir AIDS "vakcinoms", tačiau gali būti, kad pakeliui gali atsirasti kažkas dar blogesnio. Mums tereikia palaukti ir pamatyti.
---
Šis tekstas pasirodė 2022 m. vasario 11 d. pavadinimu "Is there something more sinister than money behind the "new HIV" scare?" svetainėje off-guardian.org .
Išversta padedant www.DeepL.com/Translator.
Šis tekstas yra licencijuojamas pagal "Creative Commons Attribution 4.0" tarptautinę licenciją. Nesivaržykite kopijuoti ir dalintis.