Originalus straipsnis paskelbtas 2022 m. gegužės 28 d. brownstone.org.
Robert Kogon. Vertimas ir komentaras: Gintaras Furmanavičius.
---
Komentaras: Vakar dalinausi su jumis Moderna vadovo rypavimais, kad niekam nepavyksta įsiūlyti stebuklingų vakcinų ir jas tenka utilizuoti. Džiaugtis dar tikrai per anksti.
Raskite laiko perskaityti šį ilgą tekstą, kuris toks svarbus, kad išverčiau jį visą ir pasidalinkite juo su kuo daugiau draugų:
---
Kiekvienas, kuris įsivaizduoja, kad su Covid susijusių priemonių sustabdymas didžiojoje Europos dalyje reiškia, jog šios priemonės, taigi ir skiepijimo nuo C-19 kampanija, yra praeitis, turėtų susipažinti su naujausiais Europos Komisijos pareiškimais šiuo klausimu, pradedant Komisijos pirmininkės Ursulos von der Leyen balandžio 27 d. pareiškimu apie "kitą pandemijos etapą".
Pripažindama, kad pandemijos "nepaprastosios padėties" etapas baigėsi, bet, jos nuomone, ne pati pandemija, U. von der Leyen įspėja, kad "turime išlikti budrūs. ES vis dar daug užsikrėtusiųjų, o visame pasaulyje nuo COVID-19 vis dar miršta daug žmonių. Be to, gali atsirasti naujų variantų, kurie greitai plinta." "Tačiau mes žinome, kaip elgtis toliau, – apibendrino ji, – turime dar labiau sustiprinti skiepijimą bei tikslingus tyrimus".
Atkreipkite dėmesį, kad von der Leyen ne tik sako, kad skiepijimas ir stiprinimas turėtų būti tęsiamas, tarkime, galbūt ypač pažeidžiamoms grupėms, bet sako, kad jie turi būti "toliau stiprinami"! Ir tai ES, kurioje, Europos ligų prevencijos ir kontrolės centro duomenimis, beveik 85 % suaugusių gyventojų jau yra visiškai paskiepyti!
Komisijos pranešime spaudai rašoma, kad von der Leyen raginimas "suaktyvinti" skiepijimą yra pirmoji iš daugelio priemonių, kurių valstybės narės raginamos imtis "iki rudens".
Informacinis biuletenis "COVID-19 – ES pasirengimo ir atsako palaikymas: Tą pačią dieną, balandžio 27 d., Europos Komisija paskelbė informacinį dokumentą "COVID – atsakas ir pasirengimas kovai su COVID – ateities perspektyvos", kuriame pakartojama von der Leyen nuomonė. Pirmasis skyrius pavadintas "Skiepijimo nuo COVID-19 paplitimo didinimas", o pirmajame punkte rašoma:
Valstybės narės turėtų didinti skiepijimų apimtis ir skiepyti asmenis, kurie turi teisę gauti papildomą ir ketvirtąją dozes. Jos taip pat turėtų didinti vaikų skiepijimą.
Čia paryškinta originalo kalba. Antrasis punktas tęsiamas toliau:
Valstybės narės turėtų parengti COVID-19 vakcinacijos strategijas ateinantiems mėnesiams, atsižvelgdamos į tuo pat metu plintantį sezoninį gripą, ir įtraukti COVID-19 vakcinaciją į nacionalines vakcinacijos programas.
Gegužės 12 d. Europos Parlamento neseniai įsteigtame specialiajame Kovid-19 pandemijos (COVI) komitete įvyko klausimų ir atsakymų sesija su ES sveikatos apsaugos komisare Stella Kyriakides. (Visas vaizdo įrašas čia) Europos Parlamento narė prancūzė Virginie Joron tviteryje taip apibendrino Kyriakides pastabų esmę (vertimas autorės):
Prioritetas: 100 milijonų neskiepytų ES gyventojų, kuriuos reikės įtikinti ir nukreipti į juos nediskriminuojant.

– kova su dezinformacija

– kita pandemija su naujais variantais šią žiemą
Beje, kaip ir Kyriakidesas, Komisijos pranešime spaudai kaip vienas iš prioritetinių rudens veiksmų taip pat įvardijamas "intensyvesnis bendradarbiavimas kovojant su dezinformacija ir dezinformacija apie COVID-19 vakcinas".
Galiausiai, visai neseniai, gegužės 17 d., Virginie Joron tviteryje pasidalijo žemiau pateikta Komisijos dokumento, kuris buvo išplatintas ES Parlamento Vidaus rinkos ir vartotojų apsaugos komitetui ir kuriame iš esmės pateikiama rudens "skiepijimo strategija", nuotrauka. Šis dokumentas taip pat "nukreiptas" į neskiepytus asmenis, o jo pirmoje pastraipoje ES valstybės narės raginamos: "Stiprinti pastangas, kad neskiepyti ar iš dalies paskiepyti asmenys daugiau pasiskiepytų ar baigtų pirminį kursą, be kita ko, nuolat stebint ir analizuojant abejingumą skiepytis, kad jis būtų įveiktas".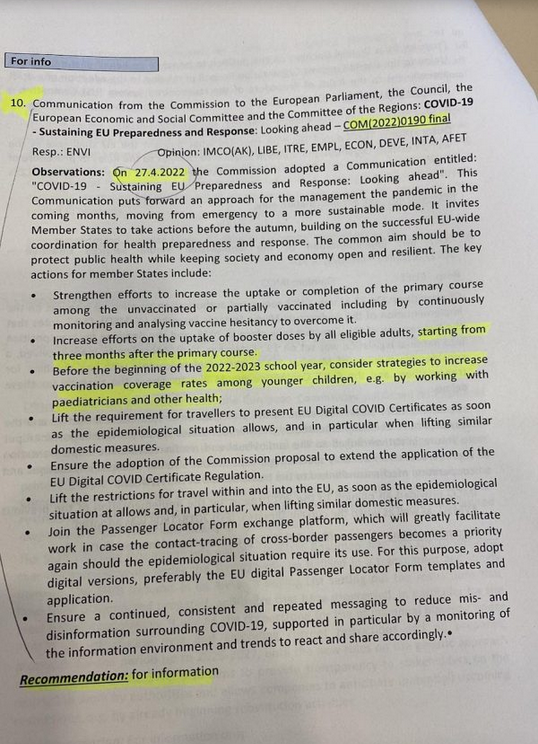 Akcentas, kad siekiama "atkreipti dėmesį" į neskiepytus asmenis, ypač glumina, atsižvelgiant į tai, kaip greitai, kaip žinoma, išnyksta vakcinos sukelta apsauga nuo Covid-19.
Imunologine prasme, kai ji atsiranda, žinoma, nebėra prasmingo skirtumo tarp paskiepytųjų ir nepaskiepytųjų. Kai kurie tyrimai ir duomenys netgi rodo, kad paskiepytieji šiuo metu yra labiau linkę užsikrėsti. Tik visai neseniai paskiepytieji galbūt gali turėti tam tikrą papildomą apsaugą.
Daugybė stebėjimo tyrimų parodė, kaip greitai mažėja Covid-19 vakcinų veiksmingumas: ypač BioNTech-Pfizer vakcinos, kuri yra bene plačiausiai naudojama vakcina ES. Tačiau čia nėra reikalo cituoti šių tyrimų, nes jau kitame Komisijos dokumento punkte tyliai pripažįstama, kad vakcinos veiksmingumas greitai mažėja, ir valstybės narės raginamos: "dėti daugiau pastangų, kad visi suaugusieji, turintys teisę gauti papildomą dozę, ją gautų praėjus trims mėnesiams po pirminės vakcinos kurso".
Trečiasis ir paskutinis su vakcinomis susijęs punktas konkrečiai susijęs su vaikų skiepijimu. Jorono nufotografuotame dokumente ji sutrumpinta, tačiau visą jos tekstą galima rasti išsamiausiame Komisijos pranešime apie Kovid-19 strategiją rudenį: komunikate Parlamentui ir kitoms ES institucijoms, kuris taip pat parengtas balandžio 27 d. Pilna rekomendacijos versija skamba taip: "Iki 2022-2023 mokslo metų pradžios apsvarstyti strategijas, kaip padidinti jaunesnio amžiaus vaikų skiepijimo apimtis, pavyzdžiui, bendradarbiaujant su pediatrais ir kitais sveikatos priežiūros specialistais, kurie daugeliui tėvų yra patikimi informacijos šaltiniai."
Kyriakidesas rūpestingai primygtinai reikalavo, kad neskiepytieji nebūtų diskriminuojami, net jei juos reikia "tikslingai nukreipti". Tačiau reikėtų pažymėti, kad balandžio 27 d. komunikate, kuris atsispindi Jorono nuotraukoje, taip pat pabrėžiama būtinybė "[u]žtikrinti, kad būtų priimtas Komisijos pasiūlymas išplėsti ES skaitmeninio COVID sertifikato reglamento taikymą". Pagrindinis ES skaitmeninio COVID sertifikato, kuris taip pat buvo ES valstybių narių nacionalinių "sveikatos" arba "skiepų" sertifikatų pagrindas ir infrastruktūra, poveikis ir tikslas, žinoma, yra būtent atlygis paskiepytiesiems ir neskiepytųjų diskriminacija.
Taigi balandžio 27 d. Europos Komisijos dokumentuose aiškiai nurodoma, kad rudenį bus pradėta nauja Covid-19 skiepijimo kampanija, kurios tikslinė grupė – iki šiol neskiepyti asmenys, taip pat vaikai. Be to, jei Komisija pasieks savo – o to galima tikėtis – ir ES skaitmeninio Covid sertifikato galiojimas iš tiesų bus pratęstas, juose taip pat keliama grėsmė, kad ši nauja akcija bus derinama su lygiai tokiomis pačiomis prievartinėmis ir diskriminacinėmis priemonėmis, kurios didžiąją praėjusių metų dalį neskiepytus Europos gyventojus pavertė socialiniais parijais.*"
---
Šis tekstas pasirodė 2022 m. gegužės 28 d. pavadinimu "After Summer, Europe to Target the Unvaccinated" svetainėje brownstone.org.
Šis tekstas yra licencijuojamas pagal "Creative Commons Attribution 4.0" tarptautinę licenciją. Nesivaržykite kopijuoti ir dalintis.
---
*(pãrijai [tamilų k. paraijan]:
P. Indijoje — viena žemiausiųjų neliečiamųjų kastų; nuo kitų neliečiamųjų skyrėsi didesniu beteisiškumu ir paniekinimu; 2*. beteisiai, paniekinti, engiami žmonės.)