Originalus straipsnis paskelbtas 2022 m. liepos 13 d. brownstone.org.
Ian Miller. Išversta padedant www.DeepL.com/Translator. Be pataisymų.
---
Vakcinų veiksmingumas yra vienas svarbiausių pandemijos klausimų.
Dėl pirminių vertinimų, kurie, pasak "ekspertų", svyravo nuo 95 iki 100 %, buvo priimta pasaulį keičianti politika.
Šiais skaičiais iki šiol be galo remiasi politikai ir žymūs žiniasklaidos veikėjai, kai neišvengiamai gauna teigiamą testą ir dėkoja už apsaugą, kurią jiems suteikė vakcina.
Pfizer pranešime spaudai, kuriame pateikiami tyrimų duomenys, konkrečiai ir triumfuojančiai deklaruojama, kad jų tyrimų rezultatas – 95 % vakcinos veiksmingumas:
"BNT162b2 atitinka visus pirminius tyrimo veiksmingumo rodiklius. Duomenų analizė rodo, kad vakcinos veiksmingumas buvo 95 % (p<0,0001) tarp dalyvių, kurie anksčiau nebuvo užsikrėtę SARS-CoV-2 infekcija (pirmasis pirminis tikslas), taip pat tarp dalyvių, kurie anksčiau buvo užsikrėtę SARS-CoV-2 infekcija ir tarp dalyvių, kurie anksčiau nebuvo užsikrėtę SARS-CoV-2 infekcija (antrasis pirminis tikslas), kiekvienu atveju matuojant praėjus 7 dienoms po antrosios dozės. Pirmojo pirminio tikslo analizė pagrįsta 170 COVID-19 atvejų, kaip nurodyta tyrimo protokole, iš kurių 162 COVID-19 atvejai pastebėti placebo grupėje, palyginti su 8 atvejais BNT162b2 grupėje. Veiksmingumas buvo vienodas pagal amžiaus, lyties, rasės ir etninės priklausomybės demografinius rodiklius. Stebėtas veiksmingumas vyresniems nei 65 metų suaugusiesiems buvo daugiau nei 94 %."
Gėdinga diskriminacija ir įkyrūs komentarai, kad "neskiepytieji" turėtų būti uždrausti visuomenėje ir pašalinti iš sveikatos priežiūros sistemų, buvo nuoseklus pandemijos laikotarpio po vakcinacijos bruožas, iš esmės dėl šių įverčių.
Daugeliui žymių tarptautinės žiniasklaidos veikėjų tai vis dar yra jų COVID diskurso dalis:
Tačiau neseniai paskelbtas tyrimas, atliktas kaip sisteminė surinktų tyrimų apžvalga, pateikia dar vieną prieštaravimą 95-100 proc. rodikliams, nesibaigiančių skiepų postūmį ir netikrą tokių įkyrių komentatorių kaip Butterworth pranašumo jausmą.
Nors per pastaruosius kelis mėnesius daugelis COVID apribojimų atkrito, nemažai įmonių ir universitetų vis dar taiko skiepijimo įpareigojimus naujiems darbuotojams ar studentams.
Nepaisant aiškių ir svarių įrodymų, kad vakcinos neužkerta kelio viruso plitimui, administratoriai atkakliai atsisako keisti įpareigojimus.
Nesvarbu, ar dėl noro nepripažinti, kad klydo, ar dėl sąmoningo realybės ignoravimo, ši žalinga politika ir toliau veikia dešimtis milijonų žmonių.
Nors daugelis veiksmingumo vertinimų buvo pagrįsti variantais, kurie jau seniai pakeisti, naujame išankstiniame straipsnyje (angl. pre-print), apimančiame italų mokslininkų atliktą sisteminę apžvalgą ir antrinių duomenų analizę, bandoma akademiškai įvertinti vakcinų nuo Omikrono veiksmingumą.
Daugelis pagaliau pripažino, kad dviejų dozių skiepų serija nebeapsaugo nuo simptominės infekcijos, tačiau tvirtino, kad stiprinamosios vakcinos "papildo" antikūnus, susidariusius po pirmosios serijos.
Dar 2021 m. gruodį daktaras Fauci teigė, kad stiprinamosios vakcinos 75 % veiksmingai apsaugo nuo Omicron varianto infekcijos simptomų.
Tikėtina, kad daugiausia dėl Fauci teiginių ir CDC rekomendacijų stiprinamieji skiepai tapo darbdavių ir aukštųjų mokyklų įvestų įpareigojimų dalimi.
Tačiau, kaip ir beveik visuose kituose savo žodžiuose, Fauci visiškai, beviltiškai klydo.
Tyrimo rezultatai rodo, kad vakcinos veiksmingumas nuo infekcijos yra mažesnis nei 20 %, o nuo simptominės ligos – mažesnis nei 25 % po kelių mėnesių, o ne 95-100 %, kaip teigiama "Pfizer" tyrimų duomenyse ar 75 %, kaip teigia daktaras Fauci:
"Nustatėme ryškų imuninės sistemos pabėgimą, susijusį su "Omicron" infekcija ir simptomine liga, tiek po dviejų, tiek po trijų dozių suleidimo. Apskaičiuota, kad apsaugos nuo simptominės infekcijos pusperiodis, kurį užtikrina dvi dozės, yra 178-456 dienos Delta atveju ir 66-73 dienos Omicron atveju. Nustatyta, kad stiprinamosios dozės atkuria VE (vakcinos veiksmingumą) iki lygio, panašaus į tą, kuris buvo pasiektas netrukus po antrosios dozės suleidimo; tačiau pastebėtas greitas stiprinamosios VE nuo Omicron mažėjimas: praėjus 9 mėnesiams po stiprinamosios dozės suleidimo, VE nuo infekcijos buvo mažiau nei 20 %, o nuo simptominės ligos – mažiau nei 25 %."
Svarbu pabrėžti, kad FDA nustatyta riba, nuo kurios buvo leista naudoti COVID vakcinas, buvo 50 proc. veiksmingumas apsaugant nuo ligos.
Tik, remiantis tyrimo rezultatais, praėjus "6 mėnesiams nuo antrosios dozės, bet kurios svarstomos vakcinos veiksmingumas nuo Omicron simptominės infekcijos yra mažesnis nei 13 %".
Ne tik pradinė dviejų dozių serija nesugeba išlaikyti bent kiek artimesnės 50 % apsaugos nuo Omicron, bet ir stiprinamoji dozė, kuri, pasak Fauci, turėjo "išlaikyti žmones sveikus", greitai išnyksta iki pusės šio procento nuo simptominės ligos.
Pažymėtina, kad į įrodymų apžvalgą nebuvo įtraukti tyrimai, kuriuose veiksmingumui apskaičiuoti buvo matuojamas antikūnų kiekis, nes FDA leido skiepyti mažus vaikus, remdamasi antikūnų susidarymu:
"Reguliuotojai leido vakcinų gamintojams daryti išvadą apie veiksmingumą įrodžius, kad vakcinos gali sukelti antikūnų lygius, panašius į tuos, kurie apsaugo paauglius ir jaunus suaugusiuosius, o ši koncepcija vadinama imunobridingu. Tai padėjo pagreitinti bandymus."
Vietoj to, kad FDA desperatiškai tikėjosi, jog antikūnų lygis lems aukštą veiksmingumo lygį, šis tyrimas rodo visiškai priešingą dalyką.
Taip pat verta prisiminti, kad "Moderna" iš pradžių teigė, jog jos vakcinos paaugliams yra "100 % veiksmingos", o Fauci viename interviu sakė, kad jos yra "beveik 100 % veiksmingos".
Atsižvelgiant į šį naująjį tyrimą, neįmanoma pagrįstai ginti įpareigojimų skiepyti sveikus koledžo studentus ar darbuotojus remiantis "kitų žmonių sveikatos ir gerovės apsauga".
Nuo užsikrėtimo dominuojančiais variantais apsauga yra menka arba jos nėra, taip pat menka ir apsauga nuo ligos simptomų.
Vakcinos turi problemų net ne tik su Omicron virusu. Veiksmingumas greitai ir smarkiai sumažėjo ir nuo Delta:
Pfizer vakcinos veiksmingumas nuo Delta jau po kelių mėnesių sumažėjo iki ~50 %.
Stulbinančio veiksmingumo sumažėjimo prieš Omicron nepadėjo pasiekti ir stiprinamosios vakcinos. Naudojant nei "Pfizer", nei "Moderna", nepavyko sustabdyti silpnėjimo ar pasiekti gerokai didesnio apsaugos lygio:
Taigi ką Bideno administracija daro su visais šiais tyrimais?
Stumia, kad visi gautų dar vieną stiprintuvą.
Naujajame "Washington Post" pranešime nurodoma, kad "Bideno administracijos pareigūnai" siekia, kad antrą kartą būtų skiepijami visi suaugusieji, o ne tik vyresni nei 50 metų asmenys, į kuriuos šiuo metu orientuojamasi:
Bideno pareigūnai siekia, kad būtų skiepijama priešmokykline vakcina.
Koks yra atsakymas į klausimą, kodėl po pirmojo skiepo sparčiai mažėja veiksmingumas nuo dominuojančių variantų? Žinoma, antrasis stiprintuvas!
Pirmoje straipsnio pastraipoje užsimenama apie dabartinį FDA ir CDC, kaip institucijų, paskirtų patvirtinti viską, ko nori prezidento vadovai, vaidmenį:
"Bideno administracijos pareigūnai rengia planą, pagal kurį visi suaugusieji galės gauti antrąją koronaviruso vakciną, kol tai patvirtins federalinė agentūra, nes Baltieji rūmai ir sveikatos apsaugos ekspertai siekia sumažinti viruso bangą, dėl kurios hospitalizacijų skaičius pasiekė aukščiausią lygį nuo kovo 3 d."
Jei apie savo planą paskelbsite spaudai dar prieš tai, kai federalinės agentūros jį oficialiai rekomenduos, parodysite, kad esate įsitikinę, jog politinis spaudimas įveiks bet kokias reguliavimo institucijų abejones.
Kai žinote, kad FDA ir CDC padarys tai, kas jiems liepta, galėsite paskelbti savo žmonėms, kad netrukus jiems bus leista gauti antrąjį skiepą. Ar svarbu, kad jų skiepų serija ir pirmasis stiprintuvas neapsaugojo jų nuo COVID? Žinoma, ne!
Tačiau nesijaudinkite, Ashishas Jha ir Anthony Fauci tai palaiko:
"Pasak penkių pareigūnų, kurie, kaip ir kiti šioje ataskaitoje apklausti pareigūnai, kalbėjo su anonimiškumo sąlyga, nes nebuvo įgalioti kalbėti apie planą, nors planą dar turi oficialiai patvirtinti reguliavimo institucijos ir visuomenės sveikatos pareigūnai, jį remia Baltųjų rūmų koronavirusų koordinatorius Ašišas Džha (Ashish Jha) ir Anthony S. Fauci (Anthony S. Fauci), vyriausybinis infekcinių ligų ekspertas."
Tas pats Faučis, kuris beviltiškai pervertino pirmosios stiprinamosios dozės veiksmingumą, dabar pritaria antrosios stiprinamosios dozės, kuri taip pat greitai sumažės ir taip jau nuviliančio lygio, įvedimui.
Kai tai, ką darai, neveikia, tiesiog daryk to dar daugiau.
Vienas palyginti sveiko proto vakcinų ekspertas iš tikrųjų pripažino, kad ši strategija iš tikrųjų neturi didelės prasmės, atsižvelgiant į tai, kad COVID niekada neišnyks ir kad vakcinos nesugeba užtikrinti jokios reikšmingos apsaugos nuo vidutinio sunkumo ligos:
"Manau, kad [antroji stiprinamoji injekcija] yra prasminga tam tikroms grupėms, tačiau visuotinė stiprinimo strategija nėra prasminga", – pirmadienį duodamas interviu sakė Offit, remdamasis duomenimis, rodančiais, kad trys mRNA vakcinos dozės užtikrina ilgalaikę apsaugą nuo sunkios ligos. "Tam tikru lygiu turėsime priprasti prie lengvų ir vidutinio sunkumo ligų kaip šio viruso, kuris bus su mumis visą likusį mano, mano vaikų ir jų vaikų gyvenimą, dalies."
Offitas netgi perspėjo, kad tokia strategija gali sukelti didelių neigiamų pasekmių ir dar labiau atitolinti skiepijimo pastangas:
Offitas taip pat įspėjo, kad pakartotinai skiriant tą pačią vakciną gali atsirasti vadinamasis "imprintingas", kai asmens imuninė sistema išvysto labai tikslingą atsaką į ankstesnes viruso versijas ir nesugeba prisitaikyti, kai virusas evoliucionuoja.
"Toliau skiepijant ta pačia protėvių paderme, jūs užrakinate save tokiam atsakui", – sakė Offit. "Jei kada nors atsiras virusas, kuris bus tikrai atsparus apsaugai nuo sunkių ligų, reikės pradėti viską iš naujo ir skiepyti ta vakcina."
Ar Fauci, Jha, Walensky ir kiti tariami "ekspertai" dėl to susirūpins? Žinoma, kad ne! Tam reiktų pripažinti, kad jie klydo, ir atsisakyti nesibaigiančios COVID politikos.
Bet kas, kas atimtų iš jų galią ir įtaką, yra nepriimtinas sprendimas, todėl neišvengiamas ketvirtosios vakcinos stūmimas stiprės, nepaisant naudos nebuvimo ir galimos žalos.
Žinoma, visoje JAV net ir mažėjant minimaliai apsaugai nuo stiprinamosios dozės, susirgimų daugėja, o mirčių skaičius išlieka žemas: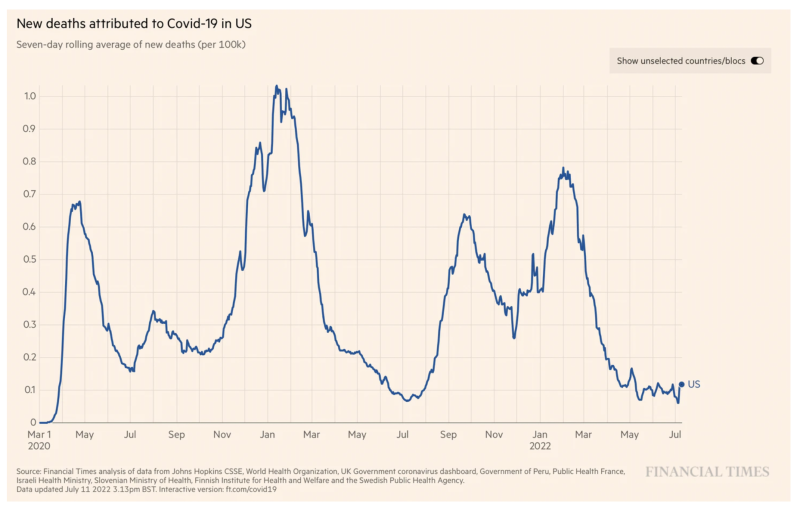 Kyla labai svarbus klausimas, kodėl visa tai apskritai reikalinga?
Jau įsitikinome, kad itin didelio skiepijimo ir stiprinimo dozių skaičiaus nepakanka, kad mirtingumas tam tikroje geografinėje vietovėje nepadidėtų iki rekordinio lygio:
Jie taip pat nesutrukdė kai kurioms šalims pranešti, kad 56 proc. visų jų piliečių buvo patikrinti teigiamai:
Islandijos atvejų
Ką galima pasiekti priverčiant atlikti papildomus skiepus? Ar bus privaloma atlikti ir kitus pakartotinius skiepus, remiantis antikūnų lygiu, kuris neturi jokio ryšio su apsauga?
Tai absurdiškas standartas, kuris tik dar labiau paskatins susiskaldymą ir nepasitikėjimą visuomenės sveikata.
Remiantis naujais tyrimais, tikrasis skiepų veiksmingumas nuo Omicron viruso yra mažesnis nei 25 %.
Tad ką su šia informacija ketina daryti FDA, CDC ir Bideno administracija? Pridės dar vieną stiprintuvą.
Net ir tada, kai mirčių skaičius yra mažas, nepaisant didelio atvejų skaičiaus, apie kurį ir taip nepakankamai pranešama dėl testavimo namuose, jie negali susilaikyti nuo to, kad pridėtų daugiau skiepų, užuot tiesiog pripažinę, kad klydo.
Tai nepaliaujamas siekis turėti vis daugiau ir daugiau galios ir kontrolės, užuot tiesiog gyvenus toliau ir susitaikius su endeminiu virusu, kuris mutavo ir toliau mutuos.
Administracija jau signalizuoja, kad reguliavimo institucijos turėtų paklusti jų planui, todėl sprendimas iš esmės prilygsta iš anksto priimtam sprendimui.
Ir vis dėlto, paklaustas apie ketvirtosios dozės jaunesniems amerikiečiams įvedimo pagrįstumą, laikraštis "Post" pranešė, kad CDC pareigūnai atsakė: "Tai, kad ketvirtoji dozė skirta jaunesniems amerikiečiams, yra pagrįsta: "JAV nėra duomenų apie jaunesnius nei 50 metų žmones".
Europos CDC sutinka:
Atrodo, kad tai puiki proga įvesti daugiau privalomų priemonių.
---
Ianas Milleris yra knygos "Unmasked: "The Global Failure of COVID Mask Mandates". Jo darbas buvo rodomas nacionalinėse televizijos laidose, nacionaliniuose ir tarptautiniuose naujienų leidiniuose ir minimas keliose geriausiai parduodamose knygose apie pandemiją. Jis rašo naujienlaiškį "Substack", taip pat pavadintą "Unmasked".
Šis tekstas pasirodė 2022 m. liepos 13 d. pavadinimu "Real Vaccine Efficacy Rates Are Much Lower Than Previously Estimated" svetainėje brownstone.org.
Išversta padedant www.DeepL.com/Translator. Be pataisymų.
Šis tekstas yra licencijuojamas pagal "Creative Commons Attribution 4.0" tarptautinę licenciją. Nesivaržykite kopijuoti ir dalintis.