Pirmą kartą ministerija "Twitter" aiškiai nurodo rimtų šalutinių poveikių skaičių.
Originalus straipsnis paskelbtas 2022 m. liepos 22 d. reitschuster.de.
Aaron Clark. Išversta padedant www.DeepL.com/Translator. Be pataisymų.
---
Trečiadienį nenuilstantys beprotiškos Vokietijos "Corona" politikos kritikai trumpam patikėjo stebuklu: oficialioje BMG (Federalinės sveikatos apsaugos ministerijos) "Twitter" paskyroje buvo paskelbtas grafiškai apipavidalintas pranešimas, kuriame raginama kreiptis į gydytoją įtarus šalutinį "Corona" vakcinos poveikį, o apie bet kokius pasireiškusius simptomus pranešti Paulio Ehrlicho institutui naudojant atitinkamą formą. Be to, pranešimo antraštėje buvo pateikta informacija, kad vienam iš 5000 žmonių po vakcinacijos Covid 19 pasireiškė sunkus šalutinis poveikis.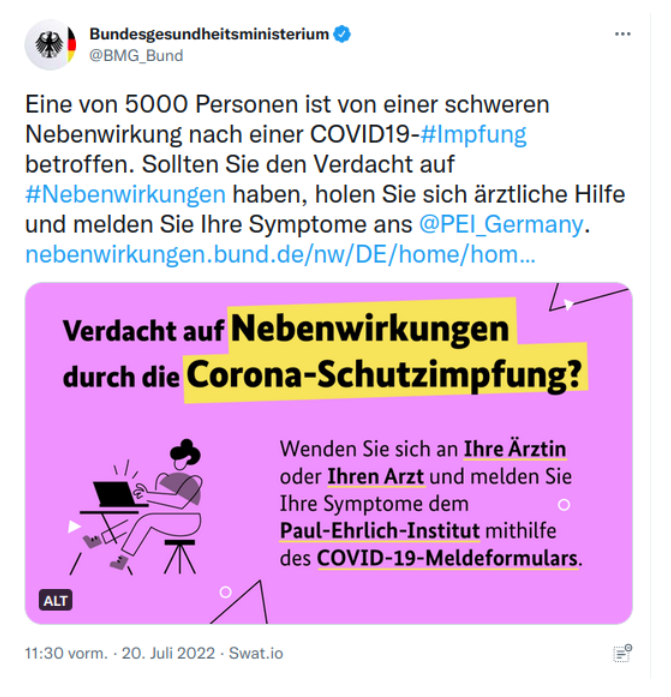 Pirmoji mintis: Dieve mano – ar dabar BMG pagaliau suprato, kad kvazieksperimentinės ir vis dar tik sąlyginai bei abejotina tvarka patvirtintos "Corona" vakcinos anaiptol nėra (daugiau ar mažiau) šalutinio poveikio neturintys preparatai, kaip praėjusiais metais pristatė dabartinis jų vadovas Karlas Lauterbachas, kalbėdamas per televiziją ir "Twitter".
Šalutiniai vakcinų poveikiai – bene svarbiausia diskusijų apie "Corona" tema
Neapsigaukime – vargu ar kuri nors kita su "Corona" krize susijusi tema taip įkaitino aistras ir užkietino frontus, kaip skiepų tema, o šiame kontekste – ypač šalutinio poveikio aspektas. Akylesni šiuolaikinės istorijos stebėtojai dar gerai atsimena, kaip žmonės, atmetę "skiepų pasiūlymą", buvo kaltinami asmeniniu rizikos ir naudos vertinimu. Ypač tada, kai buvo pabrėžta, kad sunkių šalutinių poveikių atvejai Europos ir Amerikos skiepų duomenų bazėje sumušė visus rekordus, ypač lyginant su kitomis dešimtmečius tirtomis ir stebėtomis vakcinomis, pavyzdžiui, nuo poliomielito ir tuberkuliozės. Trumpai tariant, buvo tikslinga atkreipti dėmesį į aplinkybes, kuriomis kilo abejonių dėl naujų vakcinų saugumo.
Tačiau jau kurį laiką situacija, susijusi su vakcinų žalos sumenkinimu, tyliai, bet aiškiai pasikeitė. Visuomenės ir įvairios žiniasklaidos priemonės – net vakcinų reklamos žurnalas "Spiegel", kurį milijonais finansuoja Billas Gatesas (pastaba: "Spiegel" yra svarbiausias Vokietijos savaitraštis) – pastarosiomis savaitėmis pirmą kartą skyrė dėmesio pasakojimams apie vakcinų aukų vargus. Be ilgalaikių fiziologinių ir neurologinių pakenkimų, nukentėjusiųjų pasakojimai ypač slegia dėl to, kaip sunku vakcinacijos aukoms pasiekti, kad valdžios institucijos pripažintų, jog jų sveikatos būklė buvo sugadinta dėl mRNA injekcijos. Akivaizdu, kad "sunkaus šalutinio skiepų poveikio" tema daugeliui medikų vis dar yra per karšta.
Ką tiksliai reiškia BMG informacija? Paulo Ehrlicho instituto saugos ataskaitoje "sunkus šalutinis poveikis" apibrėžiamas kaip vakcinacijos reakcijos, tokios kaip miokarditas, giliųjų venų trombozė, ūminis miokardo infarktas, smegenų kraujavimas, Guillain-Barré sindromas ir imuninė trombocitopenija (tam tikra kraujavimo sutrikimo forma), kurios penkiais procentais atvejų, apie kuriuos buvo pranešta, sukėlė mirtį arba negrįžtamą žalą, o trečdalis nukentėjusiųjų pranešimo metu vis dar sunkiai sirgo. Miokardito atveju šis sunkus šalutinis poveikis dažniau pasireiškia paaugliams vyrams, o tai yra ypač klastinga, atsižvelgiant į galimą negrįžtamą širdies audinio pažeidimą.
Tai, ko neturi būti, negali būti
Žinoma, vakcinacijos šalininkai – o gal turėtume sakyti šalutinio poveikio neigėjai? – iš visų jėgų šaudė į kiekvieną paskelbtą kritinį požiūrį į nepageidaujamų reakcijų į vakcinas, ypač tų, kurios kelia ypatingą susidomėjimą, vystymąsi. Galima prisiminti buvusio "BKK ProVita" valdybos nario Andreaso Schöfbecko publikaciją (lietuvių kalba žr. čia), "Charité" vakcinų stebėjimo tyrimo vadovo Haraldo Mattheso (ir) menkinimą arba duomenų apie apsilankymus pas gydytojus dėl šalutinio poveikio, kuriuos Federalinė privalomojo sveikatos draudimo gydytojų asociacija (Kassenärztliche Bundesvereinigung) turėjo paskelbti spaudžiama Bundestago nario Martino Sicherto (Martin Sichert), išviešinimą. Ten paskutiniame sakinyje rašoma: "Skirtumas tarp gydytojų užfiksuotų reakcijų į skiepus ir reakcijų, apie kurias pranešta PEI, yra […] suprantamas ir jo buvo galima tikėtis." Taigi, viskas kaip įprasta, taip sakant.
Ironiška, kad vakarykštis Sveikatos apsaugos ministerijos pranešimas pasirodė tuo metu, kai jos vyriausiasis vadovas yra Jungtinėse Amerikos Valstijose, kur, jei pasiseks, su Anthony Fauci aptars savo įpėdinystės 2025 m. sąlygas. Pats Lauterbachas po savo visiškai neprofesionalių pareiškimų apie (daugiau ar mažiau) neegzistuojantį šalutinį poveikį praėjusiais metais taip pat jau pradėjo atsargiai pripažinti šalutinį skiepų poveikį: Greičiausiai priverstas lėtai besikeičiančio vėjo, birželio viduryje jis pakomentavo "Spiegel" straipsnį apie visiškai naują "postvakcinos sindromą" – juk "Corona" vakcinos nesukelia ilgalaikių pasekmių, o po kelių dienų per televiziją pakartojo, kad visose amžiaus grupėse rizikos ir naudos santykis iš esmės yra palankus skiepijimui. Viena vertus, šiuo teiginiu abejoja, bet ne tik, Peteris Doshi (Peter Doshi), be kita ko, atlikęs antrąją "Pfizer" ir "Moderna" registracijos tyrimų analizę, kurios rezultatas – padidėjusi "ypatingos svarbos sunkių nepageidaujamų reiškinių" rizika buvo didesnė už "Covid 19" hospitalizacijos rizikos sumažėjimą, palyginti su placebo grupe abiejų vakcinų atveju. Kita vertus, dar prieš du mėnesius iki Lauterbacho etapinės nuolaidos, Izraelyje atliktame tyrime pažymima, kad savaitinių skubios pagalbos iškvietimų, susijusių su širdies sustojimu ir ūmiu koronariniu sindromu, skaičius 16-39 metų amžiaus grupėje buvo reikšmingai susijęs su pirmosios ir antrosios vakcinos dozės skiepijimo rodikliais šioje amžiaus grupėje, bet ne su COVID-19 infekcijos rodikliais. Jau nekalbant apie dabartinius RKI pranešimus apie Vokietijos koronos intensyviosios terapijos pacientų skiepijimo rodiklius, nors pastaruosius vis dar reikėtų vertinti atsargiai dėl neaiškios apibrėžties.
Sveiko proto pergalė Sveikatos apsaugos ministerijoje? Pirmiausia reikia matematikos korepetitorių…
Dabar, savo vakarykščiu "Twitter" tarnybos pranešimu, BMG iš esmės kol kas nieko naujo mums nesako – tai, kad pranešimų apie sunkias reakcijas į skiepus dažnis yra vienas iš 5000 paskiepytų asmenų, dabartinė federalinė vyriausybė "Facebook" paskyroje jau paskelbė 2021 m. lapkritį, tačiau be jokio akivaizdaus įspėjamojo ar raginamojo pobūdžio. Problema ta, kad ši informacija šiandien yra tokia pat matematiškai neteisinga, kaip ir tada, ir ją tokiu pavidalu galima perskaityti iš Paulo Erlicho instituto saugos ataskaitų tik tuo atveju, jei nesi pernelyg atidus skaičių mokslui. Nes iš beveik stabilių duomenų apie sunkius šalutinius skiepų poveikius, apie kuriuos pranešama nuo 2021 m. kovo mėn. pradžios, matyti, kad tai anaiptol ne viena sunki skiepų reakcija 5 000 paskiepytųjų, o veikiau viena sunki skiepų reakcija 5 000 skiepų dozių. Net ir nesant skiepų registro, skirtumas tarp šių dviejų skaičiavimų yra milžiniškas – blogiausiu atveju jis skiriasi mažiau nei tris kartus. Kitaip tariant, jei iš 64,7 mln. žmonių, iki vakar bent kartą paskiepytų, vienas iš penkių tūkstančių patiria rimtą šalutinį poveikį, iš viso kalbame apie beveik 13 000 apgailėtinų amžininkų. Kadangi kas 5 000 dozių vakcinos pasireiškia vienas rimtas šalutinis poveikis, tai reiškia, kad 185,5 mln. atliktų skiepijimų metu daugiau nei 37 000 žmonių jau galėjo patirti rimtą reakciją į vakciną – arba atitinkamai mažiau žmonių skiepijosi daugiau nei vieną kartą. Problema ta, kad kuo didesnis tikrasis žmonių skaičius, tuo didesnė tikimybė, kad susiduriama su visiškai sveikais jaunais žmonėmis, kuriems "Corona" infekcija niekuomet nebuvo susijusi su kritinės ligos eigos rizika.
Žinoma, atidūs "Twitter" stebėtojai iškart pirštu bakstelėjo į BMG ir PEI neatitikimo žaizdą. Po kelių valandų visur pasirodė informacija, kad ministerija pripažino šalutinį poveikį, tačiau nesugebėjo jo tinkamai interpretuoti. Tik po septynių valandų – buvau maloniai nustebintas – ministerija prie savo pirmosios žinutės tviteryje pridėjo informaciją, kad vakcinos dozių skaičius yra teisingas, o ne paskiepytų asmenų skaičius. Piktybiniai kritikai keliose vietose teigia, kad Sveikatos apsaugos ministerija bandė nuslėpti rimto šalutinio poveikio riziką, kuri su kiekvienu nauju skiepu didėja vienam asmeniui. Statistiškai vakar nuo pirmosios tviterio žinutės pasirodymo iki tariamo blefo paskelbimo buvo atlikta beveik 50 000 injekcijų. Taigi vėl buvo dešimt sunkių reakcijų.
Ar sveikas protas nugalės?
Reaguojant į Sveikatos apsaugos ministerijos pranešimą, su juo susiję lūkesčiai diskusijų grupėse, suprantama, buvo gana dideli: buvo kalbama apie skubų skiepijimo kampanijos ir privalomojo skiepijimo įstaigose nutraukimą, sveikatos apsaugos ministro atleidimą iš pareigų, ieškinių bangas prieš atsakingus politikus, verslininkus ir žiniasklaidą ir daug kitų dalykų. Man asmeniškai rūpi šioje vietoje trumpai atkreipti dėmesį į tai, kad, kad ir kokie faktiškai ir morališkai būtini būtų visi šie reikalavimai, turime reikalų su labai stipriu priešininku, kuris jau kurį laiką naudojasi savo įtaka ir disponuoja sunkiai įsivaizduojamais ištekliais. Todėl nebus starto ir finišo sprinto, tai yra ir išliks ilgos distancijos lenktynės. Mums patartina atitinkamai paskirstyti savo pajėgas.
Jei norite nuolat gauti naujausią informaciją apie "Corona" klausimą, kviečiu suinteresuotąsias šalis apsilankyti mano "Telegram" kanale.
Papildita:
per šiandien pradinis Sveikatos apsaugos ministerijos tviterio įrašas buvo ištrintas, dabar ten galima rasti tik pataisymą. Be to, "Twitter" originalios tviterio žinutės vertimą į anglų kalbą klasifikuoja kaip "klaidinantį". Beprotybė tęsiasi…
---
Šis tekstas pasirodė 2022 m. liepos 22 d. pavadinimu "Impfnebenwirkungen: Die kuriose Kehrtwende des Gesundheitsministeriums" svetainėje reitschuster.de.
Išversta padedant www.DeepL.com/Translator. Be pataisymų.
Šis tekstas yra licencijuojamas pagal "Creative Commons Attribution 4.0" tarptautinę licenciją. Nesivaržykite kopijuoti ir dalintis.