Kaip organizacijos išnaudoja klimato kaitą savo tikslams
Originalus straipsnis paskelbtas 2022 m. gegužės 15 d. axelbojanowski.substack.com.
Axel Bojanowski. Išversta padedant www.DeepL.com/Translator. Be pataisymų.
---
Jau seniai reikėjo imtis veiksmų klimato kaitai pažaboti. Tokia padėtis leidžia organizacijoms nesąžiningai pasipelnyti iš šios problemos. Vienas iš naujausių pavyzdžių.
Neseniai Jungtinių Tautų aplinkos apsaugos programa (JTAP) išplatino pranešimą spaudai, kuris sulaukė didžiulio atgarsio visame pasaulyje. JTAP tikslas – "būti aplinkos apsaugos advokatu".
Nuo pat savo įkūrimo 1972 m. JTAP įspėja apie pavojus aplinkai, šį kartą apie dėl klimato kaitos didėjančius miškų gaisrus.
Pranešimas spaudai apskriejo visą pasaulį. Jį išplatino naujienų agentūros, taip pat ir Vokietijoje; šimtai žiniasklaidos priemonių pateikė pranešimus, kurių dauguma buvo panašūs į pranešimą spaudai.
Paprastai antraštė būdavo panaši į "New York Times": klimato tyrėjai įspėja apie dar didesnius miškų gaisrus:

Tačiau pranešimas nebuvo toks teisingas. Miškų gaisrų mažėja.
Naujienų šaltinis buvo ne mokslinis žurnalas, o Jungtinių Tautų aplinkos apsaugos programa (UNEP). Ji užsakė aplinkosaugos organizacijai "Grida" aprašyti miškų gaisrų riziką ateityje; "Grida" nuolat bendradarbiauja su JTAP.
JTAP ir Grida nėra moksliniai institutai. Neseniai paskelbtame leidinyje apie miškų gaisrus jie rėmėsi moksliniais tyrimais, ypač tais, kurie buvo atlikti specialiai UNEP ataskaitai.
Šis tyrimas iš esmės yra kompiuterinis pasaulio miškų gaisrų pavojaus modeliavimas vykstant atšilimui. Rezultatas: iki 2050 m. miškų gaisrų gali padaugėti 30 %, o iki 2100 m. – 50 %.
Iš pirmo žvilgsnio tai tikėtinas scenarijus: JT Tarpvyriausybinė klimato kaitos komisija (TKKK, angl. Intergovernmental Panel on Climate Change, IPCC), kuri vertina klimato būklę, savo dabartinėje ataskaitoje teigia, kad dėl visuotinio atšilimo gali padaugėti miškų gaisrų.
Tačiau TKKK nenurodo, ar tai reiškia, kad miškų gaisrų bus daugiau, ir tam yra rimta priežastis: tai, ar miškų gaisrai virs gaisrais, visų pirma priklauso nuo miškų valdymo ir prevencijos.
Kadangi pagerėjo valdymas ir atsargumas, gaisrų skaičius, nepaisant spartaus klimato atšilimo, mažėja jau ilgą laiką.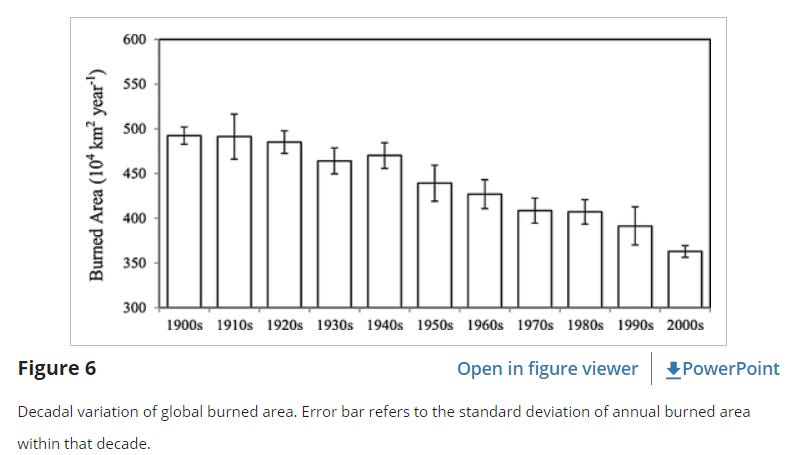 Gaisrų kyla vis mažiau, o garsiuose žurnaluose paskelbtuose tyrimuose prognozuojama, kad miškų gaisrų mažėjimo tendencija išliks, nepaisant klimato kaitos.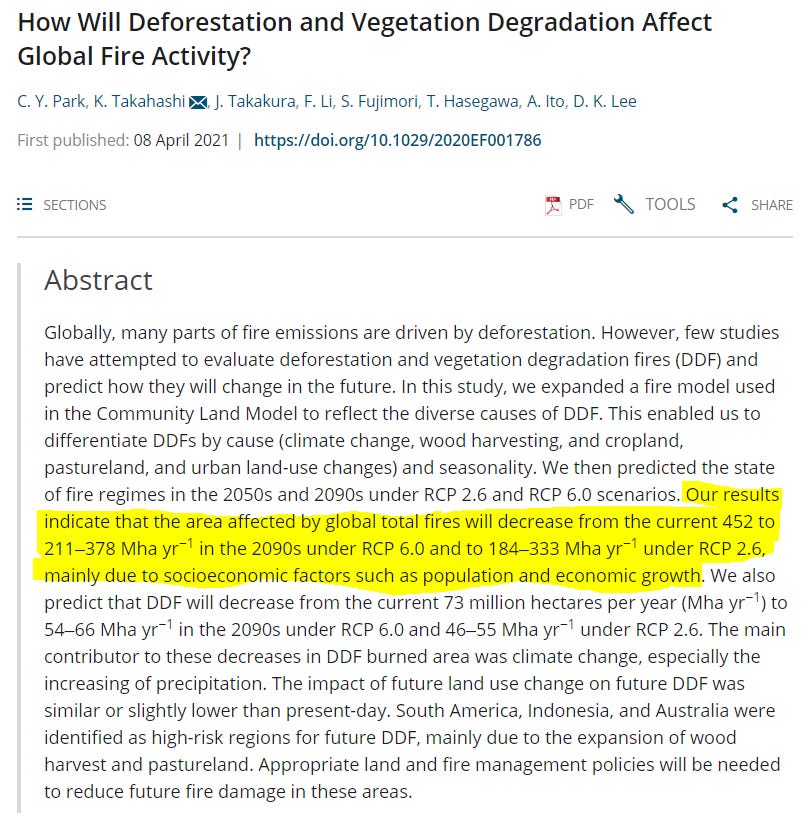 Tačiau JTAP daugiausia dėmesio skiria tik klimato kaitos modeliavimui, kuris daug kur gali būti palankus miškų gaisringumui, t. y. miškų gaisrų rizikai.
JT aplinkos apsaugos programos prielaida, prieštaraujanti pastarųjų dešimtmečių patirčiai, kad žmonės toliau nesistengs mažinti gaisrų pavojaus.
JTAP džiaugiasi savo tyrimo rezultatais, nes jie patvirtina jos steigimo tikslą (šis reiškinys žinomas kaip Širkio principas). Tačiau visiems kitiems rezultatas yra klaidinantis.
JTEP pasiekė savo tikslą: pasaulinės žiniasklaidos naujienos, tarnaujančios jos pačios interesams. Tačiau žiniasklaidos vartotojams susidaro klaidingas įspūdis, kad dėl laipsniško atšilimo neišvengiamai kils didesni miškų gaisrai.
Tai, kad JTAP iškraipymai neabejotinai pateko į žiniasklaidą, nėra neįprasta. Rizikos sukimasis (angl. risk spin) klimato klausimu yra įprastas reiškinys. Į kitus svarbius veiksnius paprastai neatsižvelgiama.
Sociologas Peteris Weingartas, daugiau nei prieš 20 metų analizavęs diskusijų apie klimatą pradžią, padarė tokią išvadą: "Žiniasklaida sutelkia dėmesį į katastrofiškų scenarijų vystymąsi, remdamasi numanomu mokslinės kompetencijos tikrumu."
Taip yra ir šiandien. Politinių organizacijų, o ne aplinkos ir visuomenės labui. Pastariesiems reikėtų rimtos informacijos, kad jie galėtų apsiginkluoti prieš progresuojantį visuotinį atšilimą.
Pastaba sapereaude: Galiausiai, keletas naujausių Axelio Bojanowskio tweets.
---
Šis tekstas pasirodė 2022 m. gegužės 15 d. pavadinimu "Feuer frei – Wie Organisationen den Klimawandel für eigene Zwecke ausbeuten" svetainėje axelbojanowski.substack.com.
Išversta padedant www.DeepL.com/Translator. Be pataisymų.
Šis tekstas yra licencijuojamas pagal "Creative Commons Attribution 4.0" tarptautinę licenciją. Nesivaržykite kopijuoti ir dalintis.
Michael Held nuotrauka Unsplash