Originalus straipsnis paskelbtas 2021 m. gegužės 24 d.
Kornelia Kirchweger. Išversta su www.DeepL.com/Translator
Jau 28 JAV valstijose, kurias daugiausia valdo respublikonai, nebereikalaujama užsidėti "Corona" kaukės. Tai pradėjo Florida, po jos – Teksasas ir Misisipė. Kai šiose valstijose Korona skaičius vis tiek nepadidėjo, prasidėjo domino efektas: kitos valstijos pasekė jų pavyzdžiu. Daugiau nei 10 valstijų taip pat draudžia skiepų pasą. Valdantieji kairieji demokratai, vadovaujami JAV prezidento Joe Bideno, nepritaria jų sušvelninimui.
Lockdowno šalininkai be argumentų
Ypač JAV prezidentas Joe Bidenas ir jo sveikatos guru Anthony Fauci, kurie turi mažai ką bendro su savarankiškais ir savimi pasitikinčiais piliečiais. Tačiau, atsižvelgiant į sėkmingus palengvinimus, jie greitai pritrūks argumentų. Floridoje žmonės nuo 2020 m. rugsėjo pabaigos gyvena taip, tarsi būtų prieš "Koroną". Vis dėlto "Korona" skaičius smarkiai nepasikeitė. Beje, 10 valstijų iš viso nebuvo jokio maskavimo reikalavimo, ir apie tai buvo mėgstama nutylėti. Visuomenė atkreipė dėmesį tik kovo pradžioje, kai Teksasas ir Misisipė taip pat pasekė Floridos pavyzdžiu.
Demokratai toliau taiko ribojamąsias priemones
Likusiose 26 JAV valstijose ir Vašingtone, kur daugeliu atvejų valdo demokratai, visada galiojo maskavimas ir kiti apribojimai. Tačiau ten patvirtinta daugiau "Corona" atvejų. Priekabiavimas tęsiasi ir toliau. Pavyzdžiui, Oregonas yra pirmoji valstija, kurioje žmonės, prieš įeidami į darbą, parduotuves ir maldos namus be kaukės, privalo pateikti skiepijimo įrodymą. Santa Klaros apygardoje Kalifornijoje sveikatos departamentas verčia įmones nustatyti darbuotojų skiepijimo statusą.
Dideliam demokratų nepasitenkinimui respublikonų senatoriai dabar priešinasi vis labiau isteriškai Vašingtono skiepijimo strategijai, kuri atitinka Nacionalinio sveikatos instituto (CDC) rekomendaciją: net ir nuo Covid-19 pasveikę žmonės turėtų skiepytis, nes nežinoma, kiek laiko truks "natūralus imunitetas".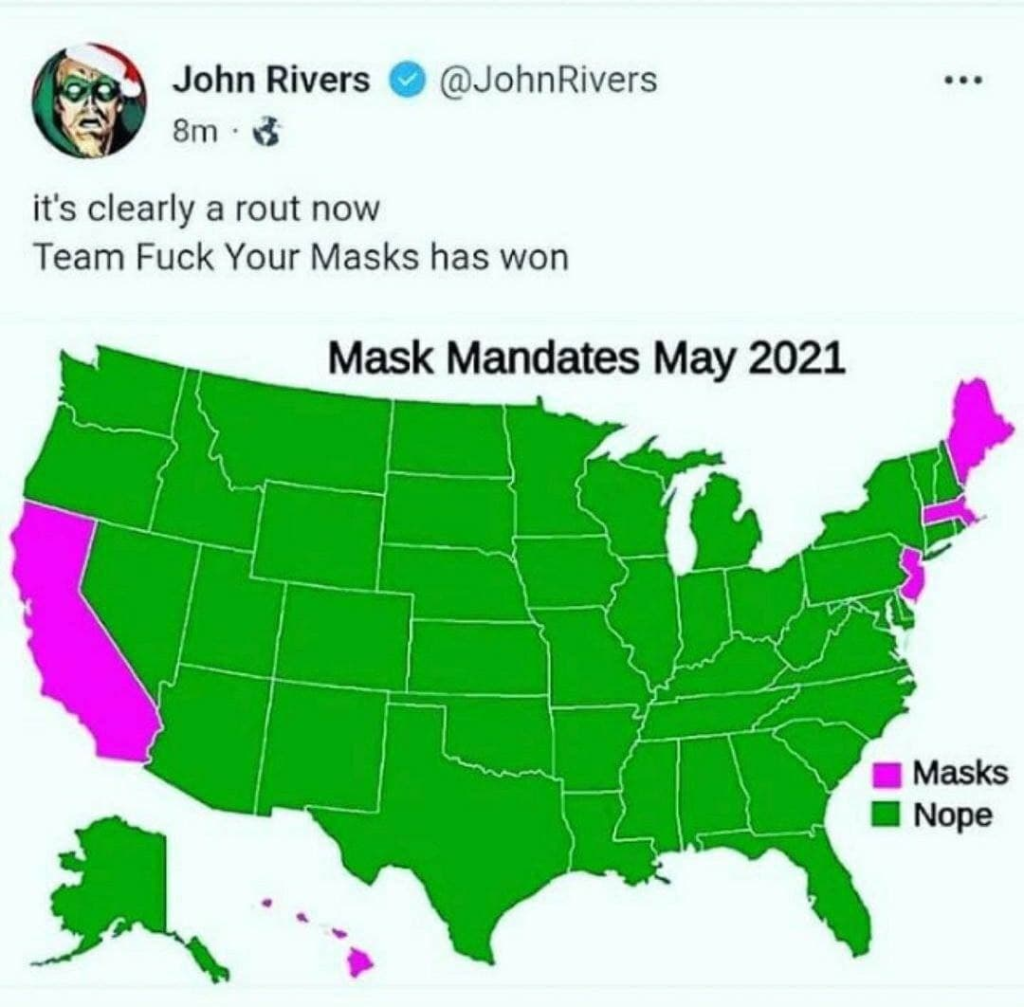 Vakcinacijos kampanija, kad būtų dar daugiau galios
Respublikonų senatorius Randas Paulas (Rand Paul), kuris praėjusiais metais buvo užsikrėtęs "Corona" virusu, neturėjo jokių simptomų ir jam nereikėjo vykti į ligoninę, dabar viešai paaiškino, kad kol nebus įrodymų, jog vakcina yra veiksmingesnė už natūraliai įgytą imunitetą, jis nesiskiepys. Randas pagal profesiją yra oftalmologas. "Laisvoje šalyje galima manyti, kad žmonės vertina tai, kad jie patys priima sprendimus dėl gydymo, o ne tai, kad "Didysis brolis" jiems diktuoja, ką daryti", – sakė jis. Masinę skiepijimo kampaniją jis aiškina kaip bandymą "pagaminti" sutikimą dar didesniam valdžios užgrobimui. Taigi Randas yra pirmasis senatorius, atvirai pasisakantis prieš skiepus. Tačiau senatorius Ronas Džonsonas (Ron Johnson), sveikstantis nuo Covid-19 infekcijos, taip pat leido suprasti tą patį anksčiau šiais metais.
Nuotrauka: https://pixabay.com/
Šis tekstas pasirodė 2021 m. gegužės 24 d. pavadinimu "Dominoeffekt in den USA: Kein Maskenzwang in 28 US-Bundesstaaten" svetainėje https://www.wochenblick.at/