Atsižvelgdami į akivaizdžias cenzūros priemones, nusprendėme dalytis svarbiais pranešimais "Telegram". Mūsų adresas:
Šiuo metu jau turime daugiau nei 1000 abonomentų! Ir mes toliau augame 🙂
Žinoma, visus svarbius straipsnius, kaip įprasta, galite rasti mūsų pagrindiniame puslapyje www.sapereaude.lt.
Taip pat rekomenduojame lietuvišką "Telegram" kanalą https://t.me/triusio_urvas.
SVARBU: atsisiųskite programą iš https://telegram.org/, o ne iš parduotuvės.
Nesutinkate su Coronos diktatūra ir norite ką nors daryti? Ieškome savanorių, kurie, be kita ko, galėtų redaguoti lietuviškus tekstus, įgarsinti arba lietuviškai subtitruoti vaizdo įrašus, teikti techninę pagalbą ir kt. Jei susidomėjote, siųskite trumpą el. laišką su motyvacija, įgūdžiais ir kontaktiniais duomenimis adresu: info@sapereaude.lt.
Linkime jums visiems ramaus sekmadienio.
Žemiau pateikiama trumpa naujausių pranešimų mūsų "Telegram" kanale apžvalga.
_____________________________________________________
Salvadoro vyriausybė nusprendė kiekvienam gyventojui nemokamai atsiųsti rinkinį su vaistais, kuriuos reikia vartoti pajutus ligos simptomus, … Peržiūrėkite vaizdo įrašą ir sužinokite, kas yra viduje! Juokinga matyti, kad vadinamosiose "skurdžiose" šalyse, kurioms žadėjome sveikatos katastrofą, miršta 10, 100, 1000 kartų mažiau žmonių nei "turtingose" šalyse … Ir niekam tai neatrodo keista? O gal tai prieš turtinguosius nukreiptas virusas?
–> https://t.me/sapereaudelt/1014
__________________________________________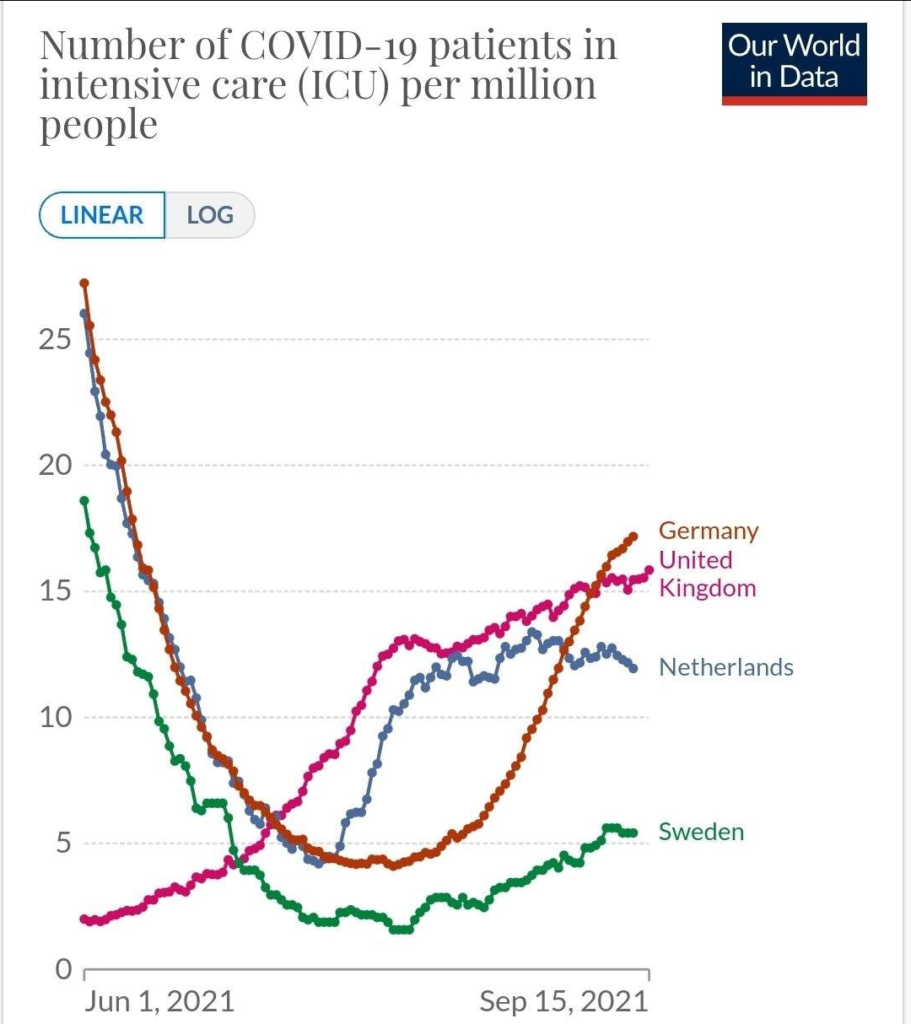 Anglija 🏴 (arba JK)
Švedija 🇸🇪
Danija 🇩🇰
Nyderlandai 🇳🇱
Visos 4 šalys
Daug savaičių be kaukės!
Pradinėse mokyklose beveik nėra apribojimų!
Jokių privalomų skiepų, jokių tyrimų (iki šiol 🇳🇱 / panaikinta 🇩🇰).
Vokietija su kaukėmis, testais ir netiesioginiu privalomu skiepijimu 🇩🇪 = stačiausia Covid intensyvumo kreivė.
–> https://t.me/sapereaudelt/1017
_______________________________________________
Norvegijoje naujieji mokslo metai prasidėjo rugpjūčio 17 d. be higienos manijos. Kaip visada.
Nepaisant to, kad kai kuriais atvejais sergamumas gerokai viršijo 100.
Vaikų, nuo rugpjūčio pradžios hospitalizuotų dėl delta varianto, skaičius: Nulis.
Paskutinėje nuotraukoje – Norvegijos ministrė pirmininkė Erna Solberg berniukui įteikia kuprinę.
–> https://t.me/sapereaudelt/1018
________________________________________________
Niujorke nuo šiol net dvejų metų vaikai turi dėvėti kaukes, ir štai kaip tai atrodo.
https://www.governor.ny.gov/news/governor-hochul-announces-series-universal-mask-requirements-protect-new-yorkers-amid-rise