Originalus straipsnis paskelbtas 2021 m. spalio 18 d.
Milosz Matuschek. Iš vokiečių kalbos vertė Daiva Petereit-Pilinkienė, redagavo Kristina Sprindžiūnaitė.
Pilietinis nepaklusnumas atsiskleidžia iš įvairių pusių. Vis dėlto dauguma piliečių nesuvokia, kokią galią turi jau pavieniai žmonės.
"Neabejok tuo, kad net nedidelė dėmesingų ir atsidavusių žmonių grupė gali pakeisti pasaulį. Iš esmės niekada kitaip ir nebuvo."
Nuo neatmenamų laikų visiems praktiškai veikiantiems aktualijų lauke, kyla klausimas: "Ką daryti?" Kaip į pasaulį ateina naujovės? Kas jas atneša? Atsakymai dažnai būna daug akivaizdesni, nei daugelis mano. Negali nepastebėti, kad pasipriešinimas vis dar reiškia bandymus ir klaidas, tebėra savotiškas eksperimentų laukas, į kurį daug kas žengia beveik spontaniškai ir neapgalvotai, bent jau rimčiau neapsvarstę strategijos. O juk jau gerai ištirta, kas veiksminga, o kas ne.
Todėl pirmiausia reikėtų demistifikuoti pasipriešinimo sąvoką ir suteikti jai pragmatišką, demokratišką formą. Galų gale juk kalbama apie įprastą demokratinį procesą, kurio metu, pasitelkus pavyzdinius protinius ir fizinius veiksmus, mažuma virsta dauguma. Demokratijoje kiekvienas pilietis yra kunigaikštis, todėl kiekvienas turi teisę proto veiksmais daryti įtaką daugumos valios formavimui. Tam tinka visos nesmurtinio pasipriešinimo formos. Tačiau esama geresnių, ir blogesnių būdų, kaip parodyti galią gatvėje ir pradėti pokyčius protuose.
Kodėl turintiems galią toks pavojingas pasipriešinimas
Kodėl tam tikrose istorinėse situacijose vieni žmonės sukyla prieš laikmetį, o kiti – ne? Ką reiškia pavieniui stoti prieš laiko tendenciją? Atsakymas neretai būna ne toks herojiškas, kaip daugelis mano. Sukilėlius sukuria atsiradusi proga. Dažnai jie tiesiog pamato galimybę parodyti pasipriešinimą tuo, ką nuolat daro, – ir ja pasinaudoja.
Priešintis neretai verčia nenugalimas vidinis impulsas, jo nepajėgia sustabdyti joks išorinis spaudimas. Sukilėlis jaučiasi tarsi laiko įvykiai šukuotų jį prieš plauką – galbūt pažeisdami jo teisingumo jausmą, logiką arba įprastas moralės normas. Sutrikdyta vidinė harmonija verčia imtis išorinių pasipriešinimo veiksmų, kad, kiek įmanoma, vėl grįžtų vidaus ir išorės atitiktis. Vidinis nepritarimas ieško kelio į išorę per pasipriešinimo veiksmą.
Tačiau pasipriešinimas nebūtinai reiškia ereziją. Žinoma, eretiko – mažumos herojaus, kovojančio prieš doktrinų besilaikančią, klystančią daugumą – figūra daugeliui atrodo patraukli. Bet kalbant apie koronos klausimą toks vaizdas iškreiptas, o gal net neteisingas.
Šiuo atveju eretikai yra ne suvaržymų kritikai ar drįstantys kitaip mąstyti žmonės, o veiksmų besiimančios vyriausybės ir jas palaikanti sistemai ištikima žiniasklaida. Pastaroji išdavė demokratijos principus, į gilų miegą panardino teisinę valstybę ir atsisakiusi tikrovės tyrinėjimo bei nagrinėjimo ėmėsi kurti totalitariškai paspalvintą pasaulinį sveikatos kultą.
Pasipriešinimo veiksmai visada reiškia, kad individas užima poziciją daugumos visuomenės atžvilgiu. Tai jau savaime vyksta retai, todėl taip išsiskiria. Drąsa ir charizma nesileidžia demokratizuojamos. Priešindamasis, nesutikdamas su pasauliu ir aiškiai pasakydamas "ne" atskiras žmogus teigia savo valią, pareiškia, kur mato savo vietą visoje visuomenėje. Pasipriešinimas yra itin asmeniškas, individualus veiksmas. Išreikštas skaičiais jis netgi gali pasirodyti beprotybė: pavienis žmogus ar nedidelė grupė prieš nebylią, amorfišką milijoninę tariamai pritariančiųjų masę. Tad kodėl vis tiek reikėtų priešintis?
Pirmiausia besipriešinančiajam padeda beveik magiškas mechanizmas, glūdintis visuomenės dinamikoje – jis gali viską pakeisti savo naudai. Pavadinkime jį "efektyvia pasipriešinimo asimetrija". Štai nedidelis pavyzdys: Albertui Einšteinui paskelbus reliatyvumo teoriją, pasirodė knyga, kurioje šimtas mokslininkų išdėstė, kodėl Einšteinas klysta. Einšteino reakcija į tai: "Kam reikėjo šimto? Paneigti mano argumentus būtų galėjęs ir vienas!"
Mokslo atstumtajam, kaip ir politiniam rezistentui, suteikta galimybė vienu vieninteliu veiksmu akimirką krestelėti pasaulio sąrangą ir galbūt pakeisti ją visiems laikams. Valdantieji žino, kad kruopščiai sukonstruoto pasakojimo kortų nameliui galiausiai gali būti pavojingas net ir vienas žmogus. Todėl jie labiausiai bijo nepalenkiamo individo ir jo rezistencijos. Kaip ir pasakoje, užtenka "tik" vieno vaiko, kuris ištartų "Karalius nuogas".
Milijonai tylinčių žmonių nieko nereiškia palyginti su vienu drąsiu – jei jis reikiamu momentu pasakys tiesą, kaukė nukris.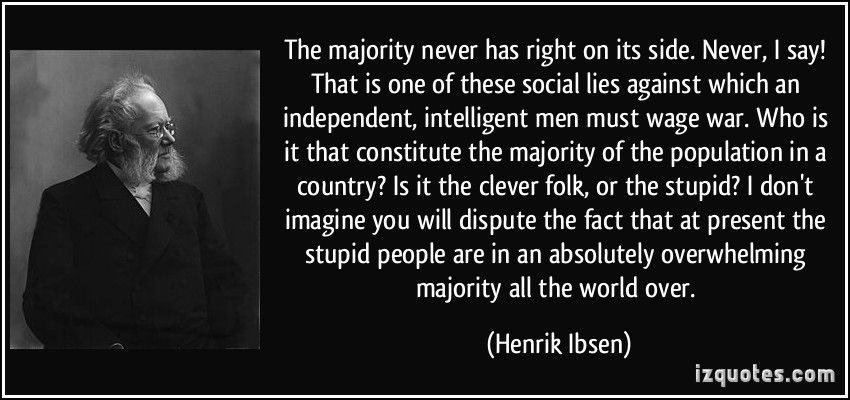 Ką daryti?
Pasipriešinimas – ne tiek organizacijos, kiek charakterio klausimas. Priešinimasis nėra meilus glaustymasis grupėje – iš pradžių tai visada pirmiausia individualus veiksmas. Prisiminus istoriją dažnai pavieniai žmonės nedideliais gestais pasiekdavo didelių dalykų. O neoficialus rezistentų krikštatėvis buvo Prometėjas, pavogęs iš dievų ugnį ir už tai nubaustas. Dangiškosios taikos aikštėje pakako vieno vienintelio žmogaus, kad sustabdytų tanką ir parodytų visuomenei tikrąjį supervalstybės veidą. Roza Parks, atsisakiusi pakilti iš vietos autobuse, kuri buvo skirta tik baltiesiems, paženklino apartheido Amerikoje pabaigos pradžią.
Koronos laikais kyla klausimas: pasipriešinimas prieš ką – prieš kokius dalykus, reiškinius ar žmones? Prieš politiką, žiniasklaidą, PSO, suvaržymus?
Vaclavas Havelas knygoje "Bejėgių galia" sako, kad pasipriešinimo atspirties taškas yra tylinčių masių abejingumas. Protingi pasipriešinimo veiksmai bus tokie, kurie efektingu simboliu bent trumpam visuomenėje prasklaidys švininį doktrinos šydą. Pirmasis pasipriešinimo veiksmų adresatas yra ne sistema, o šalia esantis žmogus.
Šiandieniniame koronos režime irgi pirmiausia siekiama laikyti žmones atokiau vienus nuo kitų, skaldyti ilgalaikius santykius, klausinėjant "Kaip tau patinka tie suvaržymai, galimybių pasai, skiepai ir t. t.?" skleisti visuomenėje vis naujas skaldančias bakterijas. Išmintingi pasipriešinimo veiksmai nukreipti prieš suskaldymą, jie tiesia tiltus. Rezistentui visai nereikia savo kursu kreipti masę. Pakaks, jei jo idėja įkvėps saujelę aplinkinių. Daug sėkmingų nesmurtinio pasipriešinimo veiksmų pavyzdžių knygoje "Blueprint for Revolution:" pateikia Srdja Popovičius, vienas iš Serbijos organizacijos "Otpor!", kuri vienijo besipriešinusius Miloševičiui, įkūrėjų. Ypač veiksmingos pasirodė humoristinės, satyrinės akcijos, pašiepusios režimą. O nuo humoro ir satyros jokiais vaistais neapsiginsi.
Pavyzdžiui, vienos akcijos metu aktyvistai į aikštę, kurioje buvo susirinkę žmonės, mėtė šimtus guminių kamuolių. Demonstracijos buvo oficialiai uždraustos, bet guminiai kamuoliukai – ne. Policija tuojau pat ėmėsi gaudyti aplink skraidančius guminius kamuoliukus, vaizdas buvo labiau nei komiškas. Juokingai besielgianti valdžia iš karto atrodo gerokai mažiau grėsminga. Be to, humoras vienija. Pavykęs grafitis gerai matomoje vietoje, flašmobas tinkamu momentu arba trumpas kreipimasis metro ar tramvajuje – tai signalai tylinčiai daugumai išsilaisvinti iš švininio abejingumo stingulio ir taip pat parodyti savo poziciją.
Daugelio atmintyje išliko pozityvus spindulys – muzikiniai flašmobai ir daina "Danser encore" (liet. "Mes pagaliau vėl norime šokti"): prasidėję Prancūzijoje jie sukėlė tikrą panašių pasirodymų bangą kitose šalyse. Geros idėjos plinta savaime ir visada atsiranda kas pakartoja geras akcijas.
Knygoje "Do it! Scenarios of the Revolution" aktyvistas Jerry Rubinas aprašo kitus nesmurtinio pasipriešinimo metodus. Pavyzdžiui, kad pasipriešinimas išsiplėtotų, teisėsaugos pareigūnai neturi gauti galimybės nutraukti priešinimąsi čia pat, visai nesiruošus. Užtektų, jei visa demonstrantų grupė susėstų viešoje vietoje – aikštėje ar universitete. O jei jau prakalbome apie universitetą: ką šiuo metu veikia studentai?
Sėkmingas pasipriešinimo veiksmas sprogstamąją galią išskleidžia jau ir būdamas smulkus. Jam nereikia didelių peržiūrų skaičių ar žiniasklaidos dėmesio. Didžiausias poveikis visada bus, kai žmogus veiks savo kompetencijos ir įtakos srityje. Be abejo, didelis žiniasklaidos dėmesys tokioms akcijoms kaip #allesdichtmachen ir #allesaufdentisch yra gerai. Bet videosiužetas su rašytoja Kathrin Schmidt ir Marceliu Barzu nebūtų atsiradęs, jei informatikas Barzas nebūtų sugalvojęs surinkti statistinių neatitikimų ir sukelti juos į videosiužetą. Vienas pats, savo iniciatyva. Būtent todėl, kad pasipiktino oficialiu pandemijos pavojų vaizdavimu. Pasipiktinimas virto pasipriešinimu.
Rezistentui neretai tenka daug iškęsti. Piktos pašaipos čia dar smulkmena. Užtat besipriešinantis žmogus kuria naują, geresnį pasaulį. Ir turi didelę privilegiją: pats gali pasiekti tai, ko nori. Vaizduotei ribų neužbrėši. Neuždrausi drąsiai svajoti ir tuo pat metu imtis tegu ir nedidelių veiksmų.
Prieš tapdami pokyčiu, kurį, kaip sakė Gandis, norime matyti pasaulyje, pirmiau galime pabūti smėliu esamos sistemos krumpliaračiuose. Pasipriešinimo dalyviai įžengia į begalinių galimybių kurti pasaulį erdvę.
Ir jeigu atvirai: juk tai daug geriau, nei tapus galviju stovėti koronos vakarėlio garde ir kelti taurę už laikiną feikinių laisvių atgavimą?
___________________________________________________
Šis tekstas pasirodė 2021 m. spalio 18 d. pavadinimu "Widerstand wirkt – deshalb ist er so gefürchtet" svetainėje Freischwebende Intelligenz.
Išversta padedant www.DeepL.com/Translator.
Šis tekstas yra licencijuojamas pagal "Creative Commons Attribution 4.0" tarptautinę licenciją. Nesivaržykite kopijuoti ir dalintis.