Originalus straipsnis paskelbtas 2021 m. lapkričio 22 d. Ištrauka.
Bert Ehgartner. Išversta padedant www.DeepL.com/Translator.
Belgų mokslininko Geerto Vanden Bossche'o karjera įvairiapusiška. Jis ne tik dėstė įvairiuose universitetuose, bet ir dirbo Gateso fonde bei vakcinų gamintojo GSK (GlaxoSmithKline) adjuvantų technologijų skyriaus vadovu.
Neseniai jis davė ilgą interviu "Highwire" laidos vedėjui Deliui Bigtree ir paaiškino, kodėl vis labiau atsiriboja nuo šių pelningų darbų. "Paskutinis lašas buvo mano dalyvavimas Ebolos vakcinos tyrimuose." – Bossche paaiškino, kad tai buvo vadinamoji žiedinė vakcinacija, kurios metu buvo skiepijami visi, esantys netoli protrūkio vietos. "Tai labai pavojinga, nes Ebolos virusu užsikrėtusių žmonių imuninis atsakas į virusą ir taip yra sunkus. Jei skiepysiu žmones šioje fazėje, dar labiau sustiprinsiu jų imuninį atsaką ir nesąmoningai sukelsiu mirtiną pavojų skiepytiesiems."
Vėliau, kai tyrimas buvo paskelbtas, veltui buvo ieškoma žiedinių skiepų rezultatų; visos tiesioginės reakcijos ataskaitoje buvo nutylėtos. Nors Vanden Bossche ne kartą teiravosi, kiek žmonių mirė, iš PSO taip ir negavo jokios informacijos.
Kuriam laikui jam to pakako. Nuo to laiko jis dirba nepriklausomu moksliniu konsultantu.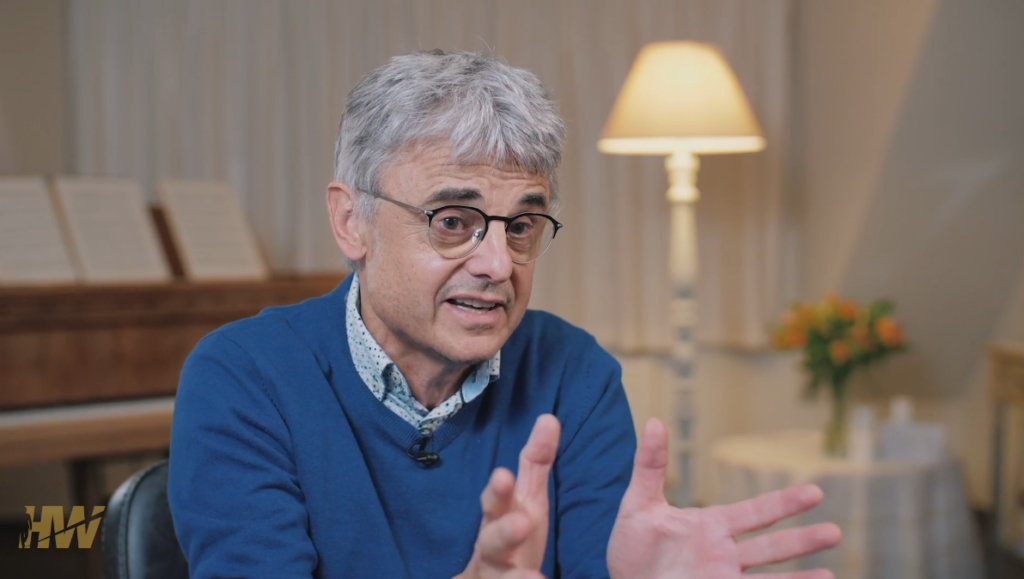 Prognozės išsipildė
Geertas Vanden Bossche apie "Covid" problemą pirmą kartą prabilo šių metų pradžioje. Savo interneto svetainėje jis paskelbė dviejų minučių trukmės vaizdo įrašą, kuriame paragino PSO atsakingus asmenis nedelsiant pradėti atvirą mokslinę diskusiją apie pasaulinę skiepijimo kampaniją. Jis teigė, kad dėl jos neišvengiamai atsirastų viruso variantų, sugebančių apeiti imuninę sistemą, kurie sukeltų "ligų ir mirčių cunamį".
Daugelyje kitų interviu ir techninių straipsnių Vanden Bossche kaltino valdžios institucijas ir ekspertus, kad jie pasidavė dideliam politikų norui greitai sukurti stebuklingą vaistą, neatlikę mokslinių namų darbų. "Nėra nė vieno mokslinio tyrimo, kuriame būtų suprantamai paaiškinta, kaip tokia vakcina, kuri net nesugeba visam laikui neutralizuoti virusų, turėtų suvaldyti pandemiją", – aiškina Belgijos vakcinacijos ekspertas. Ir kaip mažą žinutę austrams priduria: "Skelbti privalomą skiepijimą tokiomis aplinkybėmis yra mokslinis absurdas."
Iš tikrųjų Vanden Bossche'o įspėjimas pasitvirtino keliais būdais: Metų viduryje, po alfa, beta ir gama variantų, įvyko dar vienas didžiulis viruso aktyvumo sukrėtimas. Per kelias savaites delta variantas visuotinai paplito ir šiandien sudaro apie 99 % nustatytų SARS-Cov-2 rezultatų. Bandymai apsisaugoti nuo naujų variantų uždarant sienas ar teritorijose paskelbiant karantiną pasirodė beviltiškai juokingi.
"Niekada netaikykite masinio skiepijimo pandemijos metu, nebent skiepijant būtų galima sukurti sterilizuojantį imunitetą." – Tai, pasak Vanden Bossche'o, yra pirmoji taisyklė. Ir į tai buvo aplaidžiai neatsižvelgta:
"Masinis skiepijimas pandemijos metu sukuria didžiulį imunologinį spaudimą, lemiantį natūralią virusų atranką. Išgyvena tik stipriausi virusai, t. y. tie, kurie yra atsparūs specifiškai į jų spyglius nusitaikiusių vakcinos antikūnų poveikiui. Spygliai yra viruso baltymai, padarantys virusą užkrečiamu. Jei masiškai taikysiu vakciną, skirtą konkrečiam spygliui, tuomet atrinksiu virusus pagal tipą,turintį aštriausią smaigalį. Viruso variantas, kuris anksčiau galėjo sudaryti tik nedidelę viruso populiacijos dalį, galiausiai tampa dominuojančiu viruso variantu. Jei nebūtų masinio skiepijimo, nuo Vuchano iki deltos varianto būtų praėję mažiausiai šimtas metų."
"Neskiepytų žmonių imunitetas nuolat gerėja"
Geertas Vanden Bossche paaiškina skirtumą tarp natūralaus įgyto imuniteto ir dirbtinio imuniteto, įgyto skiepais. Imuninę sistemą iš esmės sudaro dvi dalys: įgimta gynybinė sistema ir įgyta, besimokanti imuninė sistema. Ypač vaikų ir jaunesnių suaugusiųjų įgimta imuninė sistema yra geriausios būklės. Ją sudaro įvairių tipų ląstelės, kurios bendrauja tarpusavyje ir turi specialių gebėjimų. Tai makrofagai, natūralios ląstelės žudikės, antigeną pateikiančios ląstelės arba tam tikros B ląstelės, kurios taip pat gali gaminti antikūnus.
"Įgimtą imuninę apsaugą galima net išmokyti. Su kiekvienu nauju kontaktu su virusais sveikų žmonių imunitetas vis labiau apmokomas. Imuninė apsauga užtikrina sterilizuojantį imunitetą, jokie virusai neišgyvena. Infekcijos pavojus išnyksta per trumpą laiką.
Sveikiems žmonėms simptomų būna nedaug arba jų iš viso nebūna. Neskiepytų asmenų imunitetas gerėja su kiekvienu nauju kontaktu su virusu."
Taip yra ir dėl to, kad imuninė reakcija yra susijusi su visu virusu, kuriame yra maždaug 20 baltymų ir antigenų. Dėl to virusus lengva atpažinti – dėl atskirų mutacijų jie netampa nematomi.
Skiepytųjų organizme šis procesas visiškai kitoks. Šiuo atveju dominuojantis atsakas į imuninės sistemos atmintį įsimenamas per vakcinaciją, kuri daugiausia vyksta per specifinius antikūnus. Šis išmoktas atsakas pakeičia įgimtąją imuninę sistemą – pasiskiepijus ji, taip sakant, siunčiama pailsėti.
Blogos žinios tame, kad ši skiepų ištreniruota ir vienintelė beveikianti imuninė sistema nebegali nieko padaryti, nes virusų spyglių baltymai mutuoja ir vakcinos antikūnai jų nebeatpažįsta, taigi ir negali jų neutralizuoti.
Skiepyti žmonės magnetu pritraukia virusus
Kaip pastarųjų mėnesių pokyčių pavyzdį Vanden Bossche pateikia situaciją Didžiojoje Britanijoje. Jis pateikia JK sveikatos priežiūros institucijų duomenis. 36 savaitinėje ataskaitoje pateiktas toks bendras Covid-19 užsikrėtimų vaizdas.
Čia matyti, kad iki 40 metų amžiaus neskiepytieji vis dar turi gerokai didesnę riziką užsikrėsti nei skiepytieji.
Praėjus vos dešimčiai savaičių – lapkričio viduryje – padėtis visiškai pasikeitė.
Dabar jis atrodo taip:
30-80 metų amžiaus grupėje visiškai paskiepytiems asmenims infekcijos rizika yra gerokai didesnė nei neskiepytiems.
Pasak Vanden Bossche'o, taip yra dėl treniruojančio pakartotinių kontaktų su virusais, patirtų neskiepytų ir pasveikusių asmenų, poveikio. Turėdami sterilizuojantį imunitetą, šie žmonės iš tikrųjų sudarytų patikimą kolektyvinį imunitetą. Taip yra besivystančiose Afrikos šalyse, kuriose nebuvo vykdomos skiepijimo kampanijos. Tačiau išsivysčiusiose šalyse skiepytieji sudaro daugumą. Jie negali sudaryti kolektyvinio imuniteto. Atvirkščiai, atrodo, kad jie virusus traukia kaip magnetai.
"Su kiekviena savaite paskiepytų žmonių apsauga nuo viruso vis labiau mažėja. Dabar jie turi didesnę riziką užsikrėsti nei neskiepyti asmenys. Paskutinis bastionas dabar yra vaikai ir jaunimas iki 18 metų. Čia vis dar pasitaiko infekcijų, čia jie įgyja natūralią imuninę apsaugą su sterilizuojančiu imunitetu. Jei dabar bus skiepijami ir jaunesni nei 18 metų asmenys, situacija greitai pasikeis. Po kelių mėnesių net ir šioje amžiaus grupėje skiepytųjų infekcijų bus daugiau nei neskiepytųjų."
Vanden Bossche aprašo, su kuo susidursime dabar, kai masiškai  bus skiepijami vaikai, kaip tai jau daro ypač entuziastingos šalys ir miestai. Viena netgi pradėjo skiepyti 5-12 metų vaikus. Miesto politikai su džiaugsmu praneša, kad antplūdis didžiulis. "Iki metų pabaigos daugiau kaip 50 000 Vienos vaikų turėtų būti apsaugoti nuo Covid."
Vanden Bossche į tai žiūri kitaip:
"Vykdant vaikų ir jaunimo skiepijimo kampanijas laukia visiška ne tik asmens sveikatos,bet ir visuomenės sveikatos katastrofa.
    Dėl šių 3 priežasčių:
    1) Jei dabar skiepysime vaikus, visiems laikams atimsime iš jų dabar turimą sterilizuojančio imuniteto galimybę. Tada galėsime visiškai pamiršti apie kolektyvinį imunitetą.
    2) Turime dar vieną atsparių virusų rūšių veisimosi terpę.
    3) Atsparūs virusai plinta, o kai jie grįžta, paskiepytųjų įgimta imuninė apsauga nuslopinama, nes ją pakeičia vakcinos parūpinti antikūnai. Tačiau šie vakcininiai antikūnai yra visiškai nenaudingi, nes virusai jau seniai jiems atsparūs."
"Jei klystu, galite mane uždaryti"
Interviu su Del Bigtree Geertas Vanden Bossche savo teiginį pabrėžė drastiška fraze: "Jei klystu, galite mane uždaryti."
Jis tai pagrindė taip:
"Laikausi savo žodžio ir laikausi savo nuomonės. Bet ar girdėjote tai iš ekspertų, kurie dabar sprendžia klausimus? Ar kas nors sako: "Jei kas nors nepavyks masiškai skiepijant vaikus, galite mane uždaryti. Niekas to nesako!     Taip sakau, nes esu tuo įsitikinęs ir atlikau namų darbus. Vis iš naujo apgalvojau šį dalyką iš visų pusių. Tai labai sudėtingas galvosūkis, kuriam yra tik vienas teisingas sprendimas. Būtent tai ir formuluoju. Tai sunkus, sudėtingas ir neprofesionalams nelengvas klausimas. Visi nori savo vaikams geriausio, tai aišku. Noriu, kad bent jau visi žmonės turėtų galimybę išgirsti šį įspėjimą. Aš tai laikau savo užduotimi. Turime bet kokia kaina sustabdyti vaikų skiepijimą, tai mūsų paskutinė viltis."
__________________________________________________
Šis tekstas pasirodė 2021 m. lapkričio 22 d. pavadinimu "Geert Vanden Bossche warnt eindringlich vor Covid-Impfung bei Kindern: "Wir zerstören ihre natürliche Immunität"" svetainėje ehgartner.blogspot.
Išversta padedant www.DeepL.com/Translator.
Šis tekstas yra licencijuojamas pagal "Creative Commons Attribution 4.0" tarptautinę licenciją. Nesivaržykite kopijuoti ir dalintis.