Originalus straipsnis paskelbtas 2022 m. sausio 18 d.
CJ Hopkins. Išversta padedant www.DeepL.com/Translator. Ačiū nuostabiai vertėjai.
---
Tai nebus malonu, žmonės. Mirties kulto žlugimas retai būna gražus. Bus verksmo ir dantų griežimo, nenuoseklaus fanatiško burbėjimo, masinio gėdingų tviterio žinučių trynimo.
Prasidės tikras desperatiško racionalizavimo, įtempto neigimo, begėdiško kaltės permetimo ir kitokio gėdos dangstymo cunamis, nes staiga buvę Covid kulto nariai paskutinę minutę bėgs į džiungles, kol jų dar nepasiekė pilnai paskiepyti ir pastiprinti "Kool-Aid" serveriai.
Taip, teisingai, kaip, esu tikras, pastebėjote, oficialus Covid naratyvas galutinai žlunga, yra skubiai ardomas arba istoriškai koreguojamas tiesiog mūsų akyse.
"Ekspertai" ir "autoritetai" pagaliau pripažįsta, kad "Covid mirčių" ir "hospitalizacijų" statistika yra dirbtinai išpūsta ir visiškai nepatikima (tokia ji buvo nuo pat pradžių), jie pripažįsta, kad jų stebuklingos "vakcinos" neveikia (nebent pakeistumėte žodžio "vakcina" apibrėžimą), kad jos pražudė kelis žmones, o gal ir daugiau nei kelis, ir kad karantinai tikriausiai buvo "rimta klaida".
Nesiruošiu vargintis su tolesnėmis citatomis. Jūs galite naršyti internete taip pat gerai, kaip ir aš.
Esmė ta, kad baigėsi "apokaliptinės pandemijos" galiojimo laikas. Po beveik dvejus metus trukusios masinės isterijos dėl viruso, kuris maždaug 95 % užsikrėtusiųjų sukelia lengvus ar vidutinio sunkumo peršalimo ar į gripą panašius simptomus (arba visiškai jų nesukelia) ir kurio bendras mirtingumo nuo infekcijos rodiklis yra maždaug 0,1-0,5 %, žmonių nervai jau perdegė.
Visi esame išsekę. Net Covid kulto šalininkai išsekę. Ir jie pradeda masiškai palikti kultą.
Dažniausiai tai visada buvo tik laiko klausimas. Kaip sakė Klausas Švabas: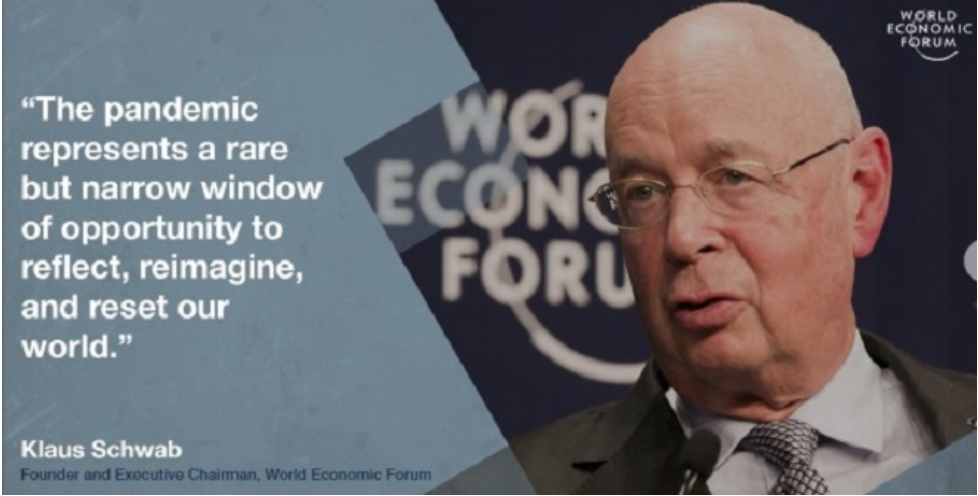 Tai dar nesibaigė, bet langas jau užsidaro, o mūsų pasaulis dar nėra "permąstytas" ir "perkrautas", bent jau ne negrįžtamai, kol kas ne. Akivaizdu, kad globalistai nepakankamai įvertino galimą pasipriešinimą Didžiajam perkrovimui ir laiką, kurio prireiks tam pasipriešinimui užgniaužti.
Dabar laikas eina į pabaigą, o pasipriešinimas nėra užgniaužtas… priešingai, jis auga. Ir globlistai negali nieko padaryti, kad jį sustabdytų, išskyrus atvirą totalitarizmą, bet to padaryti negali, nes tai būtų savižudybė. Kaip pažymėjau neseniai paskelbtoje skiltyje:
"Naujojo normalaus totalitarizmo – ir bet kokios globalaus kapitalizmo totalitarizmo formos – negalima atskleisti kaip totalitarizmo ar net autoritarizmo. Jis negali pripažinti savo politinės prigimties. Kad galėtų egzistuoti, jis turi neegzistuoti. Visų pirma jis turi užglaistyti savo smurtą (smurtą, į kurį galiausiai susiveda visa politika) ir pasirodyti mums kaip iš esmės geranoriškas atsakas į teisėtą "pasaulinę sveikatos krizę"…"
Imituojama "pasaulinė sveikatos krizė", kaip bebūtų, baigėsi. Tai reiškia, kad globalistai susimovė.
Esmė ta, kad jei ketinate išlaikyti mases beprasmiškai šėlstančias ir paranojiškai besikankinančias dėl "apokaliptinės pasaulinės pandemijos", tam tikru momentu turite sukelti tikrą apokaliptinę pasaulinę pandemiją.
Suklastoti statistiniai duomenys ir propaganda kurį laiką padės, bet galiausiai žmonės turės patirti kažką bent jau panašaus į tikrą visuotinį niokojantį marą realybėje, o ne tik savo telefonuose ir televizoriuose.
Be to, globalsitai gerokai persistengė su stebuklingomis "vakcinomis". Covid sektantai tikrai tikėjo, kad "vakcinos" apsaugos juos nuo infekcijos. Tokie epidemiologijos ekspertai kaip Rachel Maddow juos patikino, kad taip ir bus:
"Dabar mes žinome, kad vakcinos veikia pakankamai gerai, kad virusas mažėja su kiekvienu paskiepytu žmogumi", – 2021 m. kovo 29 d. vakare savo laidoje sakė Maddow. "Paskiepytas asmuo susiduria su virusu, virusas jo neužkrečia, virusas tada negali pasinaudoti tuo asmeniu, kad patektų kur nors kitur", – pridūrė ji gūžtelėdama pečiais. "Jis negali pasinaudoti paskiepytu asmeniu kaip šeimininku, kad galėtų užkrėsti daugiau žmonių."
Ir dabar jie visi serga… na, iš esmės peršalimo ligomis arba yra "asimptomiškai užsikrėtę", ar dar kažkuo. Ir jie žvelgia į ateitį, kai kas tris ar keturis mėnesius turės "skiepytis" ir atlikti "stiprinamuosius skiepus", kad išlaikytų savo "paklusnumo sertifikatus", kad galėtų dirbti, lankyti mokyklą ar valgyti restorane. Fanatikams tai tinka, tačiau yra milijonai žmonių, kurie laikosi reikalavimų ne dėl to, kad yra fanatikai, kurie apvyniotų savo vaikų galvas celofanu, jei Anthony Fauci įsakytų, o vien dėl "solidarumo", patogumo, bandos instinkto ar… žinote, iš bailumo.
Daugelis šių žmonių (t. y. ne fanatikų) pradeda įtarti, kad tai, ką mes, "folijos kepuraičių nešiotojai, Covid neigėjai, kovotojai su vakcina, sąmokslo teorijų ekstremistai", pasakojome jiems pastaruosius 22 mėnesius, galbūt nėra taip beprotiška, kaip jie iš pradžių manė.
Jie bando grįžti į praeitį, racionalizuoja, peržiūri istoriją ir tiesiog kuria visokias sau naudingas nesąmones, pavyzdžiui, kaip dabar gyvename "post-vakcinų pasaulyje", kaip "mokslas pasikeitė" arba kaip "Omikronas yra kitoks", kad nebūtų priversti pripažinti, jog jie yra globalistų ir jų sukeltos pasaulinės masinės isterijos aukos.
O tai… gerai, tegul sau pasakoja, ką tik nori dėl savo tuštybės ar tiriamosios žurnalistikos, kairiųjų garsenybių ar "Twitter" revoliucionierių reputacijos.
Jei manote, kad šie "pasveikę" Covid kulto nariai kada nors viešai pripažins visą žalą, kurią jie padarė visuomenei, žmonėms ir jų šeimoms nuo 2020 m. kovo mėnesio, o juo labiau atsiprašys už visą tą prievartą, kurią jie užkrovė tiems iš mūsų, kurie skelbė faktus… na, jie to nepadarys.
Jie ketina suktis, dviprasmiškai aiškinti, teisintis, racionalizuoti ir meluoti pro dantis, ko tik prireiks, kad įtikintų save ir savo auditoriją, jog, prasidėjus krizei jie nemušė kulnais ir netapo "geraisiais vokiečiais".
Jei reikia, paverskite šių žmonių gyvenimą pragaru. Aš jaučiuosi toks pat piktas ir išduotas, kaip ir jūs. Tačiau nepamirškime, kas čia svarbiausia. Taip, oficialus naratyvas pagaliau žlunga, o Covid kultas pradeda byrėti, bet tai nereiškia, kad ši kova baigta.
Globalistai ir jų marionetės vyriausybėje neketina atšaukti visos "Naujojo normalumo" programos, apsimesti, kad pastarųjų dvejų metų niekada nebuvo, ir grakščiai pasitraukti į savo prabangius bunkerius Naujojoje Zelandijoje ir mega jachtas.
Totalitariniai judėjimai ir mirties kultai paprastai nesitraukia grakščiai. Jie paprastai žlunga per beprasmišką nihilistinio smurto orgiją, kai kultas ar judėjimas desperatiškai bando išlaikyti savo įtaką dvejojantiems nariams ir apsisaugoti nuo įsiveržusios tikrovės. Štai kur mes šiuo metu esame… arba kur netrukus atsidursime.
Miestai, valstybės ir šalys visame pasaulyje stumia į priekį Naujojo Normalumo biologinio saugumo visuomenės įgyvendinimą, nors tam nebėra jokio įtikinamo pagrindo. Austrija tęsia priverstinį "skiepijimą". Vokietija ruošiasi daryti tą patį. Prancūzija diegia nacionalinę segregacijos sistemą, kad nubaustų "neskiepytuosius". Graikija baudžia "neskiepytus" pensininkus. Australijoje veikia "karantino stovyklos".
Škotija. Italija. Ispanija. Nyderlandai. Niujorkas. San Franciskas. Torontas. Sąrašas tęsiasi, tęsiasi ir tęsiasi.
Nežinau, kas nutiks. Nesu orakulas. Esu tik satyrikas. Bet mes pavojingai artėjame prie taško, kai "globalistai turės tapti visiškais fašistais, jei norės užbaigti tai, ką pradėjo.
Jei taip atsitiks, viskas bus labai bjauru.
Žinau, kad jau dabar yra bjauru, bet aš kalbu apie visai kitą bjaurumo laipsnį. Prisiminkite Jonestowną, paskutines Hitlerio dienas bunkeryje arba paskutinius kelis Mansonų šeimos mėnesius.
Štai kas nutinka totalitariniams judėjimams ir mirties kultams, kai žlunga burtai ir žlunga jų oficialūs pasakojimai. Kai jie žlunga, bando su savimi pasiimti ir visą pasaulį.
Nežinau, kaip jūs, bet aš tikiuosi, kad mums pavyks to išvengti. Iš to, ką girdėjau ir skaičiau, tai nėra labai linksma.
---
Šis tekstas pasirodė 2022 m. sausio 18 d. pavadinimu "The Last Days of the Covidian Cult" svetainėje consentfactory.org.
Vertimas į anglų kalbą parengtas naudojant vertimo programinę įrangą deepl.com ir išverstas be vertėjo pagalbos.
Šis tekstas yra licencijuojamas pagal "Creative Commons Attribution 4.0" tarptautinę licenciją. Nesivaržykite kopijuoti ir dalintis.