Ar skiepijimo naratyvas pagaliau žlunga?
sapereaude. Išversta padedant www.DeepL.com/Translator. Be pataisymų.
---
Panašu, kad Vokietijoje nebegalima nuslėpti pavojingų "Covid" skiepų pasekmių. Vakar Federalinė ministerija tviteryje pirmą kartą pripažino, kad skiepijimas Covid19 turi sunkų šalutinį poveikį.
"Vienam iš 5000 žmonių po COVID19 #vakcinacijos pasireiškia sunkus šalutinis poveikis. Jei įtariate #šalutinis poveikis, kreipkitės į gydytoją ir praneškite apie simptomus."
Ši žinutė iš karto sukėlė audringą diskusiją internete. Greitai paaiškėjo ir klaida. Ją, be kita ko, paviešino profesorius Homburgas, vienas žymiausių vakcinacijos kritikų Vokietijoje.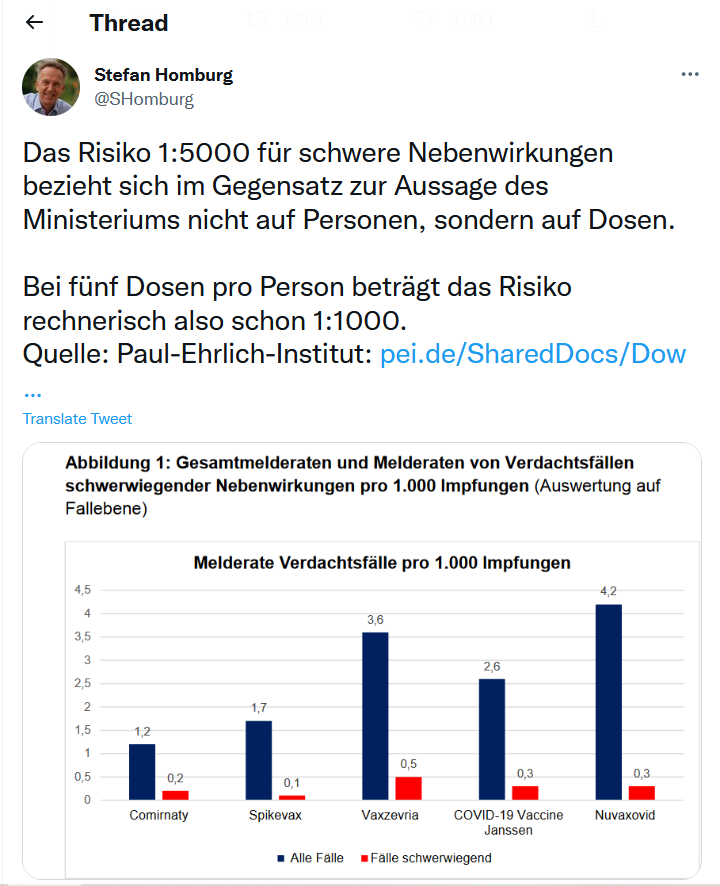 "Ministerija atšaukia ministro @Karl_Lauterbach teiginį apie "jokio šalutinio poveikio"! Priešingai nei teigia ministerija, rimto šalutinio poveikio rizika 1:5000 yra susijusi ne su asmenimis, o su dozėmis. Vienam asmeniui skiriant penkias dozes, apskaičiuota rizika jau yra 1:1000."
Reakcijos internete netruko sulaukti:

"Daugiau diletantiškų ir apgailėtinų dalykų nebūna. Pagaliau @BMG_Bund patvirtina sunkų #šalutinį poveikį (1/5000 žmonių) ir net ši ataskaita yra klaidinga. Dėka @waukema, @SHomburg ir @Tim_Roehn teiginys buvo pataisytas. Dabar 1 sunkus šalutinis poveikis 5 000 skiepijimų!"
Vėliau tą pačią dieną Sveikatos apsaugos ministerijai teko pripažinti klaidą. Tai reiškia, kad rimto šalutinio poveikio rizika trigubai paskiepytam asmeniui yra 1:1667! Vokietijoje įskiepyta apie 183,5 mln. vakcinos dozių. Darant prielaidą, kad skiepijama tris kartus, tai reiškia 36700 sunkių šalutinių skiepų poveikių! Tikėtina, kad nepraneštų atvejų skaičius yra daug didesnis.
Tai didelis žingsnis į priekį, kai Vokietijos federalinė sveikatos apsaugos ministerija patvirtina, kad sunkus šalutinis poveikis pasireiškė taip dažnai, kaip iki šiol nebuvo pastebėtas nė vienos vakcinos atveju.
Tačiau šis skaičius vis dar yra gerokai per mažas. Vokietijos, Jungtinės Karalystės ir Danijos duomenys apie mirtingumo perviršį rodo, kad 4000 paskiepytųjų tenka viena mirtis. Sunkaus šalutinio poveikio, įskaitant mirties atvejus, tikimybė labai padidėja nuo dozės iki dozės. Remiantis BKK ir KBV pateiktais ligoninių ir gydytojų apskaitos duomenimis, teiginiai apie nedidelį šalutinį poveikį akivaizdžiai nebegali būti pagrįsti.
Roberto Kocho institutas ir Federalinė sveikatos apsaugos ministerija rimtus šalutinius skiepų poveikius apibrėžia taip:
"Sunkus šalutinis poveikis apima šalutinį poveikį, kuris yra mirtinas arba pavojingas gyvybei, dėl kurio reikia guldyti į ligoninę arba pratęsti gydymą ligoninėje, kuris sukelia nuolatinę arba sunkią negalią, neįgalumą, įgimtas anomalijas arba įgimtus defektus."
Vokietijos sveikatos apsaugos ministras, prieštaraudamas bet kokiai mokslinei logikai, visada tvirtino, kad skiepai neturi šalutinio poveikio.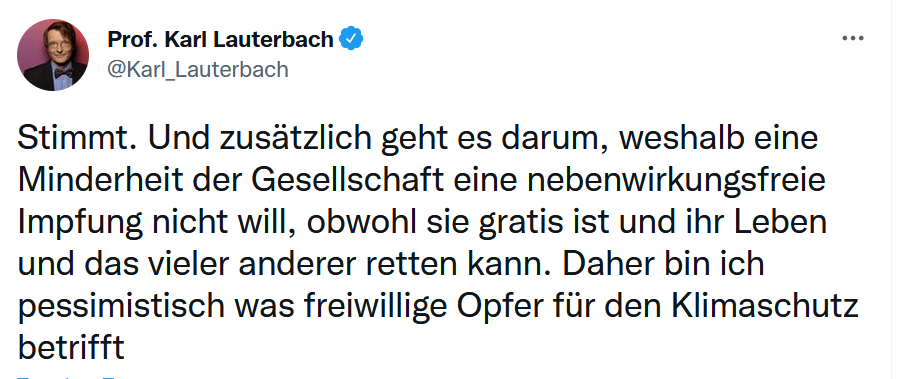 "Tiesa. Be to, kalbama apie tai, kodėl mažuma visuomenės nenori skiepų be šalutinio poveikio, nors jie yra nemokami ir gali išgelbėti jų ir daugelio kitų žmonių gyvybes."

Tik neseniai, kaip ir Fauci Amerikoje, jis pripažino, kad retais atvejais gali pasireikšti šalutinis poveikis. Taip sumenkindamas pavojingas skiepų pasekmes, jis įtikino daugelį vokiečių skiepytis. Dabar darosi vis aiškiau, kad kovidų vakcinos niekada neturėjo būti patvirtintos. Artimiausios savaitės Vokietijoje bus įdomios.
Atnaujinta 18:20 val:
Nuo to laiko tviterio žinutė buvo ištrinta:
Iš pradžių jis atrodė taip:
---
Išversta padedant www.DeepL.com/Translator. Be pataisymų.
Šis tekstas yra licencijuojamas pagal "Creative Commons Attribution 4.0" tarptautinę licenciją. Nesivaržykite kopijuoti ir dalintis.