Originalus straipsnis paskelbtas 2022 m. liepos 25 d. rwmalonemd.substack.com.
Dr. Robert W Malone. Išversta padedant www.DeepL.com/Translator. Be pataisymų.
---
"PSO apžvalga ir kodėl tai tau svarbu?" parašė Abir Ballan, o paskelbė PANDA. Ją būtina perskaityti visiems, besidomintiems visuomenės sveikata, COVID-19 PSO pasauline politika, kurios laikosi beveik visos šalys, ir visais PSO / pasaulio lyderių ir vyriausybių korupcijos mastais. Apžvalgoje taip pat išvardijama, ką reikėjo daryti vietoj to. Visą dokumentą galite rasti paspaudę toliau pateiktą nuorodą:
Ši apžvalga įgalina jus gauti pagrindinę informaciją, kuri padės jums įvertinti PSO, kaip autoritetingos pasaulinės visuomenės sveikatos organizacijos, tinkamumą. Joje pateikiama pagrindinė informacija apie visuomenės sveikatos ir pandemijų valdymo principus, dėl kurių anksčiau buvo susitarta šioje Jungtinių Tautų padalinyje. PANDA analizė leis jums įvertinti PSO rekomenduojamo atsako į Covid-19 ir MonkeyPox pagrįstumą ir nustatyti, kaip tiksliai PSO laikėsi savo pačios anksčiau parengtų rekomendacijų. Toliau joje apibendrinamos prielaidos, kuriomis buvo grindžiamos jų Covid-19 rekomendacijos, o po to pateikiama galutinių rekomendacijų santrauka.
Galiausiai aptariama galima įtaka PSO sprendimams ir veiklos krypčiai ir siūlomi veiksmai, kurių galite imtis, kad apsaugotumėte savo asmeninį ir nacionalinį sveikatos suverenumą nuo galios, kurią ši tarptautinė organizacija sukūrė ir kurią ji taiko mums visiems.
Mano trumpa santrauka / kompiliacija pateikiama toliau:
PSO buvo įkurta 1946 m. ir turėjo keletą pagrindinių principų, kurie buvo visiškai ignoruojami COVID protrūkio metu. Šiame paveikslėlyje pateikiama PSO konstitucijos kompiliacija: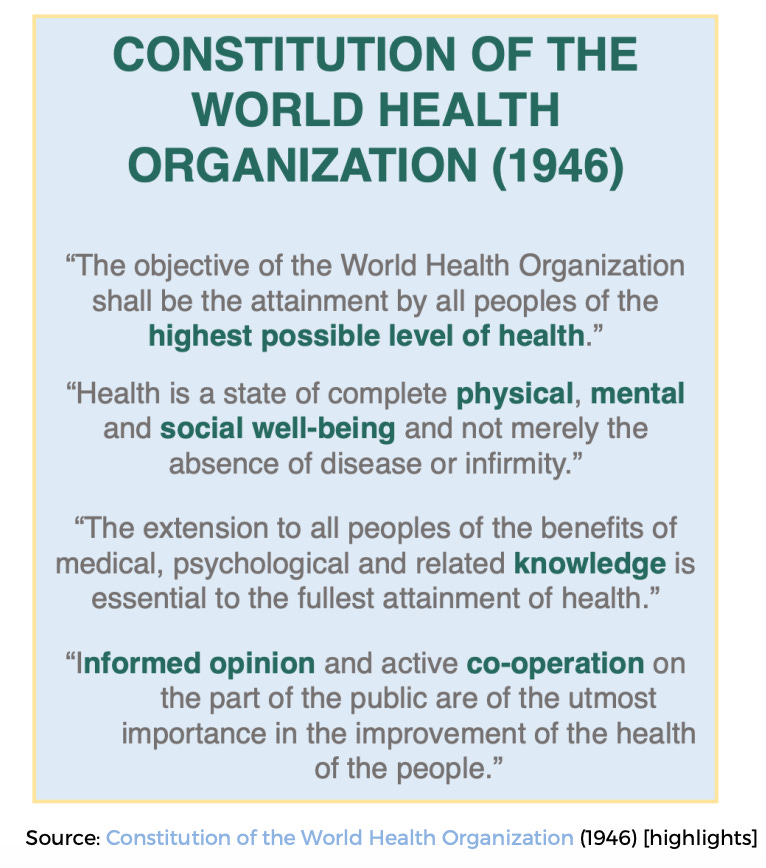 Kitas paveikslėlis (toliau) yra iš 2019 m. gripo ir susijusių pandeminių ligų planavimo dokumentų. Šios rekomendacijos buvo parengtos remiantis mokslinės literatūros analize. Tai, kokius veiksmus PSO pasirinko rekomenduoti COVID metu, beveik visiškai nukrypo nuo ankstesnių pandemijos plėtros planų, kuriuos ji buvo parengusi ir patvirtinusi. Žinoma, kiekvienam, susidūrusiam su beveik visišku anksčiau rekomenduotos politikos pakeitimu, kyla klausimai: "Kodėl?" ir "Kas slypi už šio nepaprasto posūkio?".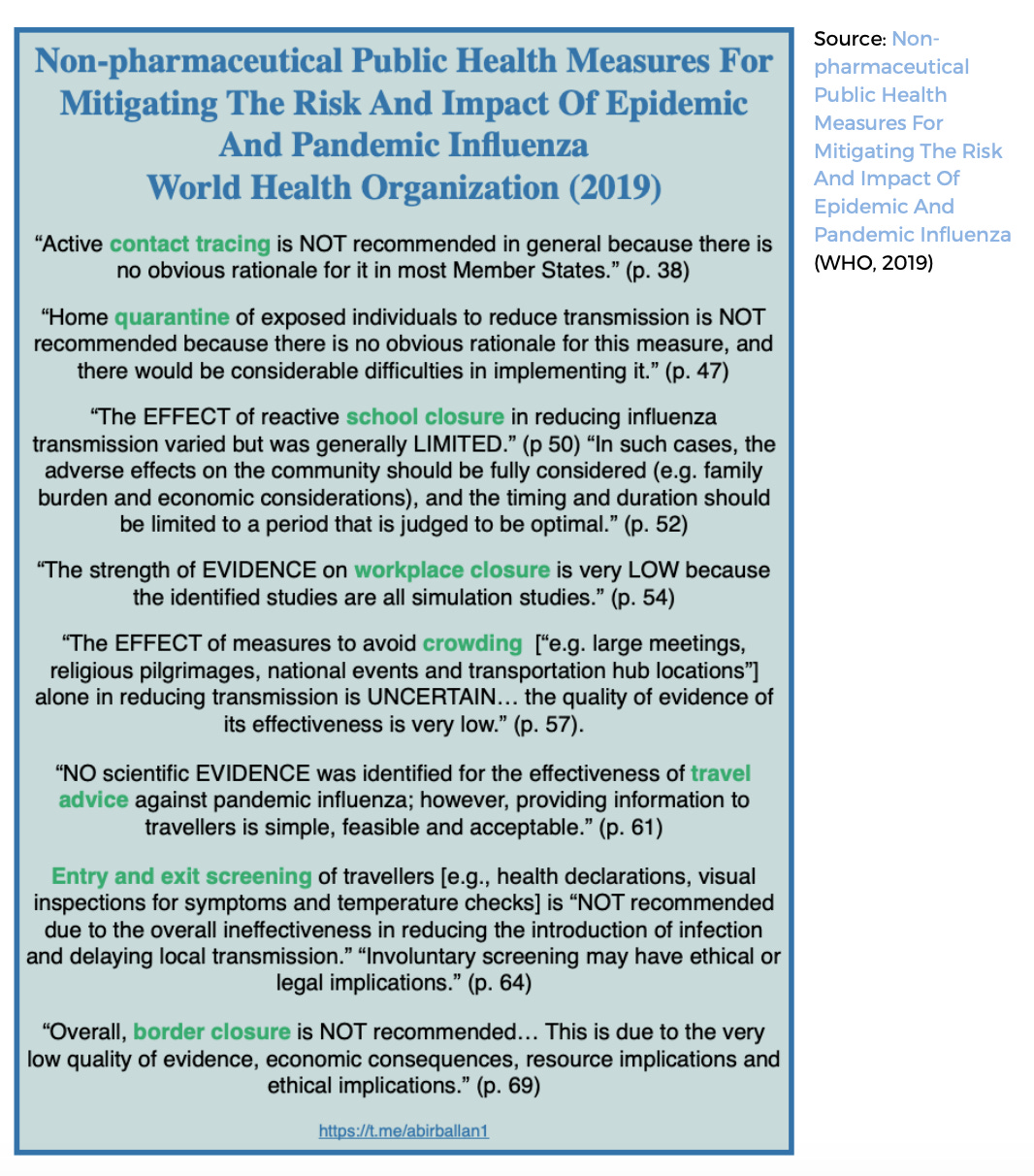 Toliau šioje apžvalgoje apžvelgiami visi "nauji" duomenys, kurie rodo, kad uždarymas (angl. lock-down), kaukės, visuotinis skiepijimas, mokyklų uždarymas ir t. t. yra pagrįsti arba sufabrikuotais, nekokybiškais tyrimais, arba neegzistuojančiais tyrimais. Šie skyriai yra išsamūs ir gražiai apibendrinti.
Taip pat išsamiai aptariamas viruso mirtingumo klausimas ir tai, kaip PSO melagingai sudarė įspūdį, kad virusas yra mirtinesnis, nei iš tikrųjų buvo, net ir su originalia paderme.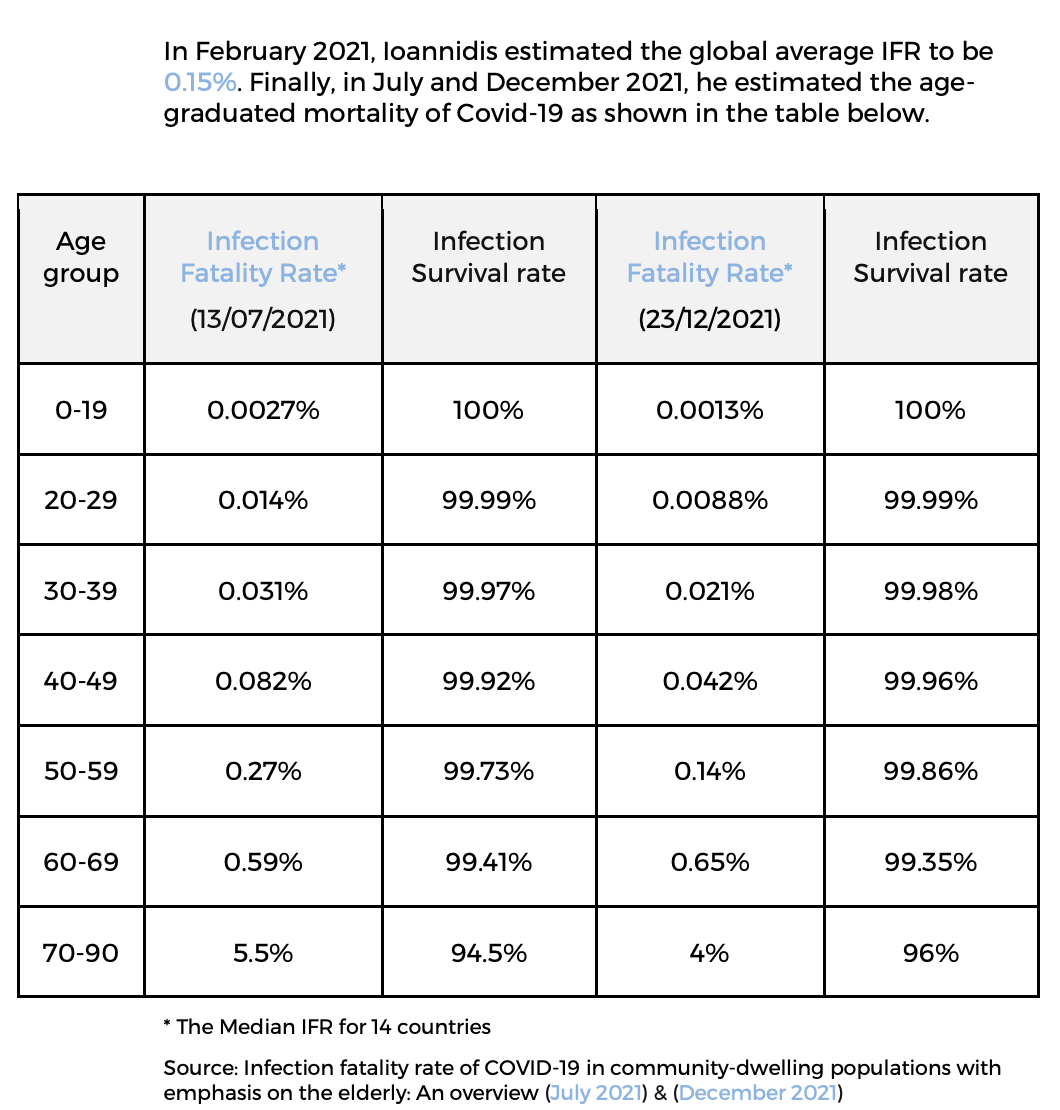 Naudojant nuotraukas ir tviterio žinutes iš PSO svetainės – apžvalgoje pateikiami argumentai, kad PSO buvo korumpuota, tačiau tai daroma nepateikiant nė vieno konkretaus kaltinimo. Vaizdai leidžia kalbėti pačios PSO žodžiams ir veiksmams. Šių vaizdų poveikio koeficientas yra reikšmingas. Vienas iš tokių pavyzdžių pateikiamas toliau: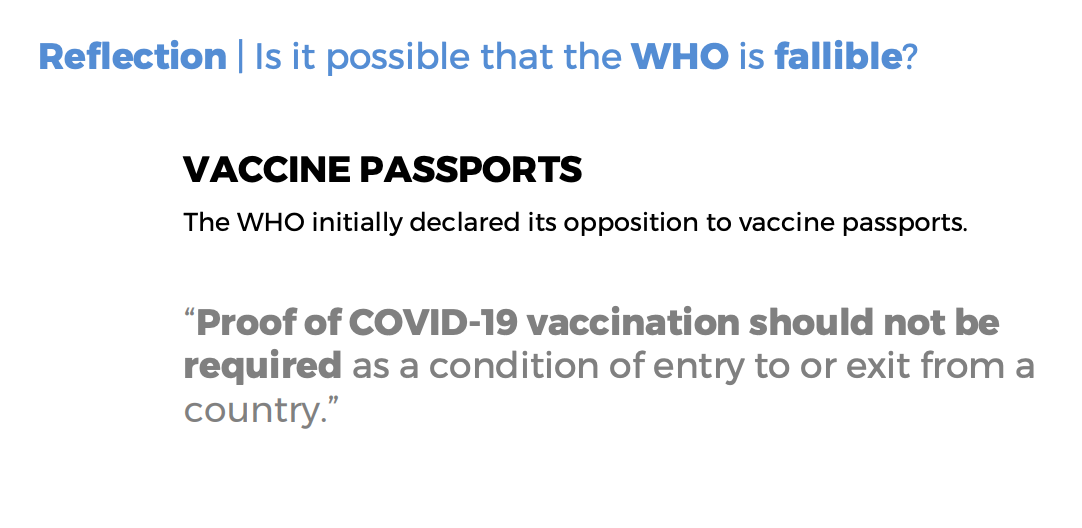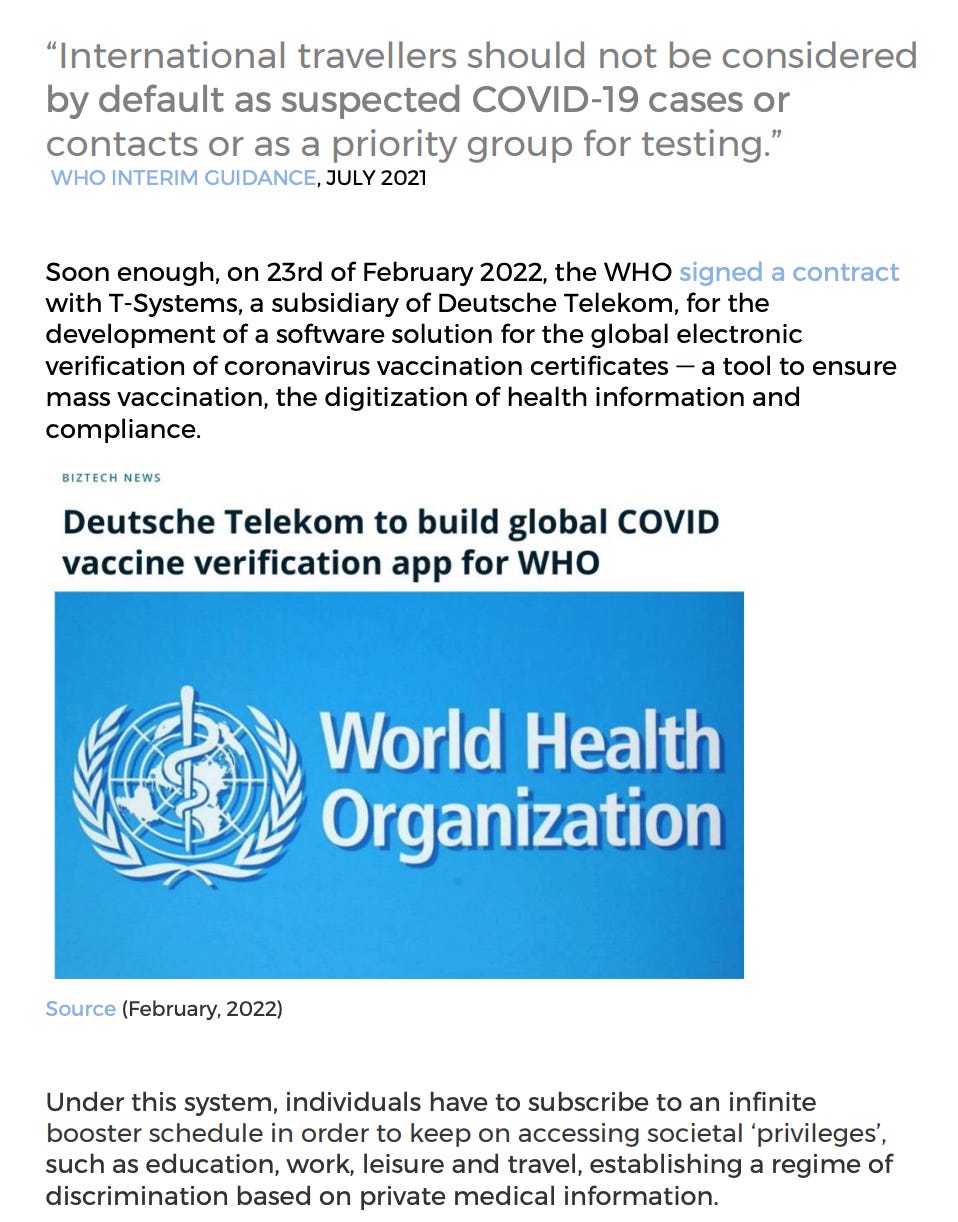 Dokumento išvadose išvardijama, kas galėjo būti padaryta kitaip.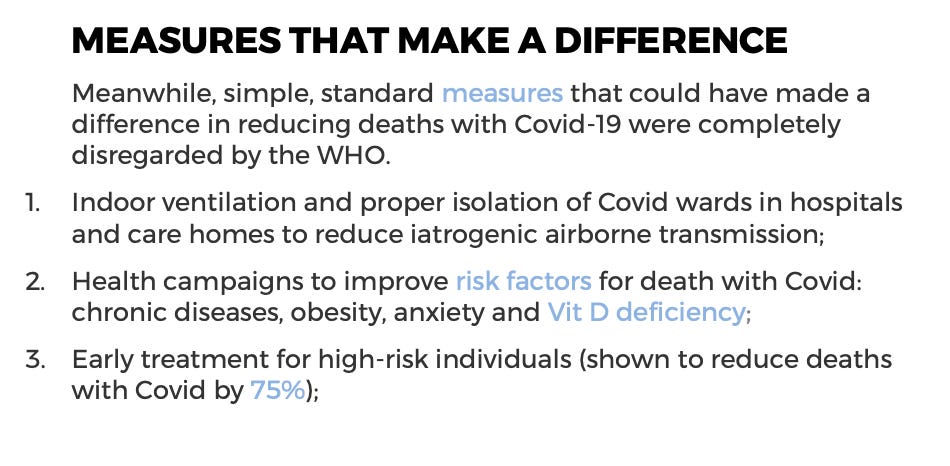 Dokumentas yra išsamus, jame pateikta daug nuorodų ir jį verta perskaityti. Apsvarstykite galimybę tai padaryti ir pasidalyti su draugais, kolegomis ir net politikais.
Laiško politikams ar vyriausybės atstovams šablonas
Gerbiamasis [įrašykite vardą ir pavardę],
Kaip [tautos atstovas vyriausybėje / parlamento narys] esate įsipareigojęs tarnauti žmonėms ir užtikrinti, kad jų interesai būtų visos viešosios politikos pagrindas.
PSO rekomenduojamo atsako į Kovid-19 iš esmės laikėsi dauguma šalių. Tai rodo, kokia plati yra PSO įtaka vietos valdymui, o kartu ir jos rekomendacijų poveikis žmonių gyvenimui ir pragyvenimui.
Ar esate tikri, kad PSO rekomenduojamas atsakas į Covid-19 atitinka PSO įstatus ir jos pačios pasirengimo pandemijoms planus?
Ar esate tikri, kad PSO vis dar vadovaujasi mokslu, o ne privačiais interesais?
Kokia jūsų atsakomybė prieš savo bendrapiliečius?
Turite didelę galią daryti įtaką savo vyriausybei ir kurti teigiamus pokyčius.
Kviečiame ištirti PSO, kaip pasaulinės visuomenės sveikatos institucijos, tinkamumą: PSO APŽVALGA IR KODĖL JI JUMS SVARBI
Su pagarba,
[čia pasirašykite savo vardą ir pavardę]
---
Kas yra daktaras Robertas W. Malone'as? Kodėl mano balsas svarbus?
Esu tarptautiniu mastu pripažintas mokslininkas ir gydytojas, mRNA vakcinacijos kaip technologijos, DNR vakcinacijos ir daugelio nevirusinių DNR ir RNR / RNR platformų pristatymo technologijų originalus išradėjas. Turiu daugybę fundamentalių nacionalinių ir užsienio patentų genų pristatymo, pristatymo formulių ir vakcinų srityse: įskaitant fundamentalias DNR ir RNR / RNR vakcinų technologijas.
Esu paskelbęs apie 100 mokslinių publikacijų, kuriose mano darbai cituojami daugiau kaip 12 000 kartų (pagal "Google Scholar" ir kurių poveikio koeficientas įvertintas "puikiai"). Buvau kviestinis pranešėjas daugiau kaip 50 konferencijų, pirmininkavau daugeliui konferencijų, buvau HHS ir DoD komitetų narys arba pirmininkas. Šiuo metu esu nebalsuojantis NIH ACTIV komiteto, kuriam pavesta vadovauti klinikiniams tyrimams, susijusiems su įvairiais vaistais ir antikūnais COVID-19 gydymui, narys.
Medicinos laipsnį įgijau Šiaurės Vakarų Feinbergo medicinos mokykloje (Northwestern Feinberg School of Medicine). 2016 m. baigiau Harvardo medicinos mokyklos pasaulinę klinikinių tyrimų stipendiją. 2016 m. mokslinį pasirengimą įgijau Kalifornijos universitete Deivise, Kalifornijos universitete San Diege ir Salko instituto Molekulinės biologijos ir virusologijos laboratorijose. Dirbau patologijos ir chirurgijos asistentu ir docentu Kalifornijos universitete Deivise, Merilendo universitete ir Ginkluotųjų pajėgų sveikatos mokslų universitete.
Mano partnerė visame tame yra daktarė Jill Glasspool Malone. Ji mėgsta likti užkulisiuose, bet galite būti tikri, kad beveik visuose mano profesiniuose siekiuose ji dalyvavo ir dalyvaus. Be to, ji yra daug paskelbusi ir turi platų gyvenimo aprašymą. Esame kartu nuo vidurinės mokyklos laikų (daugiau nei 45 metus), iš jų 42 metus esame susituokę. Gyvename arklių fermoje Virdžinijoje, kuri tapo mūsų asmenine "Galto įlanka". Tai idėja, kurią puoselėjame ir kuria remiamės. Sąmoninga bendruomenė yra vienas iš mūsų gyvenimo principų.
Taigi, kas mane atvedė iki to, kad kasdien rengiu podkastus, duodu interviu, rašau straipsnius, dalyvauju įstatymų leidėjų gynime ir kuriu beveik pusę milijono žmonių turintį "Twitter" kanalą? Tai prasidėjo nuo mano paties patirties ir susirūpinimo dėl to, kaip buvo kuriamos ir pasauliui primestos genetinės vakcinos COVID-19 saugumo ir bioetikos požiūriu, o paskui išsiplėtė, kai atradau daugybę trumpų kelių, duomenų bazių problemų, nutylėjimų ir, atvirai kalbant, melo, pasakyto kuriant baltymines genetines vakcinas nuo SARS-CoV-2. Dar didesnę įtaką man padarė asmeninė patirtis, susijusi su vaistų paskirties keitimu ir gydytojų teisėmis verstis medicinos praktika, taip pat tai, ką teko patirti artimiems kolegoms. Galiausiai, vyriausybėms pradėjus reikalauti neetiškų eksperimentinių vakcinų skyrimo suaugusiesiems ir vaikams, mano tyrimai apie tai, kas, mano manymu, yra autoritarinė vyriausybių kontrolė, kuria manipuliuoja didelės korporacijos (didžiosios finansų, farmacijos, žiniasklaidos ir technologijų), turėjo įtakos mano besikeičiančiai pasaulėžiūrai.
Dabar visada buvau mokomas ir tikėjau, kad vakcinos turi būti kuriamos kartu su gyvybę gelbstinčiais kylančios infekcinės ligos ar pandemijos gydymo būdais. Esu vakcinologas. Išradau pagrindinę mRNA vakcinų technologinę platformą. Didžiąją savo karjeros dalį praleidau kurdamas vakcinas. Taip pat turiu daug patirties vaistų paskirties keitimo užkrečiamųjų ligų protrūkių atvejais srityje. Jokiu būdu nesu nusiteikęs prieš vakcinas. Tačiau manau, kad JAV Vyriausybė, siekdama pateikti rinkai mRNA ir adenoviruso vakcinas, skirtas šiai pandemijai, ėmėsi trumpų veiksmų, kurie buvo žalingi ir prieštarauja visuotinai pripažintiems saugių ir veiksmingų licencijuotų produktų kūrimo ir reguliavimo standartams.
Šiuo metu esu parengęs šimtus podcast'ų ir interviu. Esu nuolatinis svečias daugelyje laidų ir esu parašęs daug redakcinių straipsnių, kurie buvo paskelbti pagrindiniuose laikraščiuose. Kartu su daugeliu kitų gydytojų ir mokslininkų, pasisakančių už ankstyvą gydymą, keliavau po pasaulį, kad padėčiau šviesti gydytojus ir visuomenę apie ankstyvojo gydymo galimybes ir kartu pasipriešinčiau neetiškiems įpareigojimams.
Anksčiau tikėjau, kad FDA, NIH ir CDC dirba žmonėms, o ne didžiajai farmacijai. Maniau, kad jei tik galėtume naujai atsirandančioms infekcinėms ligoms pritaikyti jau žinomus, saugius vaistus, greitai rastume būdų, kaip sumažinti mirtingumą. Maniau, kad vaistų ir vakcinų kūrimą reguliuoja federalinė vyriausybė dėl bendros gerovės. Per pastaruosius dvejus metus sužinojau, kad federalinės valdžios užvaldymas reguliavimu taip iškreipė ir suformavo Kongreso ir federalinių agentūrų darbą, kad jos nebeatstovauja tam, kas geriausiai atitinka tautos, pasaulio ir žmonijos interesus. Kuo daugiau reiškiau duomenimis pagrįstą susirūpinimą dėl to, kas vyksta su vakcinomis, JAV federalinės valdžios ir PSO atsaku, tuo labiau buvau cenzūruojamas, šmeižiamas ir veikiamas įvairių formų didžiųjų technologijų ir senosios žiniasklaidos priemonių. Esu ne vienintelis, prieš kurį nukreiptas šis puolimas. Pagrindinė žiniasklaida puolė ir cenzūravo mane ir kitus žinomus gydytojus ir mokslininkus, kurie nesutinka su vyriausybiniu pasakojimu. Tai tapo standartiniu procesu, kuris taikomas visame pasaulyje kaip gydytojų nesutikimo slopinimo metodas – tiesiogine prasme medžiojami gydytojai, kurie laikomi kaltais dėl minties nusikaltimų (pvz., abejonių dėl vakcinų saugumo ir veiksmingumo) arba "nuodėmės", kad gydo pacientus gyvybiškai svarbiais vaistais ambulatorinėmis sąlygomis.
Tai, kas vyksta, yra neteisinga, netinkama ir nesąžininga.
Taigi imkimės tai taisyti.
---
Šis tekstas pasirodė 2022 m. liepos 25 d. pavadinimu "The PANDA WHO Review and Why it Matters to You" svetainėje rwmalonemd.substack.com.
Išversta padedant www.DeepL.com/Translator. Be pataisymų.
Šis tekstas yra licencijuojamas pagal "Creative Commons Attribution 4.0" tarptautinę licenciją. Nesivaržykite kopijuoti ir dalintis.