Kasdien darosi vis akivaizdžiau: tai skiepytų žmonių pandemija.
Originalus straipsnis paskelbtas 2022 m. liepos 30 d. The Vigilant Fox.
Išversta padedant www.DeepL.com/Translator. Be pataisymų.
---
Nuo pat vakcinos pasirodymo ilgai buvome propaguojami, kad tai yra neskiepytų žmonių pandemija, kad tie, kurie pasirinko vengti eksperimentinės genų terapijos, sudaro daugiau nei 90 % COVID-19 hospitalizacijų ir mirčių.

Džoelio Smallio (Joel Smalley) Naujojo Pietų Velso (NSW) duomenų analizė, apie kurią rašė "Highwire", visiškai apverčia šį pasakojimą aukštyn kojomis.
Dabar nepamirškite, kad daugelis vyriausybių nustojo skelbti duomenis, galbūt todėl, kad tiesa tampa nepatogi. Tačiau pažvelkime į Smalley hospitalizacijos lentelę.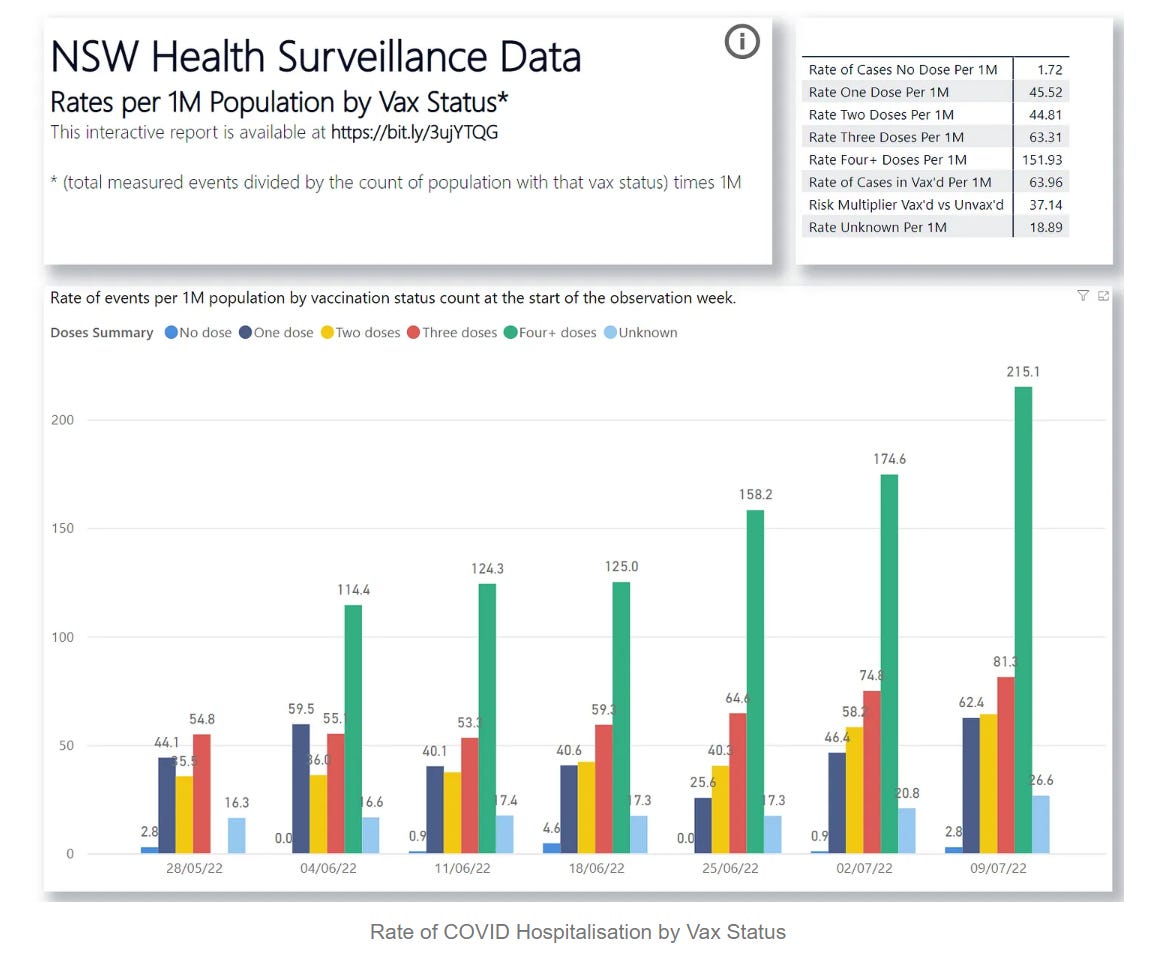 Ji rodo "pakopinį procesą", t. y. kuo daugiau vakcinos dozių suleisite, tuo didesnė tikimybė, kad atsidursite ligoninėje. Atkreipkite dėmesį į karališką mėlyną spalvą (neskiepyti); ji nuolat yra hospitalizacijos rodiklių apačioje. Ir atkreipkite dėmesį į tą DIDELĘ žalią liniją (keturios ir daugiau dozių)? Keturiskart paskiepytieji daug dažniau patenka į ligoninę nei jų kolegos, gavę net tris dozes.
Tačiau labiausiai stebina tai, kad Smalley apskaičiavo rizikos daugiklį pagal skiepijimo būklę.

Dieve mano. Pasiklausykite, ką apie tai sako "Highwire" žurnalistas Džefris Džeksenas (Jeffrey Jaxen).
"Štai tokie duomenys, ponios ir ponai! Ir tai yra šokiruojantis grafikas, apie kurį tikrai reikėtų kalbėti daug daugiau. Nežinau, kodėl žmonės apie tai nekalba, bet tai priklauso nuo dozės ir rodo hospitalizacijas".
Tai svarbu. Ačiū, Džoeli Smalli ir "Highwire", kad atkreipėte dėmesį į šiuos itin svarbius duomenis. Tai tikrai sutrukdys tolesniems netikriems teiginiams būtent šia tema.
Džefris Džeksenas ir "Highwire" ir toliau puikiai rengia reportažus. Jei norite pažiūrėti naujausią jų laidos epizodą, pasinaudokite toliau pateikta nuoroda. O jei norite užsiprenumeruoti Džoelio Smalėjaus (Joel Smalley) žurnalą, galite tai padaryti čia.
Radikalios tiesos: Pjeras Koris, Aaronas Siri ir Maadžidas Navazas prisijungė prie "Highwire": 278 epizodas [VIDEO]
---
Šis tekstas pasirodė 2022 m. liepos 30 d. pavadinimu "Dose-Dependent Hospitalizations: Shocking New South Wales Government Data Uncovers the Lies" svetainėje The Vigilant Fox.
Išversta padedant www.DeepL.com/Translator. Be pataisymų.
Šis tekstas yra licencijuojamas pagal "Creative Commons Attribution 4.0" tarptautinę licenciją. Nesivaržykite kopijuoti ir dalintis.