Originalus straipsnis paskelbtas 2022 m. liepos 29 d. thorsteinn.substack.com.
Thorsteinn Siglaugsson. Išversta padedant www.DeepL.com/Translator. Be pataisymų.
---
Per pastaruosius kelis mėnesius daugėjo požymių, rodančių teigiamą koreliaciją tarp mirtingumo dėl visų priežasčių ir Covid vakcinų. Tačiau norint įrodyti, kad ši koreliacija egzistuoja, labai svarbu turėti galimybę palyginti mirtingumo lygį ir vakcinos vartojimą santykinai homogeniškoje populiacijoje.
Būtent tai dabar ir padarė olandų mokslininkas Andrė Redertas (André Redert). Jis palygino mirtingumo lygį ir vakcinų vartojimą skirtingose Nyderlandų savivaldybėse ir nenustatė, kad skiepai mažintų mirtingumą.
Vietoj to jis nustato statistiškai reikšmingą teigiamą koreliaciją tarp vakcinų vartojimo ir mirtingumo.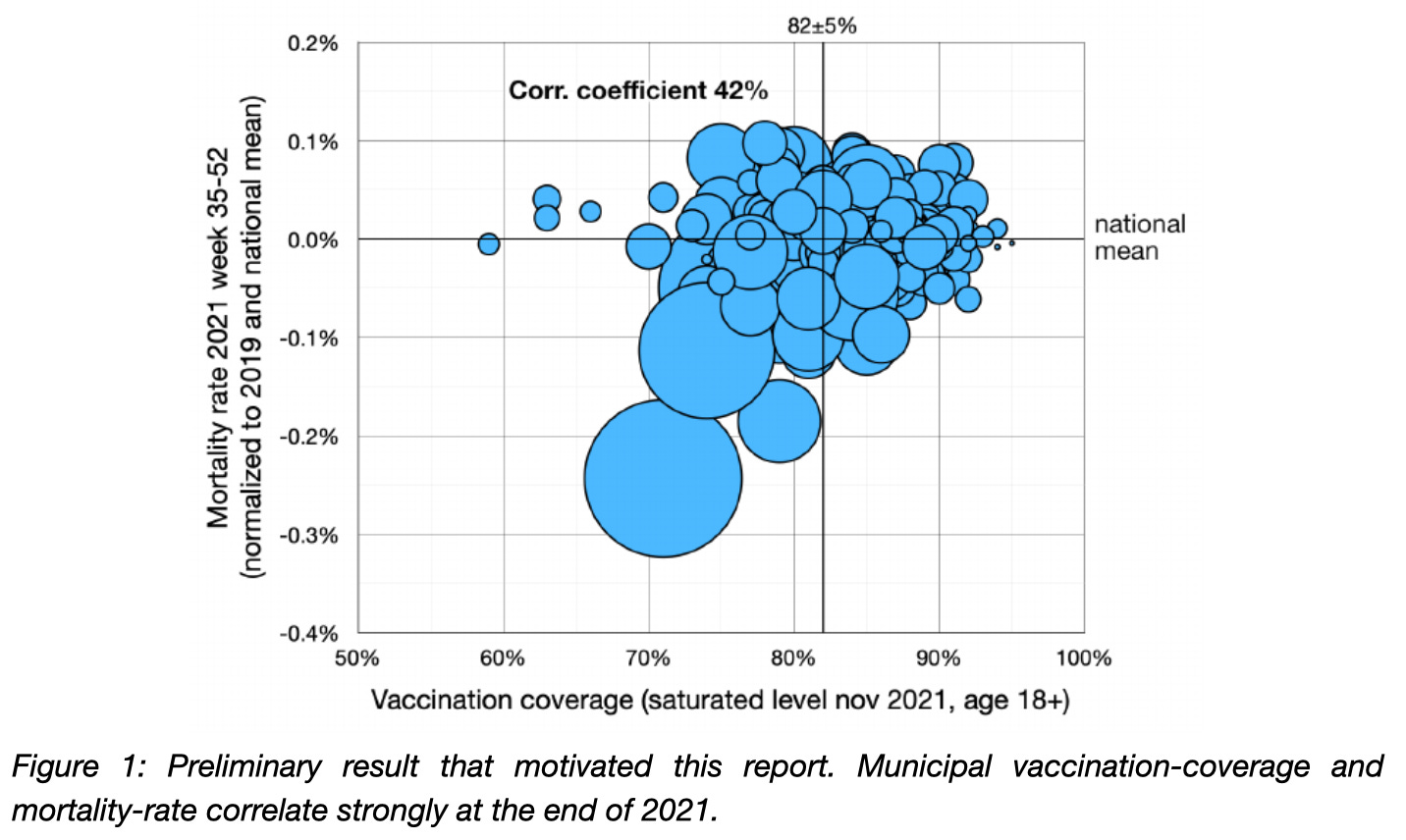 Nagrinėjamas laikotarpis yra 2021 m. 35-52 savaitės. Kaip matyti iš grafiko, egzistuoja stipri koreliacija, t. y. didesnis vakcinos vartojimas savivaldybėje yra susijęs su didesniu mirtingumu. Visa analizė dar nėra recenzuota, tačiau ją galima rasti Researchgate.
Šie rezultatai atitinka nerimą keliančius per didelio mirtingumo rodiklius, kuriuos dabar matome daugelyje šalių. Dramblys kambaryje greičiausiai yra tai, kad, palyginti su kitomis vakcinomis, smarkiai išaugo sunkių nepageidaujamų Covid-19 vakcinų sukeltų padarinių skaičius. Papildoma priežastis gali būti kartais neigiamas vakcinacijos poveikis kovidų mirtingumui, pavyzdžiui, Jungtinėje Karalystėje.
Šie rezultatai išties kelia nerimą. Ir galbūt dar didesnį nerimą kelia bendra cenzūra, taikoma juos skelbiant ar aptariant. Pagrindinė žiniasklaida vengia diskusijų, o socialinių platformų, tokių kaip "Facebook" ir "LinkedIn", vadovybė netgi nustatė taisykles, draudžiančias minėti bet kokius neigiamus faktus, susijusius su vakcinomis. Galima tik stebėtis, ką tokia cenzūra gali reikšti šiems verslo vadovams, jei ir kai masinė isterija atslūgs ir už svarbios informacijos slėpimą ir pavojingos dezinformacijos skleidimą atsakingi asmenys bus patraukti atsakomybėn už savo veiksmus.
---
Thorsteinnas Siglaugssonas yra Islandijos ekonomistas, konsultantas ir rašytojas. Autorius: "Nuo simptomų prie priežasčių – loginio mąstymo proceso taikymas sprendžiant kasdienes problemas". Nuolatinis "The Daily Sceptic" ir "Brownstone Institute" bendradarbis. El. paštas: thorsteinn@sjonarrond.is
Šis tekstas pasirodė 2022 m. liepos 29 d. pavadinimu "The Netherlands: Higher Vaccine Uptake, Higher Mortality" svetainėje thorsteinn.substack.com.
Išversta padedant www.DeepL.com/Translator. Be pataisymų.
Šis tekstas yra licencijuojamas pagal "Creative Commons Attribution 4.0" tarptautinę licenciją. Nesivaržykite kopijuoti ir dalintis.
Nuotrauka pixabay.