Diskusijos "Demokratijos ateitis mūsų rankose. Kaip turėtume ją kurti?" įkvėptos mintys

Andreas'o Rodenbeck'o komentaras. 2021 m. rugpjūčio 19 d.

Savo ankstesniame gyvenime penkerius metus buvau atsakingas už nuostabų projektą "Jugend debattiert international" (1), kuriame jaunimas diskutuoja kontroversiškomis, svarbiomis temomis. Todėl vakar buvau pakviestas į diskusiją "Demokratijos ateitis mūsų rankose. Kaip turėtume ją kurti?".
Renginį organizavo "jaunimodebatai.eu" nariai, visi buvę Tarptautinių jaunimo debatų dalyviai. Iš kvietimo: "Diskusijos metu bandysime atsakyti į klausimą, kaip kiekvienas iš mūsų galėtų kurti demokratijos ateitį bei kokį vaidmenį demokratijoje atliekame mes patys."
Diskusijoje dalyvavo "Laisvės TV" žurnalistė, knygų autorė Birutė Dovidonytė, buvęs Konstitucinio Teismo pirmininkas Dainius Žalimas, filosofas dr. Vilius Bartninkas bei asociacijos "Jaunimo debatai" tarybos narys Sergej Stoma.
Dėkoju už svarbią patirtį. Nekartosiu čia visos diskusijos, o tik pateiksiu ir pakomentuosiu keletą jos akcentų. Visi dalyviai sutiko, kad demokratija kenčia dėl to, kad joje dalyvauja per mažai žmonių. Dainius Žalimas teigė, kad Lietuvos jaunimas yra abejingas ir nesirūpina demokratine santvarka. Keletą kartų pabrėžė, kad praeityje daug kas buvo geriau, pavyzdžiui, žmonės būdavo ambicingesni. Jis taip pat teigė, kad nepaisant 30 metų demokratijos, baimė vis dar dominuoja daugelyje viešojo gyvenimo sričių (taip pat ir teisingumo vykdymo srityje). Birutė Dovidonytė pridūrė, kad "žodžio laisvė", be abejo, yra svarbi, BET (taip pat atsižvelgiant į rugpjūčio 10 d. demonstraciją) ji ne visada turėtų būti taikoma visiems. Sergejus Stoma, kaip jauniausias dalyvis, pritarė daugumai punktų ir apgailestavo, kad Lietuvoje per mažai žmonių dalyvauja demokratijoje.
Įdomus buvo filosofas Vilius Bartninkas, kuris diskusijos pradžioje demokratiją palygino su antikiniu mūšiu, kuriame visi susiduria kaip lygūs su lygiais, taip suponuodamas demokratijos kaip kovos iki galo idėją (keista, kad "demokratija", kaip tautos valdžia, pristatyta nebuvo). Tolimesni jo teiginiai: demokratinėje valstybėje mes (t. y. tie, kurie savaime suprantama yra "teisingojoje pusėje", pavadinkime juos elitu, kad būtų paprasčiau) neprivalome kalbėtis su kita puse, ypač su ta nedidele mažuma, kuri rugpjūčio 10 d. demonstravo prie parlamento. Kadangi kalbame apie ne daugiau kaip 5 000 žmonių, politika į juos reaguoti neturėtų. Demonstracija ir vėliau kilusios riaušės nebuvo atskirtos viena nuo kitos, taip sudarant įspūdį, kad visi jos dalyviai buvo smurtauti linkę neramumų kurstytojai. Klausimas, kas smurtą išprovokavo, nagrinėjamas nebuvo. Lietuva esą "normaliai veikianti demokratinė valstybė". Kadangi racionalumas esąs jų pusėje, kalbėtis su "suklaidintaisiais" nėra prasmės. Visi vieningai pasmerkė demonstraciją. Apie galimybių pasą, abejotiną jo teisinį pagrindą ir visuomenės suskaldymą užsiminta, jei iš viso, buvo minimaliai.

Dėl demokratijos ateities vieningai sutarė visi. Nepaisant vyraujančio nuovargio nuo demokratijos, dėl kurio visi apgailestavo, visi jos ateitį Lietuvoje matė rožinėmis spalvomis.
Pabaigoje – malonūs klausytojų klausimai, vėliau – Vokietijos ambasados finansuotas priėmimas su vynu ir gardžiais užkandžiais, ir visi būtų ėję miegoti laimingi ir ramūs.
Tačiau tuomet iš auditorijos buvo gautas paskutinis klausimas: ką jie mano apie tiesioginę demokratiją, kuri sėkmingai praktikuojama, pavyzdžiui, Šveicarijoje, rengiant referendumus? Visi sutarė, kad apie tokį dalyką Lietuvai negali būti nė kalbos: tauta tam nėra pakankamai subrendusi, problemos per daug sudėtingos, o radikalių sprendimų pavojus per didelis.

AČIŪ UŽ AIŠKIUS ŽODŽIUS!
Viena vertus, kritikuojama, kad trūksta entuziazmo demokratijai, kita vertus, piliečiai išstumiami! Tai reiškia -išskyrus kartą per ketverius metus įvykstantį nuėjimą į rinkimų apygardą- faktinę demokratija be piliečių.
Tėra tik vienas kabliukas: tai nėra tikra demokratija.
Keletas minčių apie referendumą: ilgą laiką šis reikalavimas buvo, savaime suprantama, dalis visų didžiųjų Vokietijos partijų programų, ir tik pastaraisiais dešimtmečiais jo buvo tyliai atsisakyta. Net Vokietijos federalinis prezidentas aiškiai pasakė, kad vokiečių negalima lyginti su šveicarais ir kad Vokietijos žmonės "dar nepasirengę" tiesioginei demokratijai (2).
Iš tyrimų žinome, kad referendumai yra puikus būdas žmonių įtraukimui ir demokratijos atgaivinimui. Pavyzdžiui, Amerikos įkūrėjai puikiai žinojo, kad didelę minią daug sunkiau korumpuoti negu palyginti mažą parlamentą, todėl ilgą laiką rėmėsi tiesioginės demokratijos elementais.
Kad referendumai vyktų sėkmingai, turi būti patenkinamos tam tikros sąlygos. Pavyzdžiui, reikalavimas referendumo įgyvendinimui neturi būti per didelis: norint surengti fakultatyvinį referendumą Šveicarijoje, per 100 dienų turi būti surinkti 50 000 parašų, daugiau informacijos rasite čia. Be to, reikia turėti pakankamai laiko, kad nebūtų priimami skuboti sprendimai, ir -tai labai svarbu!- lengvos prieigos prie visų esminių argumentų. Jei šios sąlygos patenkinamos, tauta tikrai gali priimti racionalų ir savo interesus atitinkantį sprendimą. Taigi referendumai yra būtina tikros demokratijos sąlyga, kaip aiškiai nurodyta Konstitucijoje: "Lietuvos valstybę kuria Tauta. Suverenitetas priklauso Tautai." ir "Aukščiausią suverenią galią Tauta vykdo tiesiogiai ar per demokratiškai išrinktus savo atstovus."
Gerbiamasis Viliau Bartninkai, įvykdžius šias sąlygas žmonės pradeda turiningai diskutuoti klausimais, kurie susiję su jų, jų vaikų, o kartu ir Lietuvos ateitimi. Kokia patraukli ateities vizija! Visiškai priešingai negu jūsų teiginys, kad diskusijos su kita puse yra beprasmės.
Dvi pastabos šiame kontekste: Jaunimo debatai mane visada žavėjo. Pirmiausia todėl, kad keturi debatų dalyviai tik likus 20 minučių iki debatų sužino, ar jie atstovauja "už", ar "prieš" pusę. Todėl dalyviai priversti intensyviai nagrinėti abiejų pusių argumentus. Kita vertus, laimi ne tie, kurie garsiausiai šaukia, o tie, kurie diskusiją veda į priekį, siekdami konstruktyvaus sprendimo. Tam būtinas atidus ir pagarbus klausymasis. Antra pastaba: kai vyko balsavimas dėl dvigubos pilietybės, intensyviai ieškojau geros informacijos. Nė vienoje vietoje, net didžiuosiuose laikraščiuose ar oficialiuose vyriausybės puslapiuose, neradau kokybiško ir objektyvaus argumentų "už" ir "prieš" pateikimo. To prašyčiau Jūsų, gerbiama Birute Dovidonyte, kaip "didžiosios" žiniasklaidos atstovės.
Kai po diskusijos atsistojau prie jūsų ir Dr. (!!) Bartninko ir prisistačiau kaip buvęs atsakingas už projektą asmuo bei vienas iš sėkmingai veikiančios įstaigos, kurioje šiandien Lietuvoje dirba daugiau nei 100 žmonių, įkūrėjų, viskas buvo gerai. Vos tik užsiminiau, kad dalyvavau demonstracijoje, Jūs pašaipiai nusisukote žinodama, kad kiekvienas žodis su manimi tėra tuščias laiko švaistymas ir kad nėra prasmės su manimi kalbėtis. Kai norėjau paklausti daktaro (išsilavinimą įgijusio Kembridže!), ar Danijos, Švedijos ir Norvegijos gyventojai yra sąmokslo teorijų kūrėjai, nes nuo rudens jie sustabdo "Corona" priemones, tokias kaip uždarymas, privalomos kaukės ir, supratę, kad skiepijant negalima pasiekti bandos imuniteto, skiepų kortelės, daktaras (!) nutraukė mane argumentuodamas, kad jis pasitiki vyriausybę konsultuojančiais Lietuvos specialistais ir kad nei jis, nei aš nesame kompetentingi daryti medicininius pareiškimus. Diskusijos pabaiga.
Nesu gydytojas, bet į Konstituciją žiūriu rimtai ir remiuosi savo teise: "Žmogaus asmuo neliečiamas". Manau, kad tikri mokslininkai visada pateikia savo teiginius diskusijai, nes žino apie klaidų galimybę. Klaidų galima išvengti tik kompetentingai ir skaidriai diskutuojant. Tai yra mokslinis konsensusas. Be to, mokslininkas turi gebėti paprastai pateikti sudėtingus faktus. Mano, kaip atsakingo piliečio, užduotis – naudotis savo galva. Tai taip pat apima kritinius klausimus, pvz:
– Kodėl Lietuvoje nėra informacijos, kad yra veiksmingas, nekenksmingas ir pigus vaistas nuo koronaviruso (žr. , čia ir čia)?
– darant prielaidą, kad virusas Lietuvoje yra toks pat kaip Švedijoje ir Danijoje: kodėl oficialus mirtingumo nuo Covid viruso rodiklis Lietuvoje yra gerokai didesnis? Ką padarėme ne taip ir ko galime pasimokyti iš praeities? Kaip skaičiuojama ir ar galime pasimokyti iš kitų, sėkmingų šalių? Švedijoje per mėnesį nebuvo nė vieno (!) mirties atvejo, ir visa tai be uždarymo, kaukių ir pan. Kodėl neimame pavyzdžio iš Švedijos?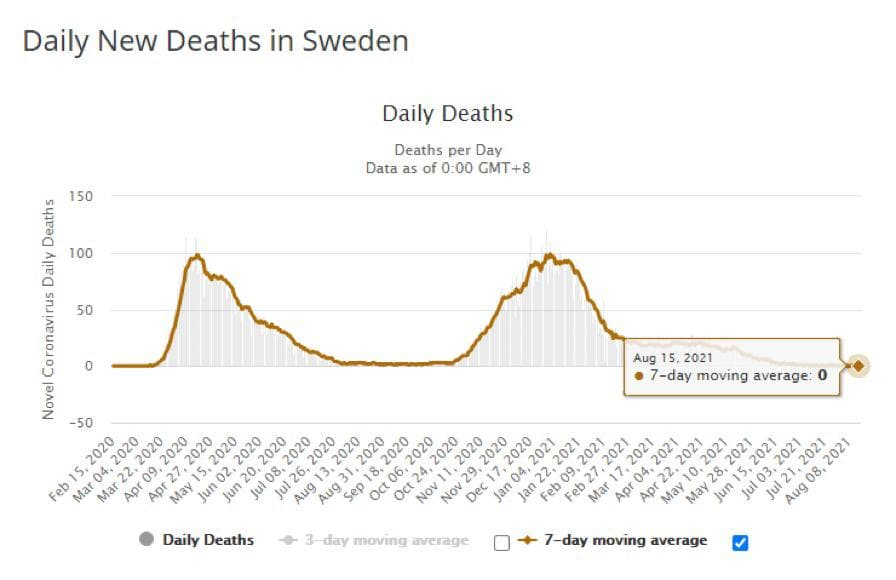 Bet, gerbiamasis daktare Bartninkai, jūsų nuomone, tai argumentai, kurių aš negaliu iškelti, nes nesu medikas. Arba jau girdžiu: negalima lyginti Švedijos ir Lietuvos, nes tarp jų yra begalinė Baltijos jūra. Tai, kad tiek čia, tiek ir ten yra mokyklų, prekybos centrų ir t. t., neturi jokios reikšmės, ir aš taip pat negaliu pateikti tokio argumento, nes nesu gydytojas. Turiu besąlygiškai tikėti, kaip jūs rodote asmeniniu pavyzdžiu, Lietuvos ekspertų komisija, kuri iki šiol nesugebėjo atlikti kohortinio tyrimo, kuris būtų buvęs tvirtas pagrindas jos sprendimams priimti. "Įeikite į demokratiją, savo protą prašome palikti rūbinėje."
Beje, esminis demokratinių valstybių bruožas yra tas, kad jos kiek įmanoma labiau išlaisvina savo piliečius nuo socialinių baimių.
Aš darau išvadą: aš tikiu žmonėmis ir jų gebėjimu kartu priimti racionalius sprendimus, o jūs – ne. Jūs atstovaujate elitistinei demokratijos iliuzijai, kurią vadiname representatyviąja demokratija. Puikiame ir nepaneigtame tyrime "Affluence and Influence: Economic Inequality and Political Power in America" (2014) politologai Martinas Gilensas ir Benjaminas Page'as, remdamiesi JAV pavyzdžiu, nagrinėjo, kokią įtaką politiniams sprendimams turi didžiosios tautos masės valia (3). Jų analizė rodo, kad jų balsų svoris yra artimas nuliui ir kad septyniasdešimt procentų gyventojų (absoliuti dauguma!) neturi jokios įtakos politiniams sprendimams. Prof. Schäferis ir jo komanda Vokietijos vyriausybės užsakymu 2016 m. nustatė tą patį Vokietijoje. Jų tyrimo rezultatas: gyventojų daugumos įtaka politinių sprendimų priėmimui artėja prie nulio. Autorių žodžiais tariant: turime didžiulę atstovavimo krizę. Šis tyrimas tapo žinomas tik dėl kilusio skandalo, kai federalinė vyriausybė masiškai perinterpretavo (vokiškai – "verschönte") rezultatus pagal savus interesus.
Abiejų tyrimų rezultatus 2014 m. balandžio 21 d. apibendrino laikraštis "Washington Times": "Amerika nebėra demokratinė valstybė, juolab demokratinė respublika, kaip ją įsivaizdavo tėvai įkūrėjai." Tai patvirtina ir buvusio JAV prezidento Jimmy Carterio 2015 m. liepos 28 d. interviu teiginys, kad JAV yra "oligarchija" su "neribotu politiniu kyšininkavimu"(4).
Visa tai jaučia žmonės, ir tai aiškiai matyti iš protestų prieš antikonstitucinį visuomenės skirstymą į "skiepytus" ir "neskiepytus", kuris nepagrįstas jokiais rimtais tyrimais. Beje, istoriškai demokratija plėtėsi tik tada, kai žmonės kovojo už savo teises ir elitas neturėjo kito pasirinkimo, kaip tik suteikti žmonėms daugiau teisių, nes priešingu atveju priespaudos kaina būtų buvusi per didelė. Tačiau tai tik pastebėjimas paraštėje.
Protingas receptas nuo nusivylimo demokratija būtų: faktais pagrįstas ir pagarbus visų pusių keitimasis argumentais saugioje viešojoje erdvėje ir tiesioginės demokratijos mechanizmų (referendumų, dalyvavimo vietos sprendimų priėmimo procesuose, aiškesnės politikų atsakomybės ir atskaitomybės ir t. t.) išplėtimas, nes tik realus dalyvavimas gali skatinti entuziazmą ir įsitraukimą.
Jūsų atsakymas yra toks: nutraukti diskusiją su tais, kurie nesutinka, trumpai tariant, demokratija be demoso. Jei iš tautos valdžios pašalinsite tautą, teliks tik neįteisinta valdžia. Jei valdžia būtų diskusijos dalyvių rankose, demokratijos ateitis Lietuvoje būtų nežinioje. Laimei, atsakingi ne jie. Tačiau jie suteikė mums blaivinančią galimybę artimiau susipažinti su jų mąstymu. Nuoširdžiai dėkoju už tai.
Paskutinis žodis priklauso Imanueliui Kantui:
"Švietimas yra žmogaus išvadavimas iš nesavarankiškumo, dėl kurio žmogus pats kaltas. Nesavarankiškumas yra nesugebėjimas naudotis savo protu kitų nevadovaujamam. O žmogus pats kaltas dėl to, jei nesavarankiškumo priežastis yra ne proto stoka, bet stoka pasiryžimo bei drąsos naudotis savo protu kitų nevadovaujamam.
Sapere aude! Turėk drąsos pats naudotis savo protu! Toks yra švietimo šūkis."

PS: ačiū organizatoriams už renginį. Kad kita diskusija būtų vaisingesnė, būtų gerai, jei prie vieno stalo susėstų priešingų pozicijų atstovai. Tuomet vyktų tikri debatai, dėmesys būtų didesnis, o klausytis būtų maloniau. Šia prasme: sapere aude!
______________________________________________
Šaltiniai:
____________________________________________________
Išversta padedant www.DeepL.com/Translator. Autoriaus nuotrauka.
Šis tekstas yra licencijuojamas pagal "Creative Commons Attribution 4.0" tarptautinę licenciją. Nesivaržykite kopijuoti ir dalinti.